Book info
Sample
Audiobook
Media
Author updates
Lists
Synopsis
You're trapped underground with a serial killer.

Would you save their life to protect your own?

The Artist

No one knows who The Sculptor is. A successful artist, whose works sell for millions - each one with a deadly secret at the centre of each piece.

The Killer

There's a serial killer on the loose - dismembering women's bodies and leaving them washed up along the shore. The Coastline Killer is free and no one knows how to catch him.

The Victim

Alice has designed her life to be as safe as it possibly can be. She takes no risks, and makes sure nothing is a threat to her or those she loves.

But when an earthquake brings all three together, will anyone get out alive? And if you were trapped with a serial killer, would you protect their secrets to save your own life?
Release date: August 5, 2021
Publisher: Orion
Print pages: 352
* BingeBooks earns revenue from qualifying purchases as an Amazon Associate as well as from other retail partners.
Listen to a sample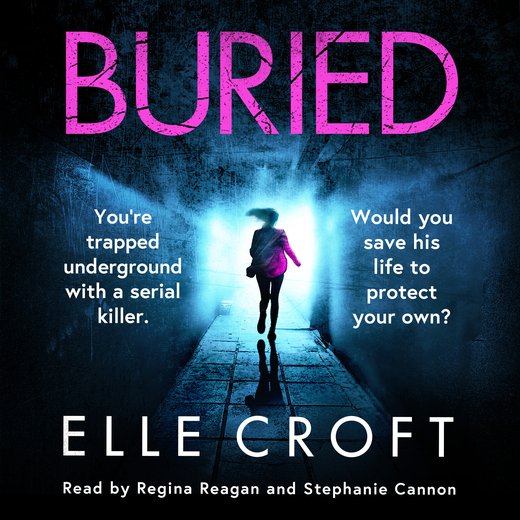 08:47:39
241.56 MB
9781409187295
August 5, 2021
Hachette UK
Buried
Elle Croft
Prologue

The stars wink their complicity as I haul the corpse towards the inky black water.

She doesn't come easily, although there are no sounds of protest from her blue-tinged lips as twigs and stones shred her skin and catch on her remaining limbs. The earth is desperate to claw her back, but I'll win this battle.

My muscles burn as I heave my burden across the dirt. Gripping her cold, rigid forearms, I drag her closer to the water's edge, ignoring the bead of sweat that slides down my face. It's cooled instantly by the frigid night air, an icy finger caressing my skin.

I shudder, but I don't stop. I haven't seen or heard another human since I arrived several hours ago, but there's no way to be absolutely certain that I won't be seen. Assumptions equal sloppiness. And sloppiness will get me caught.

An owl hoots somewhere above my head, startling me. I freeze for an adrenaline-drenched second, then continue the journey that began just a few yards away at my truck, the metal and rubber a gauche addition to an otherwise breathtaking scene. Even my tent seems a monstrosity, man-made and too bright; an eyesore in this setting.

I don't particularly enjoy camping – I get my fill of nature at home, with the added benefits of running water and cold beers – but it's the perfect cover. If I drive to a remote area, the back of my pickup loaded with a tent and tarps and gas bottles and folding chairs, then no one bats an eyelid. If I did the same with nothing but my Muse rolled up in the truck bed, and someone stopped me – asked where I was headed late at night, and by the way, what was that in the back? – well, if I was incompetent enough to do that, I'd be behind bars by now. I'd deserve to be.

And so I camp, my Muse carefully hidden under my gear. I pick the quietest spot I can find by the water, wait till darkness has settled snugly over the landscape, and then I retrieve her from her hiding place and set her free to either become a part of the wilderness, or be discovered. If it's the latter, she'll have the opportunity to be mourned, to be properly buried by those who loved her. But it's not up to me whether or not she gets that kind of send-off. Nature chooses for her.

This particular Muse's fate will be decided by a picture-perfect bay, the surface perpetually glassy, the moon reflecting so brightly that I can almost believe the light source is located in the unseen depths, rather than far above me. With one last tremendous tug I reach the shoreline, which licks gently at my boots as I step in and test my weight.

When I've balanced in the sludge beneath the shallow water, I reach out for my Muse a final time, gloved fingers curling around her narrow wrists. I draw her towards me in a fluid, powerful movement that sends her gliding across the surface. Her glassy eyes stare, unseeing, at the sky above, diamonds strewn across velvet, alluring and completely unattainable. At least for mortals like me.

My Muse, on the other hand, is eternal. It's the gift I've given her, the trade-off for what I've taken. I grip the leg that remains attached to her body, the one I didn't sever above her knee joint, and push her gently away, watching her float like Ophelia, her hair fanning out, a halo glinting in the silvery light.

I wait until she's out of reach, until she's on her final journey, and then I turn back towards my tent, towards my truck. It's time to pack up.

It's time for a brand-new Muse.

Chapter 1

The Seattle Journal

Latest Coastline Killer Victim? Discovery of body, believed to be missing local woman Carla Barker

by Marco Reilly

October 4, 2018 | Local News

The body of a woman, yet to be formally identified but believed to be missing Bremerton resident Carla Barker, was found just before 6 a.m. this morning. A local man named Jerry Mendoza was walking his dog in Potlatch State Park when he made the gruesome discovery.

'I saw her hair first,' a shaken Mendoza told The Seattle Journal. 'Toby was barking at something, and I just thought maybe he'd found a skunk. Even when I saw what had got him so worked up, I still thought it was some kind of animal. It took me a few seconds to work out what I was looking at, but then I knew right away that it was that Carla girl who's been all over the papers.'

Carla Barker, 20, was last seen almost three months ago, on July 12, 2018, on her way to ballet rehearsal. Miss Barker was reported missing by her parents when she didn't return home that evening, and hopes of finding her alive diminished in the months that followed, with many fearing that she may have fallen victim to the serial killer dubbed The Coastline Killer.

If the woman found this morning is identified as Miss Barker, she could be the nineteenth known victim of the perpetrator who has been terrorising the Pacific Northwest for at least a decade. Each of the nineteen victims – all female, aged between seventeen and thirty-nine – has had a body part removed before being bludgeoned to death. None of their missing body parts have been recovered.

Each victim has been discovered after washing up along the coast of the Pacific Northwest, from Northern California to British Columbia, Canada.

A local Potlach woman, who does not wish to be identified, was on the scene shortly before police arrived. She claims that what she saw confirms the fact that the woman was murdered by The Coastline Killer.

'She was missing a leg,' the woman said, clearly distressed by what she saw. 'That poor girl was missing a leg. That Coastline Killer is still out there, and the police need to find him. It could be my daughter next.'

Fears such as hers have rippled throughout communities in the Pacific Northwest in recent years, with gun and pepper spray sales skyrocketing after the discovery of each new victim, according to local hardware and sporting goods store owners.

Seattle detective Trey Ryman declined to comment on the case, telling those at the scene that 'The police department is looking into every possibility, and we will release an official statement in due course.'

More on this story: Concerns mount as search for missing woman continues.

Chapter 2

ALICE



My heart pounds in time with the soft thuds of my feet on the carpet as I pace to the edge of the stage, back to the lectern, and to the other side.

'It's easy to believe that these things will never happen to you,' I say, allowing myself to take a deep breath, and letting it out slowly before I speak again. 'But no one ever believes it'll happen to them, and yet statistics prove that it does happen. Not to everyone, but complacency could be the difference between life and death in the event of an emergency. This isn't about being pessimistic. It's about being prepared.'

I click the button on the remote and glance behind me to check that the screen has changed. My shoulders relax, just a little. This is the penultimate slide, the one before my contact details. I'm almost done, and then I can sit down and take off my damn shoes. When I put them on in my office they gave me a surge of confidence, as they always do. They're the kind of shoes that almost make me believe I'm the expert I claim to be.

It's silly to get assurance from accessories. I know that. But it would be even sillier to get up here without doing what I need to do to look and feel authoritative: curl my hair, wear a brand-new blazer, put on my power heels. It's not about vanity. It's about being professional.

The boost from the shoes was predictably short-lived, though, and the feeling that I was out of my depth returned almost as soon as I introduced myself. And, to add insult to imposter syndrome, the shoes are now practically shredding the skin on my toes.

'Preparedness is key,' I continue, wincing as I put my weight on my left foot. I'm pretty sure my big toe is bleeding into the expensive yellow leather. 'Which is why, during Safety Week, we'll be conducting a series of drills and emergency scenarios for both you and the students to participate in.'

The groan I've been expecting ripples around the room, right on cue. I laugh lightly, undeterred by their lack of enthusiasm.

'I appreciate that this means your lectures will be disrupted, but I can assure you that we're aiming to minimise any inconvenience. At the end of the day, my job is to keep you safe, and if doing so means a few interruptions, that's a consequence I'm willing to live with. And I hope you are, too. In the packs you've been given today, you'll find the schedule, as well as some basic details of each of the drills, and reminders of the procedures and locations we've gone over here today. I'd appreciate it if you'd keep this information to yourselves, and not give the students any warning. Drills are much more effective if they're unexpected. And in the real world, emergencies don't come with a timeline.'

I'd been hoping for some kind of reaction. If not a laugh, then maybe just a sympathetic chuckle. But the room is completely silent. Tough crowd.

'If you have any questions,' I say, changing the topic quickly, 'feel free to get in touch.'

My email address and work phone number appear on the screen as I press the button on the remote control again. I glance at my watch.

'We still have five minutes. I can take some questions now, if anyone has anything burning?'

I expect the staff will avoid questions in order to claw those five minutes back, but I give them a few seconds, just in case. As I wait, I look around, peering at the faces of the audience members in the rows closest to me. A few are familiar. Many aren't.

My gaze travels back to the furthest rows. Everyone looks bored. One guy at the back might actually be asleep. I can't be sure because his face is hidden by his dark hood, and he's slouched over, showing no signs that he's listening. Or, in fact, living. I sigh. Trying to engage people in safety procedures is probably the most challenging – and definitely the least rewarding – part of my job. But it's essential, whether they can see it or not.

I clap my hands together. 'OK,' I say, 'no questions, then. Thank you all for your time, and I look forward to working with you during Safety Week.'

There's a collective shuffling, a gathering of bags, a sweeping up of folders and phones from the tiny tables at each seat, a low drone of chatter.

'My door is always open if you have any safety concerns whatsoever,' I call out, but no one is listening anymore, if they ever were. Carefully, I eject my thumb drive from the auditorium's laptop while the last of my audience files out of the lecture theatre. I replay the presentation in my mind, cringing at the things that went wrong, at the words I faltered over. My cheeks burn as I recall the moment where I said 'risky' instead of 'rescue'. It's mortifying, but I remind myself that I'm the only one who will remember it.

'Miss Dalroy?'

I jump, my heart rate spiking.

'Sorry,' says the deep voice from behind me. I turn, hand clamped to my chest, and come face to face with a man wearing a dark grey suit and a skinny black tie. 'I didn't mean to scare you.'

I nod and let out a nervous, high-pitched laugh. 'It's OK, I just didn't know anyone was still in here.'

'That was a great talk you just gave. Really thorough.'

'Thanks,' I say, tipping my head to the side as I try to place him. 'I'm sorry, but do you work here? I don't think we've met.'

'James Archer.' He holds out his hand, and I shake it firmly. 'I work for the city of Vancouver. Mayor's office.'

'Oh,' I'm not quite sure how to respond. 'Hi, how can I help you?'

'Well, actually,' he says, 'I'm here to offer you a job.'

'Oh,' I repeat, painfully aware that I sound like a complete idiot, but unable to articulate anything more sophisticated.

'We're looking for a disaster planner,' he explains. 'The mayor has promised that we will be prepared for all eventualities, as I'm sure you heard during his campaign.'

I nod. I did hear it, and at the time I wondered how he would deliver on such a bold promise. I'd voted for him all the same. I could get behind a politician who understood the value of being ready for any eventuality.

'We need someone to head up the teams that have been tasked to implement our policies. We have big plans for training, for partnering with emergency services and businesses, for public awareness campaigns. But we need an experienced disaster preparedness manager. And we believe you're that person.'

'Me?' I manage to squeak.

'Yes, you,' he says, smiling warmly. 'You come highly recommended. And the presentation you just gave was incredibly insightful and engaging. I'm sure you get approached all the time for roles, but I'd love to meet with you to discuss this one, and how I think you can help us.'

I shrug, brushing off his praise. It's an overstatement to say that I'm approached all the time, but I do get calls every so often from recruiters. None have come close to tempting me away from my current job. But then again, none of them have offered me the role of coordinating safety for the whole city.

'Here's my number,' James says, holding a business card out to me. I accept it, too flustered to speak.

'We need someone soon,' he continues. 'So I do hope you'll call. We need to move on this in the next few weeks, and if you're not interested, we'll have to start looking at some alternative candidates. But I want you to know that you're our first choice.'

Heat creeps across my chest, and threatens to climb up my neck. I'm flattered. Of course I am. But I'm also taken aback; too shocked to articulate the jumble of thoughts and questions knotting up my brain.

'I'll think about it,' I manage to say.

'Please do. Just not for too long.'

He smiles, and I tuck the business card into my back pocket. James offers me his hand again.

'Really good to meet you, Alice,' he says as we shake hands. 'I look forward to talking to you soon.'

Before I can respond, he turns and walks away. I watch as he leaves, wishing I could have said something clever, or at least relevant, something that might make him believe I deserve to even be considered for such an enormous role.

My stomach fizzes. I sit heavily on the edge of the stage and pull my shoes off, massaging my aching feet as I try to make sense of what just happened.

I've just been offered my dream job, I realise as I bend my toes backwards, wincing as the tension is released and sensation returns. My heart thrums with excitement, but it's short lived.

Because as much as I want to run after James and accept his offer here and now, I know that I won't. I can't. And as this disappointing reality settles over me, familiar doubts threaten to strangle the certainty I've worked so hard to reach.

I fight to tamp down the question that resurfaces, reminding myself that I know what I'm doing, that this is what I want. But it rises up regardless, insistent, impossible to ignore.

By going after this one dream, will I be forced to give up all the others?

Chapter 3

THE SCULPTOR



They call me The Sculptor.

It's what they call me because it's what I decided they would call me.

Admittedly, it's not very imaginative. But when I chose my name, when I carefully scraped it into the wax as I moulded the piece that launched my career and irreversibly changed who I am, I knew it was the right choice. Because what the simple label lacks in flair and showmanship, it more than makes up for in accuracy.

I am a sculptor. The work I do has earned me that title. I don't take shortcuts, like so many so-called artists these days. Throwing a pile of tyres onto the shiny floor of a modern art gallery is not a sculpture, and neither is getting a computer to 3D print some strange acrylic shape. No. The people who create such objects are tinkerers; crafters, if you will. Sculptures that are mass-produced, or hurried to completion, are little more than décor.

Beautiful they may be, but sculptures they are not.

What I create is art. Real art, borne of skill and technique and patience. Created by pure sacrifice: sweat, tears and blood. Occasionally, even my own.

I am meticulous, like the old masters. It's absurd to think of Donatello rushing his casting of David, or Rodin sculpting the intricate details of The Gates of Hell with a deadline looming. My process is no less stringent, which is why each collection takes years to complete.

I have learned, from the art magazines that are delivered quarterly to my PO Box – the one located nowhere near where I live, and registered under a false name – that this scarcity is part of my appeal. That, and my anonymity. Everyone wants to know, in the words of these publications, who The Sculptor is, what his secrets are, who his muse is, where he trained. Some have referred to me as 'fine art's own Banksy', although I haven't quite decided whether to be flattered or appalled by the comparison.

It was never my design to be so deeply scrutinised, or to have my work become so celebrated, but I can't deny that I like it. My sculptures are highly sought after, each one auctioned for increasingly eye-watering prices. One art journal even called them, somewhat hyperbolically, 'modern day masterpieces'.

I can't pretend that I don't enjoy the praise, the accolades. The money. But what I value the most is the privacy my name affords me.

After all, if they knew me – really knew me – their reports might not be so flattering.

Every time The Sculptor makes another headline, a tiny flutter of panic erupts in my chest, and I wonder whether I'm being careful enough. I've never revealed my identity to anyone, relying on layers of anonymity to keep my secret. My dealer speaks only with my lawyer, who speaks only with my agent, who speaks only with my personal assistant. Layers of protection, lies and assumptions. But mostly assumptions. It's people's biases – conscious or not – that really allow me to pull off what I do.

Because the real mystery isn't what my name is. That's not important, in the end. If people knew that, they'd write a few headlines and my five minutes of fame would be over, leaving me as just another person who was interesting for a while. No. What really matters here, what's really at stake, is what's carefully nestled inside each of my sculptures.

If they knew that, they might recognise me by my other name, the one emblazoned across the front pages of altogether different publications. Every newspaper along the coast has mentioned me, multiple times, in the past few years. Only they don't call me The Sculptor.

They call me The Coastline Killer.

Chapter 4

ALICE



'Remind me why I do this,' I moan, stepping aside to let a trail runner pass. I take a sip from my water bottle as I sit carefully on a log, then begin unlacing my sneaker. As I suspected, the heels I wore for my presentation yesterday left my feet raw and bleeding, and this morning's hike is doing them no favours.

'Because you know you'll feel awesome afterwards,' Celia laughs, lunging forward and stretching her calf. 'And because you don't get a view like this at the gym, do you?'

I smile at her in agreement, my lungs burning too much to reply. She's right. The view, just visible through the lush canopy of green provided by the majestic trees surrounding us, is breathtaking. At least, it's part of the reason why I can barely breathe. Mostly it's from hiking up the thousands of steps, officially called the Grouse Grind but often referred to as 'Mother Nature's Stairmaster', which lead from the base of Grouse Mountain to the summit.

The trail is about a mile and a half long, but it basically goes straight up, with hardly anywhere to rest along the way. We've stopped at one of the few points where we won't be holding anyone else up, so I take the rare chance to catch my breath while I rummage at the bottom of my backpack for a Band-Aid to apply to the blister on my toe. I meant to transfer my portable first aid kit from my old backpack before I left this morning, but I was too distracted, my excitement and nerves drowning out rational thought. I mentally berate myself for being so unprepared. I, of all people, should know better.

'Oh my God,' a voice to my right gasps. I look up just as a woman, red-faced and sweaty, and clad in head-to-toe designer athleisure wear, drops onto the log next to me. Behind her, another woman in a pink headband and matching sneakers slowly ascends the final few steps that lead to the natural landing.

'Are you OK?' I ask, empathising with her pain.

'Please tell me we're nearly at the three-quarter mark,' the woman beside me pleads, and I laugh.

'You're really close,' I assure her. 'And the last quarter doesn't feel as bad as the others, I promise. It's not as steep as this section.'

'Well, it can't possibly be worse,' her companion says dramatically. I find a rogue Band-Aid, crumpled at the bottom of my backpack, and unwrap it, pressing it against my skin, hoping it'll help alleviate the pain. Once I've tied my laces, I stand up to make room on the log for the woman in pink. She throws me a grateful look and sits heavily beside her friend.

'First time?' Celia asks.

'Yeah, we're visiting from Edmonton,' she says. She tips her water bottle up to take a sip, then shakes it hopefully. Nothing comes out. She stares into it mournfully.

'Here,' I say, passing her mine, which is still half full. 'Have some of this.'

'You sure?'

'Yeah, go for it. I remember my first Grind. It's tough.'

'Do you guys do this all the time?'

'Every week, till winter hits,' Celia replies. 'My husband works from home on Fridays, so I can sneak away from my kids for a bit and meet Alice here for an early morning hike.'

'And my PA knows not to put any meetings in my diary before ten on a Friday,' I add. 'So I can get a hike in before work.'

I don't mention that I have the day off today. That'll only invite questions, and I don't want to have to explain myself to strangers.

'Nice,' says the woman in pink. 'So it's true what they say about the Vancouver lifestyle, then?'

'Sure is,' Celia agrees, waving at the view below us. 'It's the best city in the world.'

The woman who took my bottle stands up, and waves her cell phone towards me.

'Would you mind? I'd love a photo of us doing this.'

'I look horrible,' her friend squeals, despite looking anything but. I take a few pictures for them and hand the phone back, and as I reach for my water bottle, perched against the log, I hesitate.

'Actually,' I say, 'would you mind taking one of us, too, please?'

'Good idea!' Celia says. 'We barely have any pictures of us these days.'

I unzip my backpack and pull my phone out, handing it to the stranger. We pose, then wave goodbye to the Albertans, resuming our ascent towards the Peak Chalet, where there's a cafe and a gondola that will take us back down the mountain. As I reach to put my phone back in my bag, a breaking news alert flashes on the screen.

'Oh no,' I breathe.

'What?'

'Another woman's gone missing. From Portland.'

'Shit,' Celia says over her shoulder. 'Do they think it's The Coastline Killer again?'

'I. . .
We hope you are enjoying the book so far. To continue reading...
Buried
Elle Croft
Copyright © 2023 All Rights Reserved