An Heiress's Guide to Deception and Desire
Book info
Sample
Audiobook
Media
Author updates
Lists
Synopsis
Former lovers become reluctant allies in this delightfully witty historical rom-com from the bestselling author of A Lady's Guide to Mischief and Mayhem—for fans of Evie Dunmore, Enola Holmes, and Netflix's Bridgerton!

England, 1867: As half of the writing duo behind England's most infamous crime column, Miss Caroline Hardcastle has quite the scandalous reputation. It may have cost her a fiancé, but she would much rather bring attention to crimes against those ignored by society than worry about what the ton thinks of her.

After Caro's dear friend is kidnapped, however, she has no choice but to work with Lord Valentine Thorn, the same man who broke her heart. Worse, when her actions put her father's business at risk, a marriage of convenience may be her only solution . . . but can she trust Val to stand by her? Or will their past repeat itself?

Val—the new Viscount Wrackham—is in an untenable position: His father is demanding he find a respectable bride to secure the succession. Yet the only woman he's ever loved, Miss Caroline Hardcastle, is notorious for behaving improperly. And she's never forgiven him for his youthful transgressions, missteps made in the name of familial duty, but ones he still regrets to this day.

As they grow closer to unmasking the culprit, Val sees an opportunity to show Caro he's a changed man. But can he convince her to give their love a second chance—before death does them part?
 
Release date: November 16, 2021
Publisher: Grand Central Publishing
Print pages: 368
* BingeBooks earns revenue from qualifying purchases as an Amazon Associate as well as from other retail partners.
Listen to a sample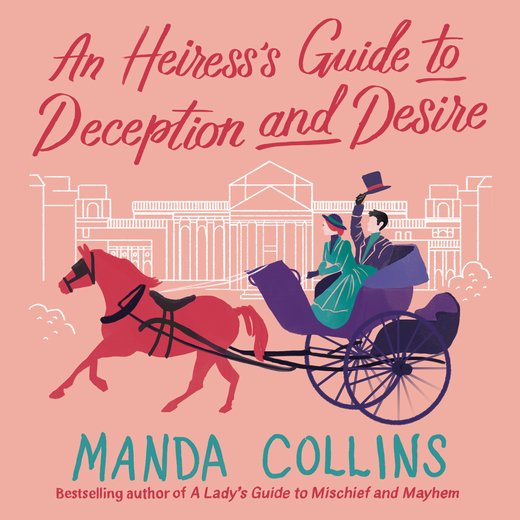 07:39:01
210.13 MB
9781549110634
November 16, 2021
Hachette Audio
An Heiress's Guide to Deception and Desire
Manda Collins
Chapter One

Applegate's Tea Room, London, 1867

They're behaving as if I haven't been on my own, managing my life, for the year they were in Paris."

Miss Caroline Hardcastle set her teacup down with rather more vehemence than she'd intended, and the resulting clink of cup against saucer seemed to echo through the tea room.

"My dear," Lady Katherine Eversham said soothingly, "you knew there would be a period of adjustment once they returned, did you not?"

Caro, who lived with her parents in their opulent Belgrave Square townhouse, had become accustomed to the freedoms afforded to her during their time abroad, and as a result their return had been rather more suffocating than she'd imagined.

"It isn't as if I don't love them." She sighed. "I adore them—of course I do. But Mama has a way of making her negative opinion of my hat or gown known without even uttering a word. And if I don't change after she purses her lips, then I am forced to endure sideways glances until I can stand it no more and must choose another outfit whether I wish to or not."

Kate raised one dark brow. "But you get along well enough with your father, don't you?"

Before the Hardcastles had left for France, Caro had enjoyed a close relationship with her papa. Despite her mother's objections, he had shared with Caro many aspects of his business in which he manufactured tinned food products. She'd even been inspired to write cookbooks featuring recipes using Hardcastle Fine Foods.

But perhaps because she'd become accustomed to going about her business without input or interference from her parents, Caro found even her father's mild questions about where she intended to spend the evening intrusive. To make matters worse, the time away from London had created a distance between them where the operations of the business were concerned.

"Even he is too much for me to bear at the moment," Caro admitted. "It's as if in the time since they've been gone, I've crossed some bridge from child to adult and now they're trying to force me back into the nursery. At least before, Papa treated me as if I were intelligent enough to understand manufacturing. Now he simply follows Mama's lead and relegates me to the role of some delicate creature to be coddled."

Kate took a sip of tea. "I think it could be that you're ready for your own household, my dear."

Caro stared down into the dregs of her cup. Kate wasn't wrong. She was well past the age at which most young ladies of her class were married with children. There had been a time just a few years ago when she'd thought herself on the path to marriage with a man of whom even her exacting mother would have approved. But Lord Valentine Thorn, as he was then, had turned out to be more attached to the opinions of his aristocratic family than he'd been to her. Since the death of his brother, he'd taken up the courtesy title of Viscount Wrackham and was now the direct heir to his father's dukedom. A circumstance she was quite sure had made him even more attached to his family's judgments.

"You are right, of course." Caro leaned back in her chair, suddenly exhausted. "But they will never allow me to set up my own house, no matter how I might wish it. For all that my funds are my own, I cannot quite bring myself to cut all ties to my parents, which would be necessary—emotionally, if not financially—for me to live on my own."

"That's not what I meant and you know it." Kate's eyes were smiling but her mouth was pursed in exasperation. "I do not know what happened between you and Val, but you shouldn't let it keep you from finding happiness with someone else if that is what you wish. I thought before I met Andrew that I would never let another man in my life again, and look at us now."

As if to emphasize her point, the rare sunlight of an April afternoon in London glinted off her friend's sapphire wedding ring.

"Of course, I'm not letting Valentine keep me from happiness with someone else," Caro said with a laugh. Though some hidden part of her wondered if that was the truth. "I've merely been very busy these last years. I've written cookbooks. Collaborated on our column. And now there is the Lady's Guide literary salon. How I even have time to chafe about my parents' return to London, I don't know. Really, it's amazing I was able to see you this afternoon."

If Kate heard the hint of desperation in Caro's voice, she didn't let on, merely smiling in commiseration. "You have been quite run off your feet. And I thank you again for taking charge of the salon. I simply couldn't have managed it with the recent changes at the paper." Kate owned The London Gazette, in which she published their joint column, A Lady's Guide to Mischief and Mayhem.

"I wish you had time to come to more of our meetings," Caro said. After enthusiasts of their column had written to them of their interest in sensation novels, which, like their writing, dealt with crime and murder and secrets, Caro had conceived of their literary salon. It had seemed a natural progression, in Caro's mind, from discussing the real-life dangers to women in the column to talking about the fictional ones they faced in books like The Woman in White and Lady Audley's Secret. Genteel society liked to pretend that such works were outlandish and bore no resemblance to reality, but Caro, Kate, and their readers knew better. The salon was meant to create a place for their community of readers to confer over their favorite books in an environment where they felt comfortable doing so.

"You needn't read the book if you don't have time. Before we talk about it, we spend at least half an hour chatting about the latest happenings in town. And who would know more about that than the owner of London's most fashionable newspaper?"

"Perhaps I will be able to drop in on a meeting soon," Kate said thoughtfully. "I would like to meet all the new members."

Their conversation was interrupted by the appearance of the shop's owner, Mrs. Jean-Marie Applegate, with a plate of delicate tea cakes in her hand. "Thank you, ladies, for coming today," she said in the lilting accent of her native Jamaica as she placed the dish in the center of the table. Her voice turned teasing. "But it is not like you to drink only the tea with no pastry to complement it. When Annie told me this, I had to come and see your table for myself."

Caro laughed softly. "Have no fear, Jean-Marie. We are as fond of your baking as ever. We are simply waiting for a friend to join us and thought only to have tea while we waited."

The frown lines on the shopkeeper's forehead smoothed. "Ah, thank goodness! I could not hold up my head if the cookery expert should reject my perfectly baked cakes." Her brown eyes twinkled with mischief. She and Caro had struck up a friendship when the shop first opened, and though they shared many of the same opinions on the craft of baking, they liked to tease one another when they disagreed on technique or ingredients.

"I, for one," Kate said, picking up one of the lightly browned cakes, "am grateful you noticed. These look delicious and I must tell you the scents coming from the kitchen have been tempting me the whole time we've been sitting here."

"You enjoy the cakes, Lady Katherine." Jean-Marie smiled. "There will be more when your friend arrives. Just signal Annie when you are ready."

Once Jean-Marie had gone, Caro glanced at the watch pinned to the bodice of her gown and frowned. "It's not like Effie to be late. I wonder what could be keeping her."

Miss Effie Warrington, whom Caro had met through their literary salon and then introduced to Kate, was currently one of the most celebrated actresses of the London stage. Despite their different social backgrounds, the two women had a fondness for the same books, and Effie had been one of the first to write to Caro and Kate about her enthusiasm for the Lady's Guide column. The subjects of misogyny and crimes committed were, perhaps because of her profession, of particular interest to Effie. They'd also found they shared some of the same tastes in fashion and haberdashery.

Effie had been particularly enthused about their appointment today, saying she would need the brief respite before playing Ophelia in tonight's premiere of Hamlet. So it was odd and out of character for the always punctual actress to be late.

"Perhaps something came up at the theatre?" Kate asked, her eyes troubled. "Or she was unable to get away?"

But Caro knew Effie would have sent word if she couldn't come.

The two women were debating whether to leave when the tiny bells on the door tinkled. Caro looked toward the front of the shop thinking to see her friend but instead saw Effie's maid, Miss Lettie Smith, scanning the dining room before hurrying toward Caro.

"I'm that sorry, Miss Hardcastle," the young woman said as she approached their table. "But I knew my mistress was set to meet you here this afternoon and I thought maybe you or Lady Katherine would know what to do—her husband being a policeman and all. It's Miss Warrington."

Lettie paused to draw breath before sobbing out her next words.

"She's gone missing."

Caro, who had risen upon the maid's entrance, put her arm about Lettie and drew her toward an empty table in a more secluded area of the shop. Behind her, she heard Kate rise as well and whisper to Annie, their waitress, that they were moving and needed more tea.

At the maid's reluctance to be seated, Caro said kindly, "Please join us, Lettie, and have a cup of tea. You'll have to explain the situation and I daresay your mistress wouldn't care to have the matter overheard by the rest of the dining room's occupants."

Once Kate had joined them and Lettie was settled with a cup in her trembling hand, Caro nodded. "Now, tell us what brought you here. What do you mean when you say Effie has gone missing?"

"Just that." Lettie clutched her drink with both hands. "She went to the theatre for a fitting of her costume for Hamlet this morning. She told me before she left that she'd be back in time to change so that she could come here to Applegate's to meet with the two of you. But when she wasn't home by lunchtime, I went to the door to watch for her carriage and found her young man, Mr. Francis Thorn, in a great heap on the back steps, bleeding from a gash on 'is head."

At the mention of Francis Thorn, Caro felt a jolt of recognition. She'd known Effie was seeing someone but she hadn't realized the Frank she'd referred to was Francis Thorn, the cousin of Lord Valentine—that is, Viscount Wrackham. She knew from town gossip that some of her former beau's paternal cousins were rumored to be disreputable, but she wasn't sure if Mr. Thorn was one of them.

"Why would Mr. Thorn be there?" Caro frowned. "Was Effie expecting him?"

"No, miss." The maid shook her head in emphasis. "Mr. Thorn has taken to escorting my mistress home from the theatre on days when she has to go in for fittings and the like."

"Is there some particular reason for that, Lettie?" Kate asked, her gaze sharpening. "Or did he simply wish to spend more time with her?"

"I can't say for sure, my lady." Lettie frowned. "She did say she felt safer when he was with her. But today both her and the carriage is missing." The maid raised her brows, as if to state just how wrong her mistress had been to put her trust in Francis Thorn.

"And what had he to say about the matter?" Caro asked, exchanging a worried glance with Kate.

"That's just it, miss," the maid said miserably. "He hasn't waked up yet and there's still no sign of my mistress."

Lettie continued, addressing Kate. "Mrs. Spencer remembered how you helped with that business in the Lake District a couple o' year ago and thought you or your husband might know best what we should do."

Kate's husband had made a name for himself by solving the high-profile disappearance of a socialite before he and Kate had captured the Commandments Killer. So Effie's companion was correct—even if Caro and Kate were unable to untangle what had happened, Eversham would be able to open a proper investigation.

Still, Caro hoped it wouldn't come to that and they'd find Effie unharmed before the day was over.

Lettie broke into her thoughts. "Will you come, Miss Hardcastle? And will you summon your husband, Lady Katherine?" She pressed a closed fist against her sternum. "The footman we sent to see if she was still at the theatre said she left at the usual time in her own carriage with Mr. Thorn right beside her. Now she and the carriage is missing and he's hurt bad."

Caro didn't like the sound of any of this. Especially the fact that whoever had taken Effie and her carriage hadn't been afraid to use violence against Francis Thorn.

"Of course we'll come," Kate was saying to Lettie. To Caro she said, "You go to her house with Lettie and I'll see if I can find Andrew. He should be at Scotland Yard today unless he's been summoned away. Either way, I'll meet you there with or without him as soon as I'm able."

With a farewell to her friend, Caro settled their bill with Annie and turned to Lettie. "Come, Lettie. We'll go and see if Mr. Thorn has regained consciousness yet. Perhaps he'll remember something that can help us find Effie."

"I hope so, miss," the maid said as they left the tea room. "I do hope so."

"You said Effie felt safer when Mr. Thorn was with her," Caro said once they were inside the carriage. "Did she have a reason to feel frightened?"

"She said she seen a man watching her," Lettie admitted, twisting her hands in agitation. "She was used to stares from gents, of course, but she said this was different. She was scared, Miss Hardcastle. And now I think she were right to be."

Caro didn't want to tell her so, but Lettie's words were setting her own inner alarms clanging like the bell on the fire brigade's carriage. Instead, she mustered her most reassuring tone and said, "It's likely she's already safe and sound back at the house by now. But if she's not, we'll sort it out, Lettie."

When she reached for the girl's hand, she wasn't sure if she was comforting Lettie or herself.

*  *  *

Berkeley Square, London, 1867

"He is barely in the ground, sir. It's far too soon to speak of marriage and getting an heir." Valentine Thorn—Viscount Wrackham—had suspected the impetus for his father's summons might involve his duties as new heir to the Thornfield dukedom, but that didn't keep the distress from his voice. He'd only in the past week begun to stop looking over his shoulder for Piers whenever someone addressed him by his late brother's title.

"It's been over a year, Valentine," the Duke of Thornfield said impatiently. "I realize none of us are reconciled to the loss yet, but it cannot be helped."

A glance at his father's face, so like his late brother's as to be unsettling, was enough to make Val look instead at the fine scrollwork on the desk before him. It was the pater's preferred location from which to deliver pronouncements to his children. Val and Piers had endured many a lecture from across that desk. Val glanced at the empty chair beside him and wished for the hundredth time his brother hadn't gone riding that fateful day.

"It's time for you to find a wife and do your duty by this family," the duke continued, his voice not unkind, but implacable nonetheless. "If anything, the loss of your brother should make it clear to you just how imperative it is for you to do so with all haste."

Val knew his father had been just as deeply affected by the loss of his eldest son as the rest of their family had been, but the duke had always had a stern streak when it came to the continuation of the family line. Of course, the man had inherited the dukedom when he was just a child and had barely known a time when duty didn't inform his every decision. Still, though he'd had months to adjust himself to the change in his own circumstances, Val couldn't help but mourn the freedom his new role curtailed. He'd given up his work at The London Gazette, where he'd covered sporting matters. He'd also moved to Wrackham House from his bachelor rooms, which meant he could no longer come and go without the whole of the ton eying him.

Not for the first time he felt the infringements like a too-tight neckcloth.

Unable to maintain his calm and remain seated, Val rose and walked to gaze out the window facing the back garden. "It's not that I don't know my duty, Father. I've thought of little else since the news came about the accident. I suppose I thought there would be more time."

Unbidden, the image of Miss Caroline Hardcastle's heart-shaped face rose in his mind. Once he'd thought they'd make a love match of it. That had been before she realized that however he might reject his class's inherent snobbery, the same didn't apply to his family. He'd fumbled to find a balance between his divided loyalties, and she'd broken things off between them a mere three weeks after their betrothal, claiming she could never endure a lifetime spent under the judgmental watch of the nobility. Though he'd understood her frustration and hurt, even now he was resentful of her inability to understand his position. He might have been born into the aristocracy but he'd thought himself different enough from the rest of them.

When he'd seen her last, he'd been surprised to realize the same spark of attraction that had brought them together four years ago was still there. Yet if Caroline thought him too loyal to his aristocratic family as a younger son, she would certainly find his position as first in line to the dukedom objectionable in the extreme.

"Here, drink this."

Val startled at his father's voice. Turning, he took the glass of whisky, grateful for the show of care if not the reason behind it.

"I know you never thought to be in this position, Valentine." The duke took a sip from his own glass. "But you've had time enough for sowing your wild oats. There is no sense in delaying the matter. Especially when, if something should happen to you, the dukedom would pass to Reginald's ne'er-do-well son, Lawrence. We both know what a disaster that would be."

As children, Val and Piers had not been close to the son or daughters of their uncle Reginald. Instead, they'd preferred the company of their cousin Francis, son of their father's youngest brother, who'd been closer to them in age. As adults, they might have forged a friendship with Lawrence, but his penchant for dissolute behavior made that unlikely.

The very idea of that man holding in his hands the wealth and livelihoods of everyone employed by the Thornfield estates was unthinkable.

"I do know," he said aloud. "Of course I do."

Downing the rest of his whisky, Val set the glass on the desk. "Do not mistake my reluctance for an intention to shirk my duty. If nothing else, I owe it to Piers to see to it that the estate remains in our direct line. He, after all, did his years ago by marrying Cynthia. It was no fault of theirs that they weren't blessed with offspring."

"Then get on with it, man," the duke said with a pointed look. "It matters not why your brother didn't sire a son. What matters is that you stop dawdling and find a bride. Your mother would be happy to help."

Val blanched. He loved the duchess, but the notion of choosing a wife from among a selection of ladies she found suitable was enough to put him off the notion of marriage itself, much less the marriage bed.

Perhaps reading Val's expression, the duke tried another tack. "If you dislike the idea of your mama's input, perhaps you can ask Cynthia for suggestions. I seem to recall you were quite taken with one of her school friends at her wedding to Piers."

If anything, Val grew more uncomfortable, though this time he was able to mask his feelings.

"Miss Hardcastle," he said tersely. Neither his family nor Caroline's had known anything of their brief understanding, and he had no intention of revealing their broken betrothal to his father now.

"Yes, Miss Hardcastle." The duke nodded. "That's right. She was a pretty little thing. If a bit odd. From what I recall the chit's father was not at all the thing. Terribly wealthy, of course, or how could they have paid for the schooling, but still, a bit coarse. What does Hardcastle do again?"

Val bit back an instinct to leap to the Hardcastles' defense. England was changing, and men like Charles Hardcastle, who could buy and sell the Thornfield estate ten times over, wielded more power than the duke would comfortably admit. And moreover, it was disingenuous to behave as if the Thornfield family were somehow more worthy than the Hardcastles simply because they'd had the good fortune to inherit their wealth rather than earn it themselves.

"He is in manufacturing, I believe," Val responded, careful to keep his emotions from his voice.

"Of course," Thornfield said with delight. "Tinned food or the like, correct? And the daughter was a writer. Cookbooks?" He laughed heartily. "I can just imagine you married to a girl like that. Ink-stained fingers and very likely scarred from kitchen mishaps as well."

Val, who before his elevation to the viscountcy wrote sporting columns for The London Gazette and authored a biography of the noted boxer Gentleman Jim Hyde, held up his ungloved hands to reveal his own ink stains. He might have agreed not to write for the newspaper anymore, but he was currently at work on another biography, this one of celebrated jockey Billy Rooney, and he had no intention of giving up the project, whatever his family's wishes. "That's hardly the sort of thing I would hold against her."

Some imp of mischief prompted him to add, "And she no longer writes cookbooks. She is a rather celebrated crime columnist these days, along with Lady Katherine."

But if he'd hoped to put his father in his place, Val was mistaken.

"Oh! I hadn't made the connection. Of course, that's the same girl. Regardless, she's entirely unsuitable as far as potential brides go. However, as I suggested, you can speak with Cynthia. Her years of marriage to your brother have, I'm sure, introduced her to a higher quality of friends far more appropriate for the Thorn name."

It took every bit of self-control Val possessed to keep from telling his father to go to the devil. He might not be interested in marrying Caro anymore, but he'd be damned if he would listen to the duke speak of her as if she were a foxhound of inferior pedigree.

"Enough," he said sharply. "You've made your point. It's unlikely that I will even meet Miss Hardcastle again in the near future, much less ask for her hand."

He wanted to decry his father's snobbery, but like always, he knew it would be as helpful as asking the sun to shine at night.

"But you will ask for the hand of some suitable young lady," the duke said firmly. "And the sooner the better."

"It's not something that I can accomplish in a day," Valentine argued, feeling his collar tighten at the thought of being forced to marry the sort of woman his parents would find worthy of the Duke of Thornfield's heir. "Wooing and wedding take time."

"We don't have time," Thornfield said curtly. "I wish to dandle my grandchildren upon my knee before I'm too decrepit to do so comfortably. . .
We hope you are enjoying the book so far. To continue reading...
An Heiress's Guide to Deception and Desire
Manda Collins
Copyright © 2022 All Rights Reserved