All the White Spaces
Available in:
eBook
Paperback
Audiobook
Hardcover
Book info
Sample
Audiobook
Media
Author updates
Lists
Synopsis
A Bram Stoker Award nominee

"Some of the best survival horror we've read in years, with a uniquely menacing adversary at its heart." —Vulture, The Best Horror Novels of 2022
"Epic." —Esquire, The 22 Best Horror Books of 2022

Something deadly and mysterious stalks the members of an isolated polar expedition in this haunting and spellbinding historical horror novel, perfect for fans of Dan Simmons's The Terror and Alma Katsu's The Hunger.

In the wake of the First World War, Jonathan Morgan stows away on an Antarctic expedition, determined to find his rightful place in the world of men. Aboard the expeditionary ship of his hero, the world-famous explorer James "Australis" Randall, Jonathan may live as his true self—and true gender—and have the adventures he has always been denied. But not all is smooth sailing: the war casts its long shadow over them all, and grief, guilt, and mistrust skulk among the explorers.

When disaster strikes in Antarctica's frozen Weddell Sea, the men must take to the land and overwinter somewhere which immediately seems both eerie and wrong; a place not marked on any of their part-drawn maps of the vast white continent. Now completely isolated, Randall's expedition has no ability to contact the outside world. And no one is coming to rescue them.

In the freezing darkness of the Polar night, where the aurora creeps across the sky, something terrible has been waiting to lure them out into its deadly landscape…

As the harsh Antarctic winter descends, this supernatural force will prey on their deepest desires and deepest fears to pick them off one by one. It is up to Jonathan to overcome his own ghosts before he and the expedition are utterly destroyed.
Release date: January 10, 2023
Publisher: Atria/Emily Bestler Books
Print pages: 352
* BingeBooks earns revenue from qualifying purchases as an Amazon Associate as well as from other retail partners.
Listen to a sample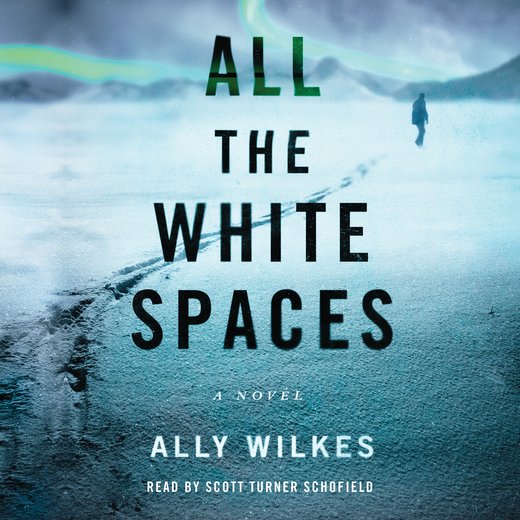 14:13:33
390.73 MB
9781797138053
March 29, 2022
Simon & Schuster
2022
All the White Spaces
Ally Wilkes
PORTSMOUTH, DECEMBER 1918
The War had ended.
My mother had opened the Christmas jam, as if conscious she had been keeping it in reserve for nothing; the breakfast room smelled of quinces, damsons, and pine needles. Our maid, Chloe, turned the house into a perfect bower, bending branches over the mantelpieces, garlanding the stairs with ivy, and bunching wreaths of holly around the photograph of my brothers. A sort of shrine had grown up in the front hall, where they stood resplendent in their brand-new uniforms. The patch of carpet in front of it was thready and uncertain from my mother's constant pacing, echoed in the burnish to the sides of the photograph frame, too often picked up and set down.
The telegram—the telegram that changed everything—had arrived early, the boy ringing the doorbell and cycling away without waiting for a reply.
My mother summoned me to her too-hot, too-fussy, floral-scented sanctuary in the morning room. I stood awkwardly at the door in my long, scuffed boots as she flitted around a table heaving with poinsettia. She didn't look at me.
"I know I'm being silly—Jo," she said, slender fingers wrapped around the little envelope. "It's probably just news—they must be well on their way to the coast by now. We'll have them back for Christmas!"
The shortened name sounded wrong in her mouth; she was using it to jolly me along. Unlike my brothers, my mother normally insisted on my full name, which I hated.
I swallowed, and didn't trust myself to reply. The War had ended, but Rufus and Francis were still in France, incapacitated by their wounds. Their best friend, Harry, had already sent me a letter—uncensored—about the horrors of the Casualty Clearing Station. I'd hidden it from my parents in the biscuit tin under my bed. Partly because they didn't like Harry writing to me, it wasn't appropriate; but mostly because it was so stark and unflinching. Harry had never learned to dissemble.
A week ago my brothers should have been fit for repatriation, put on an ambulance train for the long journey to the coast, Blighty beyond. I'd worried, of course, but small worries, tame ones. Whether they'd have enough blankets, or if Rufus was being rude to the nurses. He had a temper on him.
We were unlikely to get them back as we'd known them, although that hadn't quite sunk in yet. Their wounds were terrible—septic, Harry had written, badly septic, from the thick mud of the battlefield.
"It's probably just their arrival date." Hovering, she still didn't open the envelope. It wasn't a thick envelope—contained only a single sheet of paper. But a horrible clawing sensation rose up in my throat as I considered what news that single sheet might hold.
"Sit down," I said, and she did so with a little sigh. I would do no such thing myself—not on the satin chaise, nor the dainty antique armchair—but I crossed the room, boots muffled by the thick carpet, to stand over her writing desk. Her lily-of-the-valley scent was stronger there, making my breakfast turn in my stomach. A short glance to the clock above the mantelpiece. The sun was still struggling to come over the rosebushes, and Father, as usual, was absent: he wouldn't be back until long after winter dark.
We looked at the envelope together for a long, long time.
She reached behind and crept her hand into mine. It was the first time she'd done so without remarking how blunt my fingers were, how I bit my nails savagely. Unbecoming.
I thought of Harry's description of their last engagement: the long quiet stealing over the battlefield when the guns stopped. The smoke billowing over the riverbanks, Harry lying in the mud with his binoculars, not daring to breathe, making terrible bargains. A man could suffer a dreadful wound—it could blow clean through him, painting his insides onto the dirt—and stay silent. He might not even notice how badly he was wounded.
"Here." My voice sounded rough. "If you won't." I took the envelope. Her shoulders sagged, and I realized she'd been waiting all along for me to do it: for one of us to be brave.
I didn't want to open it, but set my jaw and fumbled with her delicate little letter opener as though my hands were icy cold. I saw the familiar form, my eyes jumping ahead without me, picking out the handwritten words and sentences:
Deeply regret to inform you that—
I felt a wave crashing over me. The ordinary sounds of the household were suddenly far away: Chloe, humming to herself as she swept the back hallway; the birds scratching in the chimneys; the faint growl of a motorcar going by. The ice had spread to my face and mouth, and I could no more speak than I could breathe underwater.
"Oh," my mother said. "Not the boys, not them—"
The Army Council expresses their sympathy—
I dropped the piece of paper—so few words, so many blank spaces—onto her desk.
Although I'd lain sleepless for several weeks with my eyes fixed on the ceiling, imagining maps of the Hindenburg Line marching across the plasterwork, I hadn't understood how very far away Rufus and Francis really were. They always felt just around the corner, as if they'd stepped into the next room. But they had been miles and miles away, dying of their wounds.
I had been at home, when I'd so desperately wished to go with them. I'd been at home, while they—
Both always did their duty—
With some difficulty, I realized I was starting to cry. I scrubbed my eyes furiously with the back of my hand. My mother was still looking at me: I had refused to cry in front of her—or Father—since I was very little.
"I'm sorry," I said, and my voice was so thick and deep I barely recognized it. "I'm sorry, I'm so sorry."
I put my hand on her shoulder. She was warm, and I could feel her birdlike bones through the fabric. She slapped me away with such force it rang across the room. The telegram lay on the floor.
Died of their wounds without suffering—
They had died together. That is to say—they'd died the same night. They would have wanted it that way. Together in all things. Their bedroom had been cleaned and aired for their homecoming, and in my long nights of half-waking sometimes I thought I heard familiar sounds: the creak of mattress springs as they told ghost stories by moonlight or traced expedition routes on the atlas. On clear summer nights they would sneak out into town, leaving the windows open and bodies made of empty clothing in their beds, coming back for breakfast with tales of adventure, dragging Harry apologetically in their wake.
They would not come back again. The vicious hurt of it grabbed me around the chest and made me stagger away from the desk like a drunk.
"I should go—" I said, my voice finally breaking. "I should fetch Father—"
"No." Tight, quivering, almost another slap. "Go to your room."
She didn't look at me.
I reeled out into the dark hallway, grabbing at the door handles, levering myself down the corridor until I was in the water closet, throwing up my eggs and bacon into the sink. I braced myself against the porcelain and shuddered, wiping the sweat off my face and loosening the stiff fabric of my day dress around my neck. It was normally my favorite, the plainest and most masculine one I had: it did up tight like a shirt collar, revealing no expanse of pale skin.
Our house was large enough that I could wander in a daze through carpeted corridors and narrow tiled passageways. I passed Chloe, peeping out of the kitchen door like an apparition, and it seemed to take an age to climb the back staircase, one step at a time; my boots dragging on the tread; my layers of flannel and velveteen weighing me down like lead. Everything once familiar was strange. I felt as if I were opening doors at random. But suddenly I was in my brothers' room.
They'd insisted on sharing: of course they had. Their room took up the entire length of the first floor; faced the harbor, across the blur of December fog and half-empty streets. They could look out and see the sea, the distance and the sea, while I had to be content with a small patch of garden wall and my mother's magnolia. I heaved the sash window up with a judder, the movement making the tight little buttons at my cuffs bite into my skin. I wasn't expected to raise my arms above my head—I was expected to be satisfied with convention, even when it pained me. I stared out. The wind whipped at my raw cheeks where unchecked tears had dried.
I took a long, shivering breath, bracing myself against the windowsill.
Not the boys.
I tried not to think about my brothers lying under that stinking dirty foreign soil, the same soil that had stopped their hearts. They'd sent letters—at first I'd found them funny—about staying in dusty little French farmhouses, making friends with the locals. About long marches through blasted fields, and the terrible food in the trenches. They'd continued to joke affectionately: telling us it was all a game, and one they intended to win. But when Harry's letters started arriving on my doorstep in their green envelopes, apologizing for the presumption—he needed to tell someone—they had a very different tone.
Duty, and sacrifice. And horrors.
I turned slowly. Dark wallpaper, gray and burgundy, a stark contrast to my own room: chintz and lace and all the things I hated; all the things that had been chosen for me. My brothers' bedroom was as neat and businesslike as a hospital ward. Blankets tucked in at perfect right angles, unfilled water carafes on the nightstand, sparkling in the pale sunlight like cut ice. Combs and brilliantine lined up on the dressing table, programs for social dances tucked into the corners of the mirror. The long north wall was covered entirely with maps. Sea charts. Newspaper cuttings.
I wiped my mouth, and stared across at the perfect jagged ball of Antarctica. Its unfinished edges and tints of pale blue dominated the room entirely: for as long as I could remember, the South Pole had been the center of everything. I could almost see fingerprints on the glass, ghostly traces, where fingers had slid their way down from the Weddell Sea. Of course Chloe would have wiped it clean by now.
"That's where we'll land," Rufus had said, tapping a finger against his lips. "Vahsel Bay. Base camp. Then the sledging parties—off the maps and straight to the center."
"You'd better hope there's nothing in the way," Harry said from behind him—Harry's allotted place—and Rufus raised an eyebrow.
"There won't be. Old Australis knows what he's doing."
From the newspaper clippings, James "Australis" Randall stared down at me, handsome and commanding. He was broke—nearly bankrupt—but insisted he had to try, again and again, for the South Pole, despite the accident that had swooped him off the deck of his ship, crushed him in the freezing water against the hidden terrible faces of an iceberg, left him battling for his life on a floe in thirty degrees of frost. I wondered what it would be like to die from such intense cold. "I imagine it'd be rather like falling asleep," Francis had replied, and squeezed my shoulder. "Not so bad."
Randall's accident had been in the Weddell Sea, that treacherous and deadly expanse of water, churning with pack ice, which blocked the route from the islands of South Georgia down to the Antarctic continent. When he'd returned, he'd tried the ice from another angle, where Liam Clarke had lost his fingers on the pitiless Great Ice Barrier—had refused point-blank to speak to the papers about it—saying that a man was entitled to leave the past behind.
I knew their stories so well.
And I could see traces of my brothers in the impatient choppy edges of each clipping—my mother's dressmaking scissors, borrowed and blunted and never returned. I could see them in each pin jammed into the wallpaper—my mother's violent disapproval, and Rufus's smile behind her back. "Maybe we'll take you with us," he'd say to me, half serious, half joking, eyes fixed keenly on mine to observe my reaction. "Would you like that?"
"Don't tease," Francis would whisper in reply.
I'd loved him for it, and longed to follow them—but knew I never would. My war-hero brothers, off on their adventure to the great white continent: I could almost see them now. Invincible; laughing; triumphant. Leaving me behind again.
A half-sob. I buried my face in my hands, stretching my fingers wide, pressing into my flesh, trying to mold myself into someone different; someone who wasn't about to cry. Someone more like my brothers.
More like the man I knew I should have been.
I couldn't bear the thought of returning to my own room: cloying, stifling, as rigid as the tock-tock-tock of the metronome beating time during my endless piano lessons. The only thing in there which was mine—really mine—was shoved under the bed, hidden from Chloe and my mother as if it contained a hand grenade. But it was just a Crawford's digestive biscuit tin; a nude, tautly muscled Grecian discus thrower was stamped on the front. The tin guarded my greatest treasures: the fat bundle of letters from Harry—serving as my lifeline to the Front—and a gray woolen armband with a crudely stitched crown. Someone had dropped it on the street outside the recruiting station, in the early days of the big Derby enlistment drive. The army posters had stared down at me as I'd picked it up, slipped it into my pocket. It was given in return for pledging to serve: I couldn't believe anyone would treat something so precious so slightly.
Sometimes I'd try that armband on, see how it looked on me. I'd prop the biscuit tin in front of my mirror and stare at it. Then bury it back under my bed, with all its contents, shoving it out of sight.
I swallowed another sob. Not the boys.
A rustling. The wind came sneaking in like a thief, fluttering the curtains, toying with the newspaper clippings. The movement sent an unexpected shiver from the nape of my neck right down my spine. The fog made it dark for a December morning, so dark, and for a moment I could feel myself being watched by someone—something—just out of reach.
It was so quiet in the house I could have heard a hairpin drop.
I felt sure that if I removed my hands from my eyes, I would find someone else in the room. No—two someones, standing tall and straight with their backs to me. Hair neatly combed, uniforms pressed. Handsome faces still turned up towards Antarctica.
But Harry had been straightforward, hadn't spared me the details. While the shrapnel had mostly spared their faces (mostly), it was clear no one would be calling them handsome anymore. I thought about the ragged tearing of barbed wire, razor sharp on their tender skin, the mud, the mud, a chaos of shouts and screams and falling rain, the agonies of the men, and in the sudden darkness of the morning—
I opened my fingers, looked around the room. Breathed out. No one was there.
I gulped. I would have done anything to see them again, and it yawned beneath me like a crevasse in that quiet room. It opened up and swallowed me whole.
I knew where I'd find them.
My shoulders shaking, I heaved the window wider. I hung half out of it, a strand of stray hair plastering itself to my face in the pale, wet air. The fog was so thick I could hardly see the street, let alone the harbor, but I could hear the tide in the distance. The long, quiet pull of the sea, breathing itself back and forth against the shore, regular and composed as a sleeping giant.
It seemed wrong—fatally wrong—for it to be so calm. There should have been a storm. Wind lashing at my hair. Waves rushing forwards like dark battalions. The room seemed to lurch around me, like a gale in southern waters, and I clung on.
My brothers had left me behind. I'd hug their memories to my chest; I'd fix them forever in that photograph in our hallway. Rufus, looking straight at the camera with his tiger smile; Francis, a little more reserved, standing to one side. The studio walls were creamy white, and the frame gilded, but they didn't belong in it—no more than I belonged in this polite little floral world. They belonged outside, with a wider prospect, the sea stretching off into the distance. The endless washy horizon.
But now my brothers would never see Antarctica. Never know a clear day on the South Atlantic, or the jeweled ice of the floes. Their dreams had come to nothing, but I was the last Morgan sibling, and I knew where I'd find them.
I knew where I had to go.
The sea should have risen up. There should have been a tempest, a typhoon, a tidal wave. Crashing over the quay, breaking over me—making me anew.
Because I heard it then: the call of the South. I could hear my brothers.
Maybe we'll take you with us.
We hope you are enjoying the book so far. To continue reading...
All the White Spaces
Ally Wilkes
Copyright © 2023 All Rights Reserved