Book info
Sample
Audiobook
Media
Author updates
Lists
Synopsis
A groundbreaking Latinx Aliens novel by a rising star Latina author, featuring the fan-favorite character PFC Jenette Vasquez from the hit movie Aliens and the family she is forced to leave behind.
For the very first time, the canonical background of the breakout Aliens hero Jenette Vasquez, as well as the story of the children she was forced to leave behind as written by the rising Latina horror star V. Castro (Queen of the Cicadas)
Even before the doomed mission to Hadley's Hope on LV-426, Jenette Vasquez had to fight to survive. Born to an immigrant family with a long military tradition, she looked up to the stars, but life pulled her back down to Earth—first into a street gang, then prison. The Colonial Marines proved to be Vasquez's way out—a way that forced her to give up her twin children. Raised by Jenette's sister, those children, Leticia and Ramon, had to discover their own ways to survive. Leticia by following her mother's path into the military, Ramon into the corporate hierarchy of Weyland-Yutani. Their paths would converge on an unnamed planet which some see as a potential utopia, while others would use it for highly secretive research. Regardless of whatever humans might have planned for it, however, Xenomorphs will turn it into a living hell.
Release date: November 8, 2022
Publisher: Titan Books
Reader says this book is...: dystopian/dark (1) escapist/easy read (1) socially conscious (1)
* BingeBooks earns revenue from qualifying purchases as an Amazon Associate as well as from other retail partners.
Listen to a sample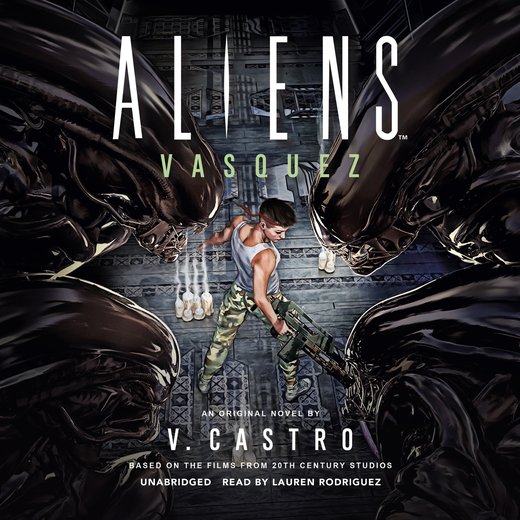 11:29:37
315.69 MB
9798212227452
October 25, 2022
Blackstone Audio
Aliens: Vasquez
Violet Castro
1
2171
"VAS-KEZ, you dumb fuck!"
Jenette didn't respond.
"Whatever," he continued. "Here, your name is Recruit. If you're good enough, that is. Now move!"
The man who assumed he was Jenette's superior flicked his eyes from her breasts to her sculpted arms, then to her face, giving her the type of look she'd received all her life.
"You won't make it."
"Who do you think you are?"
The patronizing glare rolled across her with the pressure of a two-ton space rover, bone crushing. She stepped into the elevator that would take her to the training pit. The metal doors closed, leaving her in a vacuum of silence with only her reflection staring back. Her brown skin shimmered from the sweat that managed to escape the red bandana across her forehead.
Before this moment she'd been on the scantest of MRE rations, had hiked every day for five hours, and stayed up writing a paper to the court arguing why she deserved a chance in space.
Take all those self-destructive tendencies and take aim, mujer, she told herself. The tattooed teardrop next to her eye appeared to slide in the dim light. All she had in this life was the woman staring back at her. Neto's words echoed in her mind.
"Us against the ugliness in the world. You think they want any of us to make it? If they did, we would see it. Nah, we fucking take it any way we can," he'd said. "They protect their territory like they the gangbangers. Believe that. Put it on your waist and in your piggy bank."
Then she thought of Leticia and Ramón.
It was as much for them as it was for her, even if she'd only held them long enough to give them names. That had been the most difficult battle she imagined she would ever face. Her Mesoamerican ancestors believed that if you died in childbirth, you would be given a warrior's welcome in the afterlife. She hadn't died, despite the agony she endured alone, bearing down with her heels in stirrups and hands tearing at the hospital bed sheets. The two babies ripped her flesh as they crowned. So many battles she'd already fought sola. The journey to that test had been worthy of the fabled underworld Mictlan.
Jenette wondered what gods or demons were left to be met in her life. She'd believed she would die in prison, but was released into service to the USCM—the Colonial Marines. In just her first trimester, it had been a machete through her guts when she signed away all rights to her unborn children. There had only been time for one final kiss and glance before they were whisked away. Then came the enforced sterilization process.
Jenette was a warrior, had walked the warrior's path, even if it was wayward at times where she stumbled with bad judgment. Now in this final test for the Marine Corps, she had to muster all the ganas of every soldier in her family who served before her. In this moment her bones weren't made of calcium and marrow, but of steel. They would be steel for as long as she needed to get what she wanted.
A second chance.
No fucking way would she die behind bars. Too many like her had lived and died there, in a fungal cocoon of hopelessness for petty shit or things they didn't do. You want to kill a soul, cage it. Want to show people their place in the world? Four bare walls without real care or rehabilitation can be as cruel as it is a statement. Monsters are created.
Don't be surprised when jaws snap your neck.
She didn't like bullfights or rodeos, but she'd studied old video recordings of both, preparing for this battle that would determine whether or not she would make it into the Marines. With matador concentration she held her pulse rifle, and cocked it.
Alright, papi, swing those balls my way.
Like any recruit, she'd had to run a gauntlet of weapon prep, marksmanship, survival skills, physical fitness, and hand-to-hand combat. Every challenge she accepted with her bandana worn low and gold cross shining. Without failing a single one, she'd moved forward in the Marines with the stealth of a dark horse—even when she received recognition in two different rifle competitions.
This challenge wouldn't be an exception. Jenette crossed her body in the shape of the crucifix and braced for the attack from an android opponent who would be twice her size and programmed to make this anything but easy. The mistake she saw time and time again in this cumbia of "win or lose" was arrogance, the lack of respect for the opponent.
No one was going to make it easy for her. No one would give her anything in this life.
Don't underestimate the instinct that is survival.
Respect was everything—getting it and keeping it. Now was her time to burst through every barrier and run hard.
The metal door opened. The training pit was dark. The silence was what she imagined space might sound like. Lights began to appear dimly overhead, and the temperature of the room increased to that of a desert at the hottest point in the day. She flicked her eyes to the top of the pit at the one-way glass in the walls, knowing every movement would be watched and judged. The scrutiny on her performance would outweigh the others. This controlled evaluation was meant to test strength, senses, and ability to think on your feet—all in the space of ten minutes.
Doors opened on the opposite side of the room. There he stood. The android was six feet one inch of pure synthetic muscle, holding the same weapon as she. His eyes remained blank, without a flicker of life or sympathy. He only knew the instinct of his programming. A timer on the wall above his head flashed a countdown in red blinking lights. As it hit zero, he would come alive with one intention, to make her fail or give up. But these assholes had forgotten that when you grow up in a system rigged for your failure or to devalue you, you replace skin with an exoskeleton of having nothing to lose.
In her mind's eye she saw the faces of those who had locked her up, of dead family members languishing in ill-equipped and overrun hospitals, the babies she would never know, the guards who had wanted to rough her up. All of it was butane for her fire-breathing nostrils.
Bulldoze him like a tank. Smoke him. Be the goddamn tank.
Don't forget you come from soldaderas.
Zero.
Jenette aimed her gun with ease—as if it were an extension of her arm—and fired. The android mirrored her actions, forcing her to tumble to the side to avoid getting hit. Those suckers hurt. Many times, in afterhours training, she'd been walloped courtesy of Drake.
She kept moving and continued to fire as she ran around the circular perimeter, but goddamn he was fast for his size, with speed more minotaur than man. Then again, he wasn't human. There was no emotion on his face, no tell she could pick up on.
All she needed was one clean shot in the sandstorm of rubber bullets. The two of them couldn't keep running with the dizzying motion of a carousel. They would make sure of it, because combat wasn't no game of ring around the roses. In real combat, someone always died.
She stopped abruptly and darted toward the android while taking aim. Her shot hit his left shoulder. The blow slowed him down, with his body jerking backward, but it wasn't enough to offset his shot to her pulse rifle, which flew from her hands upon impact. It clattered to the ground. Without missing a beat, she grabbed a smaller gun attached to her waist. This time her shot hit the android in the center of his right hand. The malfunctioning digits seized, giving her enough time to take another shot.
He dropped the pulse rifle.
Jenette kneeled for the kill, aiming for the head. One huge stride toward her, coupled with a roundhouse kick, knocked the pistol out of her grip. The bones cracked and her flesh stung with the feeling of a hot iron, but she held her scream between gritted teeth.
It ain't over till it's over, motherfucker.
Without hesitation Jenette propelled herself straight into his body. The sudden impact made him stumble back. On her right ankle she had stashed a switchblade, the kind she carried as a kid and the one grandfather Seraphin told her was the weapon of choice for the pachucos of old. Jenette flipped it open then plunged it as deep as she could in the part of his lower belly not covered by the protective vest, then swept it across. He shoved her to the ground while pressing a hand to his body where it was leaking white liquid.
Booming broke out above her head.
Then simulated gunfire.
The temperature decreased rapidly, accompanied by a simulated rainstorm. The lights strobed across the pit. This was their way of saying "Are you going to win or lose? You decide… now."
The android took the opportunity to strike again, but this time she was ready to end it. When he lunged for her, Jenette drove her boot straight into the hole in his belly. He pushed closer, ignoring the boot in the cavity of his midsection as he grabbed her by the neck. With her opposite leg she attempted to kick him as hard as she could anywhere her foot would land, trying to rupture his wiring or something. The water made her boot slip.
Thanks to the bandana her vision hadn't blurred. Her wounded hand was all but useless, however, and already beginning to swell. Jenette could feel her windpipe closing as his fingers constricted around her neck. It was now or never. No way would it end like this—nothingand no one could grab her by the neck. She squeezed her abdominals hard to lift her closer to the android. She still had the switchblade in her good hand, and with one hate-fueled swipe she caught him across the throat.
White paste flooded from the gash. His face contorted from the damage. His grip softened. Jenette took that moment to grab his wrist and pull him to the ground, securing his torso with one knee as he convulsed from his two wounds.
"Adios," she said as she dropped the knife and yanked out the cables inside his neck. White liquid flew into the air and splashed across her face and chest as sharp electric shocks ran through her fingertips.
The lights went up and the shower ceased. A robotic voice spoke.
"Congratulations. J. Vasquez. You are the victor and have successfully passed your final evaluation. Please make your way through the open doors."
She lifted her gaze to the tinted rectangular window at the top of the training pit and nodded. With her good hand she stowed her switchblade in the left thigh pocket of her fatigues. You couldn't go wrong going back to basics, your roots.
Every muscle ached as she lifted herself from the ground. Her mouth was a cottonfield beneath the blazing sun.
* * *
Drake greeted her when she stepped out of the elevator, standing with the rest of the recruits waiting for their evaluation. A large screen in the holding area showed each showdown. He gave her a large grin as she walked out. It was nice to have a friendly face after staring down an emotionless android.
"I knew you had it in you," he said. "You made that shit look easy… I can't wait to get a crack at that dildo. He won't know what the hell hit him."
"What choice do we have but to make it?" she said. "This is it for me. No plan B and no trust fund—andcareful with that 'dildo.' He has some moves. You might get fucked if you don't stay on your game." Jenette rubbed her neck, hearing her voice strained from the android's grip.
"Don't I know it, sister. You ready to celebrate tonight?"
"Hell, yes," she said. "Let me shower first and get this hand wrapped. Tell me when and where?"
"Will do. I'll send you a message later. We're gonna get lit tonight, like the good ole days."
She gave him a confident smirk. "Good luck, man." Then she slapped his hand, even if the reverberation made her want to wince. Don't let nobody see your pain. Don't let your own sweat sting your eyes, otherwise you won't be able to see, and that's what your enemy wants. They want you to be blind. ¡El riesgo siempre vive!
Abuelo Seraphin always had the good advice.
A commanding officer stopped her before she could make it out of the waiting area. If she hadn't known better, he could have been the brother of the android she just destroyed. "Vasquez, you did major damage to the android with that switchblade. No one knew you had it on you. It's not USCM issued."
"No one said I couldn't improvise," she replied. "Send me the bill." He stared at her without expression.
Then he reached into his pocket. "You showed creativity, tenacity, and that you're a hell of a fighter. Remarkable strength. Here." He handed her a square patch with "USCM" embroidered on it. "Welcome, Vasquez. You're going to the stars."
"Thank you, sir!"
"We are your family now." He turned on his heels to return to the observation chamber, where he would watch the rest of the evaluations.
Jenette's heart galloped. It was just a patch made from cloth and thread, yet the weight of it could carry her places she never imagined.
She walked back to her training quarters with head held high, feeling like a Roman gladiator. In the bigger scheme of things, they were all pawns to benefit the higher-ups orchestrating wars, politics, and "building better worlds," as they put it. Pure entertainment for the new gods, puppet masters stitched from the flesh of dead soldiers and colonists, the strings forged with gold coins and credits.
Gangbanger, she had been called. The whole system was rigged by a gang of suits. Everyone belonged to a gang in this world, wanting only to protect their barrio.
* * *
Jenette pressed the button to close the door to her tiny efficiency quarters. Her wobbly legs managed to make it to her single bed before giving way for her body to crumple, now that the adrenaline had faded. Her boots had to come off, but suddenly she lost all energy to move or control the sobs escaping from her chest without warning.
Eyelids fluttered, hoping they would set free the overwhelming emotions in that moment. She removed the sodden red bandana from her head, Abuelo Seraphin's bandana. She brought it to her eyes and squeezed them shut. Her hands clutched it until her knuckles went white. She had to keep her palms to her face to prevent the brown mask of bravado from slipping off with her sweat and tears. Tears and sympathy were a luxury not reserved for her type. Her injured hand didn't register the pain with the explosive fission escaping from her heart. She needed something to remind her this moment was real.
There would be nothing more to prove.
One door of destiny shut as another opened.
She had done it. No one believed she could or would—just another Brown number in a white jumpsuit when she signed on the dotted line to be released early for a murder she hadn't committed. She'd sacrificed it all and only had herself now.
Wiping her tears, Jenette exhaled. With the overwhelming emotions purged as much as she would allow, she pulled off her combat boots. There were no more tears from her eyes except the one permanently marked on her face.
Jenette removed the switchblade from her pocket. It was still wet with the white mucus from the android. Back in wartime 1940s Los Angeles during the Zoot Suit riots, you were either a zoot suit-wearing pachuco called a gangster with a switchblade, or a military man fighting the good fight. Blood from both spilled during those riots. Jenette—where she came from and who she was—possessed the spirit of both now. She was a Marine, but she also remembered that street life.
Placing the switchblade on the bed, she messaged Roseanna the good news. A photo flashed on the screen, of two small children covered in mud, playing with a litter of baby pigs.
Roseanna responded immediately.
As if there was any doubt!
Can't take it away if it wasn't yours to begin with, Jenette thought.
She belonged to the Marines now, likely the only family she would see in the flesh until the day she died. At least she had her homie Drake with her. Small blessings and shit. She stood up and ran her fingers through her short hair until they touched the nape of her neck.
Damn it felt good.
Time to shower, get her hand seen to, then raise hell—or maybe just the roof that night.
We hope you are enjoying the book so far. To continue reading...
Aliens: Vasquez
Violet Castro
Copyright © 2023 All Rights Reserved