Book info
Sample
Audiobook
Media
Author updates
Lists
Synopsis
In this irresistible historical romance, a seasoned spy sets out to rescue the childhood friend he once loved from a reputation-destroying rumor—only to discover that she is actually the source.

After enduring five interminable seasons, Lottie Carlisle has had enough of shallow London society, her boring little life, and her uncle Alfred's meddling. When he demands she accept a proposal by the end of next season or else he will choose a husband for her, she devises a plan: create a scandal shocking enough to make her unmarriageable and spend her spinsterhood far enough away in the countryside where no one will ever recognize her.

Alec Gresham hasn't seen Lottie since he left his childhood friend without a word five years ago. So he's not surprised to find her furious when he appears on her doorstep. Especially bearing the news he brings: her uncle is dying, her blasted reputation is still intact, and Lottie must return home. As they make the journey back to her family estate, it becomes increasingly clear that the last five years hasn't erased their history, nor their explosive chemistry. Can Lottie look past her old heartache and trust Alec, or will his secrets doom their relationship once again?
Release date: March 9, 2021
Publisher: Forever
Print pages: 368
* BingeBooks earns revenue from qualifying purchases as an Amazon Associate as well as from other retail partners.
Listen to a sample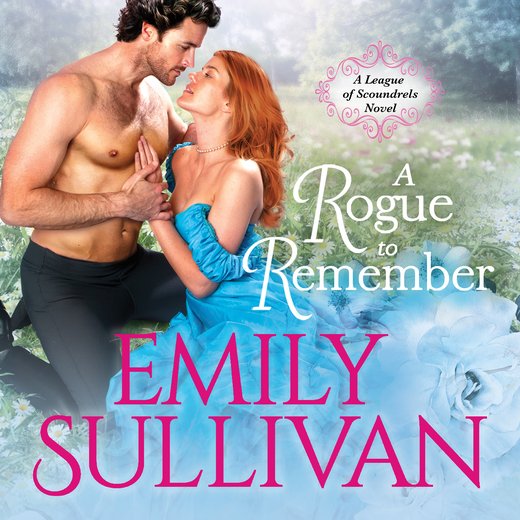 09:52:17
271.13 MB
9781549133848
March 9, 2021
Hachette Audio
A Rogue to Remember
Emily Sullivan
Chapter One

1897
A village near Pistoia, Italy

I have all the time in the world now.

It still felt strange to Lottie Carlisle to have every day stretch endlessly before her, especially with the season starting in a few weeks. But there was no rigid schedule to follow now. No social calls to uphold, no days at home to maintain, no balls, or picnics, or musical entertainments. No more stilted conversations with vapid young men trying their hardest to talk about anything other than her money. And, especially, no more sneering matrons and supposed friends asking why, oh why couldn't she make her poor old uncle happy and find a husband. The man did worry so.

Poor old Uncle Alfred indeed.

Now on the cusp of his sixth decade, Sir Alfred Lewis was considered a veritable pillar of London society, a renowned collector of antiquities whose travels as a young man had once taken him to nearly every corner of the Empire. He had even published a popular memoir on the subject. This garnered him the admiration of many and a knighthood from the queen, but very few knew that Uncle Alfred was also involved in the highest levels of government. He delighted in playing the role of a mild eccentric in public while ruthlessly protecting the Crown's interests in private. Even Lottie barely knew the full extent of his activities—and never would.

Lottie paused to assess the canvas before her. She had been trying to capture the soft, golden light of the Tuscan hillside that surrounded her for days now, and not once had she come close to doing it justice. She managed to eke out a few more sickly clouds, then set down her paintbrush. Hopefully that was enough progress to please her painting instructor, Signore Ernesto, when he came for their lesson tomorrow. She could already hear him chiding her hurried brushstrokes. Pazienza, signora. Pazienza.

Patience. A word Lottie had always had little use for. But now time was all she had.

She walked over to the balustrade that separated the cottage's terrace from the steep hillside's drop and placed her palms against the sun-warmed stone. Lottie had fallen in love with the view on sight when she first came to the village more than a week ago. The owner had been reluctant to let it to a lone woman—even one who claimed to be a respectable young widow—but was not foolish enough to turn down a full year's rent in advance. Now Lottie woke up to this view each morning, while the large back terrace with its vine-covered pergola provided the ideal spot to work on her en plein air painting.

The air was ripe with young spring. She closed her eyes and tilted her head toward the April sky, smiling as the sun kissed her face. No doubt her fair skin was freckling even more with each passing second, but it hardly mattered now. For the first time in her twenty-four years, Lottie was free.

And all it took was complete and utter ruination.

"Signora, tu hai un visitatore," Marta, the housekeeper, said as she bustled onto the terrace. The older woman didn't know very much English, and though Lottie had engaged a tutor to help her brush up on Italian before leaving England, nothing could prepare her for the rapid cadence of natural speakers. Luckily, even Lottie could pick out visitatore.

Strange. Visitors never called at lunchtime, and Marta usually guarded the front door as fiercely as a hound of Hades. "What, now?"

Marta raised her eyebrow. "Un uomo bello nobile."

She shot the woman an exasperated look. "Really, Marta." As Lottie had explained many, many times already, she was not lonely and certainly hadn't any need for affetto. Marta had probably arranged the visit herself, and this "handsome nobleman" was actually the son of her butcher. The housekeeper gave a dismissive little shrug and then, oddly, seemed to hesitate. Lottie only understood half of what she said at any given time, but Marta never dithered over anything.

She looked over her shoulder and then gestured for Lottie to come closer. "Lui dice che è tuo…marito." She whispered the last word, as if relaying some terrible secret.

Marito?

Lottie frowned. It was reminiscent of mari, the French word for "husband," but that didn't make any sense. She most certainly didn't have a husband. Lottie didn't have anyone. She glanced at the Italian dictionary on the terrace's lone table. Hopefully the man's English was better than Marta's, or else this would be a very short visit.

"All right. You may show him out here, I suppose," Lottie said with a sweep of her hand.

Marta broke into a rare smile and nodded. "Ah, bene, bene. Una riconciliazione!" She clasped her hands against her chest, as if this was the most wonderful news. Then her eyes sparked with that all-too-familiar determination. "I bring you tea," she declared and hurried back into the house.

"No, Marta!" Lottie called after her. This wasn't a social call, for heaven's sake. But it was useless. She might be the mistress, but Marta ran the house. Lottie crossed her arms and leaned against the balustrade to wait for this "handsome nobleman" to appear. The thought was mildly intriguing, given that she had barely spoken to a man under fifty since the Pension Bertolini in Florence. He had been a remarkably bland German named Hans who was traveling with his father. Hans was polite, spoke excellent English, and didn't remotely interest her. But her chaperone, Mrs. Wetherby, was undeterred: "Imagine! You could have blond children!"

The odious woman had viewed Lottie's light auburn tresses as an affront to common decency. A foul blemish that needed to be snuffed out before it could taint another generation. But Lottie cherished her hair. It was just like her mother's had been. She pulled her long braid over her shoulder and absently fingered the end. Her uncle's pompous secretary, Gordon Wetherby, had maintained that his aunt excelled in managing young ladies with "high spirits." Lottie could still picture the way his nose wrinkled as he said the words. Lottie wasn't proud of it, but she had taken some pleasure in imagining both his and Mrs. Wetherby's reactions to her disappearance. Though perhaps she should be thanking him instead. After all, if Mrs. Wetherby had been the least bit pleasant, Lottie might have been tempted to amend her plan.

The sound of approaching footsteps drew her attention. They were slow and heavy. One might even say portentous. This uninvited visitor was clearly in no great rush and expected her to wait. Bello or no, this was not the way to ensure a good first impression. Lottie fixed her most disapproving frown on the doorway, where the shadow of a rather imposing man now came into view. The doorway itself was low, and he had to stoop slightly to reach the terrace. Lottie's breath caught at the familiar movement even while her mind tried to reason otherwise.

No. He would never come here. Not for someone as trivial as you.

But before the light even touched his face, a part of her already knew. From a place deep within her bones. A place she could never erase, no matter how hard she tried.

And oh, how Lottie had tried.

Her arms fell by her sides as Alec Gresham, her uncle's ward turned protege, dedicated agent of the Crown, only son of the late English poet Edward Gresham, and, indeed, very bello, stepped out onto the terrace.

"Well hello, Lottie," he said evenly. "What a charming cottage you have here."

No wonder Marta mistook him for a nobleman. He certainly held himself like one, even though nearly every inch of him was covered in road dust. Then the man had the audacity to twist that full mouth of his into a smirk. At her.

As if he were just dropping by for tea.

As if they were still friends.

The word caused a faint pang somewhere in the vicinity of her heart. Lottie quickly wiped the shock from her face and glared. She wasn't naive enough to assume that Uncle Alfred, a man who staunchly refused to accept he didn't have complete control over the fates and furies of life, would simply let her be. But to send Alec after her?

The gall of both of them was maddening.

But if Alec was at all bothered by this frosty reception, he didn't show it. He sauntered over until he was no more than a foot away, forcing her to look up into the face that was at once both achingly familiar and surprisingly breathtaking. The trace of boyishness that had still been visible when they last met was no more, as his features had fully matured into the kind of stoic, patrician beauty the Romans had adored. His dark hair had grown so long it nearly brushed his collar, the waves as unruly as ever, and his strong jaw was lightly bearded. But beneath that easy charm the same undercurrent of antagonism crackled—just as captivating, and disquieting, as it always had been. His hazel eyes glinted, daring her to look away first. But Lottie stared right back.

Alec filled the silence by studying her with an openness that bordered on indecent. If he were any other man, she would have walked away or taken him to task. But then, if he were any other man, her skin wouldn't feel so flushed and tight, and she wouldn't have any trouble swallowing. Alec's gaze tracked the movement of her throat, then briefly flitted to her mouth. Lottie clenched her hands against the unwanted attraction swelling inside and released a breath.

"Funny. Marta told me a handsome nobleman had come to visit." She narrowed her eyes to match her icy tone. "But I see it's only you."

That earned her a chuckle. "I know you don't like surprises, but don't be too cross with me." He tilted his head and squinted; it was a perfect imitation of someone trying to recollect a distant memory. "How long has it been since we last saw each other, anyway?"

The act was nearly as infuriating as the question itself. There was no need to put on a show for her, of all people. Lottie loosened her jaw just enough to answer. "I haven't been keeping track."

It had been five years.

And still nothing about Alec was genuine. He only made it appear so. That was his talent—drawing people in, telling them what they wanted to hear, to see, to feel, until they gave him everything he wanted. Then they were discarded.

He smirked again and moved a little closer. "I'd say it's been about five years or so. Not since your—"

"Who told you I was here?" Lottie didn't have time for this. He needed to leave. Immediately. She had not come all this way to deal with people like him and Uncle Alfred. Not anymore. "Was it Mrs. Wetherby?"

Lottie had placed the timetable for the train to Rome on her desk when she left the pension, where even her harebrained chaperone could not miss it. She also underlined the city a few times so there would be no doubt of her destination. But perhaps Lottie had slipped and mentioned the village once…

Alec shook his head. "She was sure you had gone to Rome, but I know a diversion when I see one." His eyes warmed with approval, but Lottie made sure hers remained cold.

At least someone noticed.

She had also left behind a pressed red rose and a little note—love tokens from her imaginary Italian suitor. Had he seen through those as well? That could spoil everything.

"Then I remembered how you always talked about coming here because of your parents." The smile faded along with his voice, but the words still hung heavily in the air between them.

Blast.

That was the problem with childhood friends. They knew your inner workings, your inspirations, all your closely guarded dreams, because they had been there when the seeds were first sown. But while Alec knew plenty about Lottie, it seemed like everything she thought she knew about him—or at least, everything that had truly mattered—turned out to be wrong. He was little more than a stranger. And perhaps always had been.

"After that, it was easy enough to track you here," he continued. "A young English woman traveling on her own is a bit of a novelty around these parts. Especially one with hair as pretty as yours."

She frowned at the shallow compliment even as her traitorous heart beat a little faster. "A fine story, but I can't begin to imagine your purpose in coming all this way." Lottie made sure each word practically dripped with condescension.

Alec's eyes darkened as he stepped closer, filling the air with a familiar woodsy scent that made something soft and tender curl around her heart. His formerly white shirt was unbuttoned at the throat. The sun had turned his olive skin even darker and threaded his deep brown hair with the barest hints of copper and gold. Her fingers twitched with the old urge to touch those messy waves until she folded her hands tightly against her middle.

Who knew where he had been before this: Turkey, Sardinia, Greece. Perhaps even Egypt. She had never once asked her uncle. All that mattered was that Alec had left. Living in such ignorance all these years made it slightly easier to pretend he didn't exist outside of her memories. But now he stood before her in the flesh, radiating vitality and undeniably real. Lottie caught herself staring at the tanned hollow of his throat and quickly met his eyes, but of course Alec noticed. Yet another smirk briefly hovered on those well-formed lips then vanished. Time to get on with it.

"You know exactly why I'm here, Lottie. And on behalf of whom." Then he raised a dark brow to further emphasize that she had been very bad indeed.

She rolled her eyes. "I did leave him a note."

"Oh yes," he scoffed with surprisingly grating sarcasm. "The one your chaperone was too terrified to send him: 'I know what I'm doing. Please don't be too cross'? Did you really think that was going to convince Sir Alfred?"

Lottie shrugged, unrepentant. The note had been a hastily dashed afterthought. Uncle Alfred should have been happy with two lines from her. But it was vexing to hear that Mrs. Wetherby hadn't passed the message along. "As you very well know, trying to convince that man of anything is useless. I thought my time was better spent begging for forgiveness. And I know why you're here in the general sense. What I'm wondering is what you're hoping to accomplish today."

For once Alec looked puzzled. "You're to come home. With me."

Lottie couldn't stop the laugh from bursting forth. "My goodness, does Uncle Alfred always send you on his errands? I'd have thought you would be doing something far more important these days."

Apparently, agents of the Crown did not appreciate sarcasm. His jaw tightened as all traces of mirth vanished; in its place was an unfamiliar, world-weary expression that bordered on hostile. "He asked for my help. I'm here as a favor."

Lottie managed not to flinch at the trivial description. She expected to be considered as little more than an annoyance, but they both knew Uncle Alfred never asked. He demanded.

"And is that really all you thought it would take? You show up here unannounced and I would simply go off with you?" She laughed again. "That's even less convincing than my note."

Alec moved closer. "This isn't a game, Lottie," he began in a low, harsh voice that sent goose bumps racing up her spine. He then brushed his fingers against her elbow, and the light touch was so immediately recognizable, and so shockingly familiar, that Lottie nearly gasped. As the warmth from his fingertips sunk deeper into her skin, a heady, comforting feeling settled over her until she very nearly swayed against him. "You aren't playing house up here," he continued, unaware of her reaction. "And I don't need to provide a list of reasons because you know you cannot stay."

Lottie pulled away from the hypnotic grasp and matched his glare. "I'm afraid I can, actually. I didn't wander off and end up here by accident. I've let this house for the next year."

Alec's eyes went nearly black as he leaned closer. It was impossible not to notice how much larger he was now. "Then I hope your landlord will honor a refund. As it stands, you have been traveling unaccompanied in a foreign country for over a week. Did you not consider what would happen when you deserted your chaperone while staying in a pension that is extremely popular with British tourists? Did you actually think your disappearance would go unnoticed?"

His tone remained cold while only the barest hint of color stained his cheeks. It appeared that Alec had finally learned to control his temper. However, after insinuating that she was both remarkably inane and grossly incompetent, Lottie saw no need to bother with civilities.

"What kind of a fool do you take me for?" she seethed. "The whole point was for them to notice."

By running away in such a dramatic fashion, Lottie had hoped to create a scandal so irresistible that it would be written about before the day was out. Those letters would then reach the finest drawing rooms in London before spreading even further with the relentless drive of the most potent plague until her ruination was achieved. And if the letters didn't do the trick, Lottie had every faith that Mrs. Wetherby herself would make sure word spread. The older woman had her own reputation to maintain, but no one would blame her if a willful young lady ran off with an Italian.

It would be the scandal of the season, if not the year. Lottie was counting on it.

Alec stared as if she was a stranger. "You mean you…you wanted to be ruined?"

Lottie lifted her chin. Proud. Defiant. And entirely unrepentant. "I'd be very disappointed to learn otherwise, Mr. Gresham."

Finally he was seeing her, really seeing her for the first time; now he would know how strong she was, how determined, how capable.

"Oh, Lottie," Alec sighed, as if in deep pain, and pinched the bridge of his nose. "What have you done?"

Chapter Two

The heart-stopping relief that came over Alec when he stepped out onto the terrace and saw Lottie standing there, the picture of health—and alone—was entirely too short-lived.

He had forgotten so many things, like the exact shade of her hair or the dimple on her left cheek that came out only when she laughed. He had also forgotten how damned stubborn she could be.

And how disarmingly alluring it was.

Over the years, in the rare moments when Alec dared to picture her, it was only as the girl he had first met: the sweet, seven-year-old orphan afraid of the dark who insisted she had an invisible pony named Buckles. Even earlier, while he was traipsing up this godforsaken hill, he was determined to prove that everyone else was mistaken. Lottie hadn't run off with anyone. No, she had merely wanted to visit the little medieval village where her late parents spent their honeymoon and hadn't even considered the havoc her little folly would cause.

Silly, lovely Lottie.

It never occurred to him that Charlotte Elizabeth Carlisle, born into one of the finest families in England, and beloved only niece of the illustrious Sir Alfred Lewis, would knowingly do anything to destroy her sterling reputation.

But the steely-eyed young woman before him suggested otherwise.

Alec had vastly underestimated her.

A careless error. Inexcusable for an agent of his experience. It would not happen again.

Lottie watched him with hawklike concentration. Her brows, a few shades darker than her hair, pulled together, but Alec couldn't speak. It had taken him years to learn how to control his emotions, but this anger had come on so suddenly, so fiercely, that it nearly took his breath away. How long had it been since he let such raw feelings surface?

Oh, about five years or so.

He moved next to her and pressed his palms against the balustrade. He took a few deep breaths until the vibrant pulse of anger faded into that cool, familiar numbness. "I won't pretend to understand what possessed you to do such a thing, or why," he said, turning to her. "But to no one's regret but your own, your reputation is still somewhat intact."

Lottie let out a frustrated huff. "Well, that is disappointing to hear," she said dryly. "I had hoped Mrs. Wetherby would be hysterical. She threw a fit at the slightest inconvenience. I thought my leaving would at least elicit the same response as being served a lukewarm pot of tea."

Her cynicism was even more provoking. And bizarre. She had never been so cold before.

What happened to you, Lottie?

The question was on the tip of his tongue, yet he could never ask such a thing. He might have enjoyed her confidence once, but that had been a very long time ago.

"I assure you, she was in great distress," he growled instead. "But she has no wish for word of your little jaunt to spread, so she made up an excuse to explain your sudden disappearance from the pension."

She cut a glance at him, genuinely curious. "Did she? What was it?"

"That you went to Rome to meet some school friends, where she would shortly join you."

It was a decent enough lie, though Mrs. Wetherby had already been cracking under the pressure when Alec met her in Florence. The woman was exceptionally incompetent, but at least that toad Wetherby had guaranteed his aunt's discretion.

"Huh. I hadn't realized she was capable of such a deception. Was it accepted by the other guests? There was a trio of spinster sisters staying there who seemed to live exclusively on bits of gossip."

Alec gritted his teeth. He was unfortunately familiar with the women she spoke of. "Barely. Mrs. Wetherby had to leave the pension the day I arrived to keep up appearances. But it will all be for nothing if you don't return to England very soon."

She lifted her chin. That mulish look was another thing he had forgotten. "I won't be going anywhere. And certainly not with you."

"If you don't come with me now, your uncle will only send someone else later," he countered grimly. "And they might not be as considerate of your well-being as I am, especially if they learn the circumstances that preceded your visit."

No doubt there were scores of men who would be all too happy to escort her back to England. Alec was prepared to drag her kicking and screaming down the hillside for that reason alone. She swallowed hard but made no response. He glanced down and noticed that one hand was balled in a tight fist by her side. Perhaps she wasn't so composed after all…

"You should also know I didn't come here merely to save your reputation," Alec continued, taking pains to soften his tone. "Though that was the initial reason, the situation has grown more urgent. Your uncle suffered some kind of apoplexy a few days ago. Mr. Wetherby sent a telegram while I was still in Florence." Alec had never met Wetherby in person. All communication between them was strictly limited to telegrams and letters, yet that hadn't stopped him from concluding that the man was a complete ass. "He indicated that it was fairly mild, as far as these things go, but there is the danger your uncle could have another."

It was difficult to imagine Sir Alfred, who always exuded power and control, suffering from any kind of impairment, but age spared no one. Lottie's frown deepened and she looked out across the landscape. Once Alec had been able to read her so easily, but she had no reason to hide anything from him then. Now he could only guess at the conflicting emotions warring inside her at the news. As his guardian and her uncle, Sir Alfred had, for lack of a better word, raised them both. But Alec's relationship with the enigmatic man wasn't nearly as complicated as Lottie's was. And, given the circumstances, one could assume that things hadn't exactly improved over the years. "If he does, he may die."

Lottie did not respond. At this angle, without those eyes hinting at the steel underneath, she could be the very picture of fresh, English innocence. Her slight curves had grown more pronounced over the years, but her peaches-and-cream complexion was still as smooth as polished marble with a faint dusting of those freckles he had always adored. The last time he saw her, Lottie had been trussed up in yards of white taffeta for a ball held in her honor. She had looked lovely then, but he much preferred her like this. In her sensible dark blue skirt and well-loved silk blouse, with wisps of hair coming loose from her braid.

Alec fought back the urge to trail his finger down her cheek. Would she be warm and soft, or cool and hard? He leaned closer and faintly inhaled that familiar rosewater scent now mixed with the sharp tang of the oil paint that stained her fingertips. She had never looked more like herself than she did at this moment. Or maybe it was simply that he had missed her. So very much.

"Thank you for your concern," she said stiffly as she shifted away from his reach. "And for delivering the news in person, though it seems hardly worth the effort on your part. If I choose to see him, it will be on my own terms. I'm sure you have a long journey back to wherever it is you live now. On your way out, be sure to tell my housekeeper you were mistaken in coming here. You—you must have thought I was someone else."

There was a slight catch in her voice. A chink in her armor. And Alec wouldn't let it slip by.

"That might be difficult," he began, "seeing as I already told her I was your husband."

Lottie abruptly faced him, her green eyes round and wide. "You what?"

Alec gave her a lopsided smile. "Well, I had to get ins. . .
We hope you are enjoying the book so far. To continue reading...
A Rogue to Remember
Emily Sullivan
Copyright © 2022 All Rights Reserved