Book info
Sample
Audiobook
Media
Author updates
Lists
Synopsis
A sinuous, powerful and white-knuckle thriller, from the award-winning author of The Yellow Birds, shot through with treachery, trauma and the long tentacles of war.

An early morning on a beach in Virginia. As he is taking his daily swim, Arman Bajalan - formerly an interpreter in Iraq - discovers a dead body. After surviving an assassination attempt that killed his wife and child, Arman has been given lonely sanctuary in the US. Now, sure that the murder is connected to his past, he knows he's still not safe.

Seasoned detective Catherine Wheel and her fresh-off-the-beat partner have little to go on beyond a bus ticket in the man's pocket. It leads them to Sally Ewell, a local journalist as grief-stricken as Arman by the Iraq war, who is investigating a nefarious corporation: one on the cusp of landing a multi-billion-dollar government defence contract.

As victims mount around Arman, taking the team down wrong turns and towards startling evidence, they find themselves in a race, committed to unravelling the truth and keeping Arman alive - even if it costs them everything.

'A kickass mystery from a superb storyteller' David Baldacci, author of The 6:20 Man

'A spellbinding and totally original thriller' Philipp Meyer, author of The Son

'A tense, twisting, and thoughtful story of the intersection between grief and greed' Michael Koryta, author of Never Far Away

(P) 2023 Hachette Book Group
Release date: May 16, 2023
Publisher: Little, Brown and Company
Print pages: 368
* BingeBooks earns revenue from qualifying purchases as an Amazon Associate as well as from other retail partners.
Listen to a sample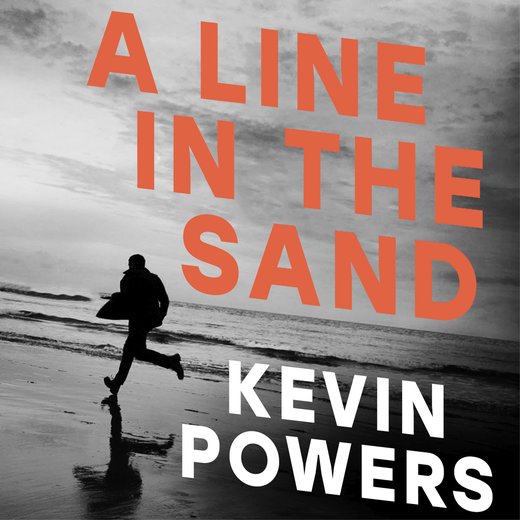 10:53:46
299.28 MB
9781399711517
May 16, 2023
Hachette UK
2023
A Line in the Sand
Kevin Powers
Arman Bajalan woke in darkness, as was his habit. He turned toward the clock on his nightstand: 4:37 in digital red. Another eight minutes to sleep. Outside his window, a songbird warbled in the yellow glow of an alley streetlight. He swung his legs over the side of his single bed and rubbed his eyes awake instead of going back to sleep. A jet passing overhead from the naval air station washed the morning twilight in the noise of its engines. Arman looked up toward his ceiling's popcorn surface as if to track the jet in its low flight over the city.

He stood beneath another streetlight a few minutes later, waiting for the number 3 bus to take him to work at the motel on Ocean View. He wore his custodial uniform, gray work pants and a matching top with a patch on the pocket where his name had been embroidered in white thread, cursive script. After reading his résumé and offering him the job, Mr. Peters, the motel owner, had added Dr. to the name patch. His coworkers called him Professor the first few months he worked at the motel, but that had died down once it was clear Arman would not be moved in one direction or the other by the ribbing. A heavy set of keys hung from a carabiner on his belt, and he shouldered a nylon gym bag with a towel and a pair of swimming trunks inside.

His usual bus never came. Arman waited in the emptiness of the city street and the last cool air of night receding from it. He checked his watch two times before another bus arrived at 5:14 and knelt toward the curb with a pneumatic hiss. Arman and the bus driver told each other good morning.

"The last bus never came," said Arman.

"Engine trouble. Sorry about that," the driver said. "Had to switch buses and the schedule got mixed up."

The bus rose and rumbled off, and he put a pair of earbuds in and scrolled through his iPod until he found a Commodores song and pressed Play. The bus driver glanced at him in the mirror often enough that he pretended not to be when Arman caught him. Arman used to smile when he saw suspicious eyes looking back at him in the rearview, but he had given up on that some time ago. Still, he sometimes wondered who they saw when they looked at him. Once, not long after he'd arrived in America, he'd looked into the bathroom mirror in his apartment and tried to imagine that his gray-green eyes belonged to a stranger, but it didn't work. He could not escape himself. And he knew that people mostly saw what they wanted to see anyway. He put "Sail On" on repeat until the driver let him off at Granby and Duffys across from Doug's Hot Dogs just before 5:45 a.m., almost half an hour later than usual.

He walked through Ocean View Beach Park with his hands in his pockets and headed toward the bathroom to change into his swimsuit. Beyond the beach grass, the rising sun carved a red sliver across the horizon. The sky above was not yet light. Black becoming blue. Stars already absorbed by nautical twilight. Arman reached the public restroom and grabbed the door handle, but movement over his shoulder caught his attention. Two men approached from the beach, carrying themselves with a casual menace. Arman looked down and saw his hand tightened into a fist around the door handle, his knuckles whitened by the reflexive effort. They were near enough when they passed that he could hear their voices but could not make out what they said. They hadn't seemed to notice his presence. He looked up and saw that the light above the bathroom door was out. He was in the deeper darkness of the small building's shadow. His hand still gripped the door handle like he might fall off the earth if he let go of it. One of them said something gruffly, but Arman wasn't sure if he'd heard it correctly. The other sidearmed something into the beach grass, but it was too dark to see what it was.

He watched them walk off toward Ocean View Avenue for a few more seconds, then closed his eyes. Something about them reminded Arman of his childhood. When Saddam's men took his father from the camp at Topzawa during the Anfal, they had carried themselves the same way. He let go of the door handle and flexed his hand until the blood returned. He took a deep breath and counted to ten in his head. When he'd first come to America, a counselor from the resettlement agency had tried to explain why he sometimes felt like he was in two places and times at once. And why it was hard to know which place or time was real. The body remembers what the mind wants to forget, she'd said. He looked back through the park toward Ocean View Avenue, but the men were gone. He remembered then what his body had not forgotten. When he got to ten, Arman opened the bathroom door and went inside.

He left the bathroom a few minutes later and walked to the beach. When his bare feet hit the sand, he wiggled his toes in its remaining coolness. He laid his towel out over the sand and placed his gym bag on it. He entered the water as the sun broke free from the horizon line. He let the bracing waves splash against his legs as he waded in, then up to his waist, and finally up against his chest before he dove into a breaker and began to swim. The bus delay forced him to cut his swim short, but he pushed himself hard up and down an imaginary lane a hundred yards from shore for half an hour. He breathed hard as he reversed out of the water, riding a wave into shallower depths, and then walked down the beach to his towel.

It was warm enough now that the sun felt good against his back, and he toweled the salt water off himself and lingered for a minute. There were not many people out that early in the morning. Even those few seemed content to keep to themselves. An old man walked his dog above the boardwalk in the grassy expanse of the park. Here and there, a runner on the sand went by. Those who wanted to engage in pleasantries satisfied themselves with a wave and a "Good morning." Had they known Arman's history, they would have been surprised how easily a smile spread across his face when the moment called for one. Some caught themselves staring as he dried off in the morning sun, then turned away when they recognized the contradictions written across his body.

He was long and athletic. Years spent carving through the morning waves had made him lean and muscular. He had broad shoulders browned by the sun, but when he raised his arms to towel-dry his black hair, Arman revealed the topography of scars stretching from his armpit to his thigh on the right side of his body. Ragged divots pocked the otherwise smooth skin. A line like a river carving out its banks wove its way from his hip to just above his knee. This much was clear even from the glance of a stranger running past: a long time ago, something had meant to carve this man up into pieces, and roughly, but failed. To Arman, the scars themselves were hardly worth remembering. He knew what they were. Marks in a ledger. A record of his loss. Every day the same since then. A morning swim, a day spent collecting all that others so easily discard, and a return at night alone to a small apartment in a city that would never be his own. His life was a ritual with no purpose he could recall.

All this passed in much the same way it had for the past few years. When it was warm, he swam. When it was cold, he walked the stretch of beach between the park and the fishing pier. He found solace in predictability, in the rote mechanics of wave and tide. But all that ended when he saw the man laid out where the dunes met the level sands of the shore.

Arman had put his towel over his neck and picked his bag up to go back to the public restroom to change when he saw him: The heels of a pair of oxfords half buried in the sand. The fabric of the man's suit pants flapping in the come-and-go breeze. His hands folded across his chest as if he were impatiently waiting for someone or shivering against a cold you wouldn't find on a summer morning in Norfolk.

Arman looked at the figure laid out against the bare beginnings of the dunes. He stood there for a few moments, absentmindedly running the towel over his black hair, then glanced back up toward the bathroom in the park. His watch read ten minutes to seven. His shift started at eight. Perhaps his boss would understand his choice if he was late. Maybe he could say, Mr. Peters, don't you think we owe something to each other? Probably his boss would not be persuaded by that.

He walked up to the slope of sand beneath the white chain that bounded the limits of the public beach. He knelt beside the man and put his hand on his shoulder, withdrawing it immediately upon seeing the man's face. The mouth was slightly open, in neither a smile nor a grimace. Simply that of a machine seized at a random moment of its operation.

Arman sat back in the sand next to the body. He crossed his arms over his knees and hung his head. He looked up and watched a plover dart from hole to hole in the wet sand, hunting for hermit crabs. Gulls stacked and circled in the air above the nearby pier. He stood up and unfolded his towel and, as delicately as he could, laid it over the dead man's upper body. He hoped to flag down someone with a cell phone, but it seemed the beach had more or less cleared of the sunrise crowd. He knew a pay phone was near the park pavilion, so he reached into his gym bag and fished in his pants pockets for change. He turned the quarters over in his hands like prayer beads and looked out toward the gray waves. Far in the distance, the outline of a carrier backlit by the rising sun cleared Willoughby Spit and silently left the continent behind.

Detective Catherine Wheel had her eyes closed, listening. Behind her, a dead man's turbo diesel idled. Farther back, the sounds of gantry cranes and boxes moving ship to shore intertwined into a soft white noise. Closer still, a voice recounted another passage to the afterlife. "Seven forty-five a.m., we responded to a ten-forty-seven. Pretty vague. Fucking Narcan, I don't know. Goddamn it, hit the motherfucker again. Dispatch said it's a guy passed out in a coal roller. Compression, compression. We arrived. Subject was unresponsive. Vehicle doors were locked. One, two, three, four, five, six, seven, eight, nine, ten. My partner made the call to enter the vehicle through the window. Subject was cold, had no pulse, no respirations. We pulled the guy out, administered Narcan. Performed CPR. Breathe, you fat fuck. Breathe, goddamn it. Okay, I'm putting the AED on him." Pause. "Nothing. Still no vital signs. Subject declared deceased at seven fifty-six a.m."

Only the sound of machinery remained. The human voices faded into the buzz and hum of the port. She opened her eyes. The Lafayette River was a path of glass and light before her. White yachts and the spinnakers of Flying Scots freed from their slips at the country club across the water. They skated toward her on the wind, colorful and effortless, heading to the deeper water of the bay.

"Who was he, Officer? Maersk? CSX? Some rando just decided to park his truck in the middle of one of the largest ports in the world to shoot dope all night?"

"I don't know, ma'am. Customs said they were bringing someone down. Supposed to be a log. In and out."

Detective Wheel pulled on a pair of surgical gloves, reached through the broken window into the truck, and cut the engine. She opened the door and then the storage container between the two front seats and pulled out a lanyard with an ID card on the end of it. She called the headquarters of the facility operator, read the name off the ID badge, and asked if they had an employee by that name. "Yeah," the guy said. "Tell that son of a bitch he's late, and he's fucking fired."

"You want to send somebody down by the substation?"

"What for?"

"I'm the police, and I said so."

"Why, what did he do?"

"He died."

"Goddamn it. Now I have to find someone to cover his shift. South end of the terminal?"

"Yeah. By Tanner Point, that's right."

"All right. Sure, Detective. Whatever you need."

Detective Wheel made another call and turned toward the two patrol officers who had first responded to the scene. "Medical examiner is on the way. Just sit tight. Rest of your day is paperwork. The commonwealth won't believe he's dead until we all write about it."

She admired the disappointment on their faces. As if any one of us are fit to contend with death. "You did everything right, Officers."

Her phone rang again. She looked at the number on the screen and flipped it open. "Hey, Lieutenant Billings."

"How's your morning going?"

She looked back at the body laid out on the port's concrete decking. "Could be worse."

"I think it's gonna be one of those days, Cat."

"I thought you might say that."

"Swimmer called in a ten-thirty-nine at Ocean View Beach a little while ago."

"Come on, Lieutenant. I don't do drownings. I'm just coming off a junk call. Tell dispatch to call the Coast Guard."

"I know, I know. We all got shit to do. Just go have a sniff. You never know. Maybe this will be the case that saves the world."

"Ten dollars says it won't."

Detective Wheel turned her cruiser down Terminal Boulevard and pulled out her phone. She shadowed a double-decker freight train moving from the terminal on the CSX line until she joined the highway and waited for her partner to pick up.

"Adams."

Beside the road, an indistinguishable blur of vaguely institutional buildings slipped past, 1970s apartments and ranches housing young sailors and young wives the same as they always had. Decommissioned Quonset huts with paint stripped off by a half century of sea air. The green trees along the highway left to their wildness. A view from no place.

"Lamar, it's Cat. Meet me in the lot at Ocean View Beach Park."

"What is it, ma'am?"

"I don't know yet. Swimmer found a body."

"Roger that. I'm moving out now."

"Lamar?"

"Ma'am?"

"You can speak normal-people English now."

He laughed. "Sorry. Old habits and all."

"If you're really sorry, you'll bring me a cup of coffee."

She pulled into the lot with her badge in her hand and her arm hanging out the open window of her cruiser. A few uniforms and paramedics milled around the lot and lingered at the rear of an ambulance. She saw a man sitting uneasily in the back of a unit with the door open. That was quick, she thought. She parked, got out, and checked her watch: 9:00. The medical examiner would want to get the body off the beach soon. She saw Lamar pull in, and she waved him to an open spot next to hers.

He handed her a cup of coffee, and they walked between the wind-bent pines and followed the boardwalk to the sand. A sheet covered the body. A line of police tape staked in the sand ringed the scene. A small blue portable canopy shielded the forensic team and the body from whatever weather might come. What activity there had been in the immediate aftermath of the authorities' arrival had died down. Beyond the tape, a lifeguard on a four-wheeler sat with his arms crossed and talked casually with someone from the ME's office.

She and Lamar walked up and saw the medical examiner. He was sitting in the sand waiting and got up when he saw the suits coming. "Hey, Cat."

"Hey, Doc. This is my partner, Lamar Adams."

"Pat Martin. New?" asked Dr. Martin.

"Yeah. Off the beat a month or so."

"Good to meet you, Detective." They shook hands. "I'm surprised they sent you down here, Cat."

"You think it's natural causes?"

"I don't know. It's a little weird." He pulled the sheet off the man and squatted down in the sand. He held a pen in his hand, presumably so he could point with it if he needed to, but just spun it in his fingers casually while he talked. "I mean, the guy's in incredible shape. I'm guessing around forty years of age. Probably ten percent body fat." The doc put his pen in his shirt pocket and hiked up the dead man's suit pants. "Look at the calves on this guy. He had to be a triathlete or something like it. People in this kind of physical shape rarely die without there being a pretty obvious cause."

"What about hypertrophic cardiomyopathy?" Lamar asked. Detective Wheel looked at her partner and made a mental note: The kid is sharp.

"Possible. But death from that occurs almost exclusively during intense physical activity. He's wearing a suit. Sand around the body wasn't overly disturbed when we arrived. No sweat evident even if he had been working out in the middle of the night in a suit."

"What are you thinking?" Catherine asked.

"I'm definitely gonna need a closer look. Can I have him when you're finished?"

"Sure, shouldn't be too long."

Detectives Wheel and Adams took their places on either side of the body. They pulled on surgical gloves and began to examine the dead man, first looking at the outside of his clothes, then going into each pocket carefully and deliberately. A tech took Polaroid photographs as they went, documenting each item of evidence collected no matter how trivial it might appear.

Detective Wheel found a uniformed officer and said, "Give me a zone search from the beach one hundred yards beyond the parking area. Make it inclusive of the parking area itself, all structures within the park out to the street. Any vehicles other than ones owned by the City of Norfolk arrive or leave since the first officer was on scene?"

"No, ma'am," the uniform replied.

"All right. Well, don't miss anything. Anyone besides Mother Nature killed this guy, we're gonna find out who."

They pulled a matchbook from a DC cigar lounge out of his pants pocket. He wore a silver dive watch on his left wrist. Detective Adams looked at the face: Adina Oceaneer. He wasn't familiar with the brand. It was well-made but not showy. He found a Greyhound bus ticket in his left inside jacket pocket. He looked it over front and back. "Detective Wheel."

"No wallet. No ID. No money," she said.

"Got a bus ticket. Round trip, DC to Norfolk and back, under the name Thomas Brown."

"Thomas Brown? Can't be more than, what, ten thousand Tom Browns walking around, can there? Please tell me something good, Detective Adams."

"Return trip is tomorrow at seven forty-five in the a.m."

"Shit. I was hoping to sleep in. When'd he get to Norfolk?"

"Don't know. Doesn't have the inbound arrival info. Just the originating city."

Cat retrieved a key from the smaller pocket on the inside of his jacket. "What do you think this opens?"

"Too small for a house key. Locker, maybe?"

"Locker at a bus station, perhaps?" she said.

"Least we might find out who the guy is. Get his next of kin notified."

"That'd be a positive outcome, Detective. Don't let me forget to get a picture of the label on his suit."

Lamar opened the body's jacket again. He looked up at Detective Wheel and showed her. "No labels."

Catherine opened the other side of the jacket. She leaned in close. There were holes in the silk lining where the labels had once been stitched in, but the tags had been carefully removed. "This ain't junk, Lamar. We've got a real case now."

They stood up and peeled off their gloves and ducked under the tape. They walked back to the parking lot, found a bench, and sat down. "Run it back to me," Cat said. She pulled a pack of Marlboro Reds out of her jacket pocket, lit one, took a drag, then let the ash grow long while Lamar talked.

"Deceased is an unidentified male approximately forty years of age, excellent physical condition other than being dead. No obvious injuries or signs of trauma. Items in possession of the deceased are one matchbook, one round-trip bus ticket, return ticket unused, and one small key. Clothing of the deceased has had all labels and other identifying characteristics removed. That cover it?"

"John Doe," Catherine began, "dies of unknown causes under suspicious circumstances on Ocean View Beach sometime between midnight and… what'd the wit say?"

"Haven't talked to the wit or first on scene."

"Okay, so sometime between midnight and six a.m., our guy dies on the beach, all alone, wearing a gray suit without labels, a white dress shirt without labels."

"Detective Wheel," Lamar said, "could've just been another overdose. No shortage of those these days."

A jet from Naval Station Norfolk flew by. Lamar's eyes shot skyward. Cat took note of that too.

Arman watched the pair of plainclothes officers approach from the beach. He had a read on the younger man right away, recognizing a certain self-consciousness of posture meant to communicate the opposite. The shoulders thrust back, chest out, spine straight as a flagpole. The Oakleys would have been a dead giveaway besides, but it was clear to Arman that the man walking toward him had been in the military. He had been around enough of them back in Mosul to spot them the way countrymen recognize each other when traveling abroad.

The woman was older, maybe forty-five. She didn't wear makeup, and her hair was a wave of curls, red going gray. He watched her take the short walk to the parking lot from the beach. Saw that her eyes swept the terrain before her with the patient arc of a lighthouse beacon. In her left hand, a cigarette burned, and she absentmindedly flicked its ashes without taking a drag off it. They paused about ten meters from the car where he sat and spoke to the officer who'd arrived after Arman made the 911 call. He caught only snatches of the conversation due to the whipping gusts; he heard "A little nervous" and "You like him," but the rest blew out to sea with the wind.

The officers introduced themselves as they approached. "Are you comfortable, Mr. Bajalan?" Detective Wheel asked.

"I'm okay. Can I call my boss? I'm late for work. I don't want him to worry."

"We'll get them notified, let them know you're helping us out," Detective Adams said.

"We just want you to tell us what you told Officer Johnson over there," Detective Wheel said, pointing to the first officer on scene.

"Didn't he tell you what I said?"

"He did, but it's best if we get it from you too. Don't want to play telephone with something serious like this, do we?" said Detective Adams.

"No. I guess not."

"Are you nervous, Mr. Bajalan?" asked Detective Wheel.

"I'm not used to finding dead bodies."

Arman noticed Detective Adams had moved to the back of the police car, where he leaned against the rear quarter panel. Detective Wheel put one arm on the vehicle's roof and the other on the top of the open door, blocking him in the car.

"You're out here every morning?" she asked.

"Yes."

"You ever see this guy before?"

"No."

"Did anyone else see him?"

"I don't know. A few people went by. Dog walkers. Runners."

"No one thought anything of it?"

"I don't know what they thought."

"What did you think?"

"When?"

"When you saw him."

"I thought it was strange that a man was lying on the beach in a suit."

"You went swimming before you called it in."

"I hadn't seen him. It was just getting light when I got here. He was behind me. I saw him when I came out of the water."

"And you tried to help him?"

"I called the police."

"Did you try to help him? Did you touch him? Perform CPR?"

"No."

"Why not?"

"He was dead."

"How did you know he was dead?"

"How did I know? It was obvious."

"You said you weren't used to finding dead bodies, but you knew this man was dead and didn't need your help?"

"I'm not used to finding dead bodies. But I've seen enough of them to know."

Detective Wheel looked up at her partner, resting her chin on her arm and raising her eyebrows as if to say, Anything to add? She leaned back, stood up, and shifted so that Arman sat unimpeded. Detective Adams took up the questioning. "So you're out here every morning, Mr. Bajalan."

"Yes, almost always."

"Same time?"

"Except today. Number three bus was late."

"What time did you get here?"

"Quarter to six."

"And you're normally here at what time?"

"Five fifteen."

"You didn't see anybody else except for runners and dog walkers?"

"Two men passed me near the bathroom. I was going in to change, and they were leaving the beach."

"These two guys, they part of the regular crowd? Runners, dog walkers, and you?"

"No."

"Because you know the regular crowd."

"I know some faces. To say hello."

"Do they know you?"

"To say hello, maybe."

"But not more."

"Do people know each other like that?"

"Like what?"

"More."

Detective Adams paused. The answer was not one that he'd expected. "So these guys see you? Did you see what they were up to?"

"No."

"They say anything?"

"Yes."

"What did they say?"

"I'm not sure."

"But you think you know."

"Yes."

"What do you think they said?"

"It was only one of them."

"What do you think he said?"

Arman was unsure how to respond. After all, certain suspicions were nearly impossible to shake. These were police. And for the first twenty-five years of his life, Arman would have told the police anything to get away from them. Any lie, any elaboration, was justified if it meant avoiding the Mukhabarat. But the Americans were supposed to be different. When he was a boy, he remembered his father saying the Americans would save them from Chemical Ali. But they didn't come until Arman's father had been dead more than two years. And what did they do when they finally came? They left Saddam in power. The Baathists were not punished. The Americans always came too late or left too soon. Too late for Halabja. Too late for so many others.

As a grown man, he'd spent almost two years working with the Americans in Mosul, once again choosing to believe in them. And some were worth believing in. Although they were ignorant of his people, Arman forgave them for it. Their enthusiasm to help often left little room for curiosity or introspection. But they were not all that way. And he had sometimes wondered: What if even the good ones were only responding to circumstances? What if, when it mattered, they abandoned principles as quickly as everyone else? He took a deep breath now, choosing to believe that the truth was w. . .
We hope you are enjoying the book so far. To continue reading...
A Line in the Sand
Kevin Powers
Copyright © 2023 All Rights Reserved