Puppies and poison in Dead in Dublin
If you missed my sweet post on National S'more Day last week, you might want to check it out for some variations on your favourite fireside treat, including gluten-free graham crackers. And of course… more books.
Without Foresight, book #12 in the Reg Rawlins Psychic Investigator series releases this Friday! Be sure to check back here for more about Without Foresight and other new releases! You can preorder Without Foresight from me or most online retailers now.
Teaser Tuesdays is a weekly bookish meme. Read the rules and more teasers at The Purple Booker. Anyone can play along.
My book for this week is Dead in Dublin by Catie Murphy. With the very Irish name of Catie Murphy writing an Irish cozy mystery, I am not sure whether this is the author's real name or a pen name. I checked out her biography, and this is what I found out about her:
Catie Murphy, is the author of Dead in Dublin and numerous award-winning fantasy and sci-fi books under the pseudonym C. E. Murphy. She was born and raised in Alaska, and now lives with her family in her ancestral homeland of Ireland.
Dead in Dublin is the first book in The Dublin Driver Mysteries, which surprised me when I looked it up. There is lots of backstory summarized in Dead in Dublin, and I assumed that there were probably three or more books before it in the series. So this book may leave you a little hungry for more details of "what happened before," but it is a fine standalone mystery and I'm sure the author will reveal more about Megan Malone's origin story throughout the next two books in the series. I will definitely pick up the others as they become available through my library app.
With a poisoned food critic, Jack Russell terrier puppies, and a handsome police officer also investigating the case, this book has everything cozy readers are looking for.
Megan looked back, surprised at the fervor in Fionn's voice, and then the brightness in her eyes. "Thank you, Meg. It's me life you're saving."

Catie Murphy, Dead in Dublin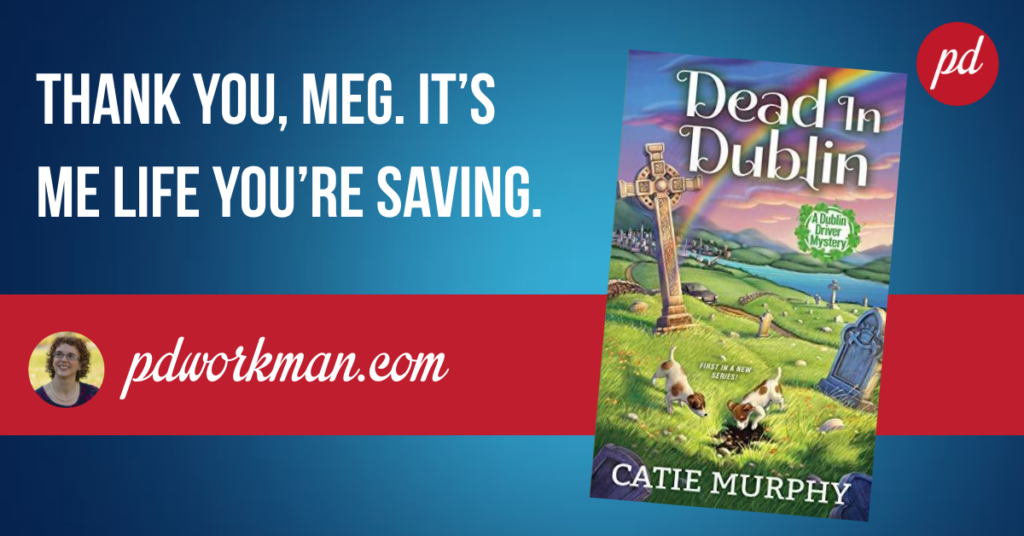 Ferrying tourists around Dublin for the Leprechaun Limo Service makes quite a change after years in the military. Still, Megan Malone is enjoying her life in Ireland. She likes the scenery, the easy pace, the quirky, quick-witted locals. Everything—except having one of her clients drop dead at the statue of fabled fishmonger, Molly Malone.

Most restaurant critics notch up their share of enemies. Elizabeth Darr, however, was a well-loved international star. She and her husband, Simon, had just had dinner when Elizabeth collapsed, and spoiled seafood is the first suspect. The restaurant's owner, worried her business is doomed, begs Megan to look into it. Between her irate boss and a handsome Garda who's both amused and annoyed by her persistence, Megan has her hands full even before she's cajoled into taking care of two adorable Jack Russell puppies (which she is almost definitely not keeping). But if cockles and mussels aren't to blame, can Megan find the real culprit . . .before another fishy death occurs?
Originally blogged at pdworkman.com