Back to Paranormal – Grey Dawn
Looking for some Halloween reading? Be sure to check out my last blog post!
Teaser Tuesdays is a weekly bookish meme. Read the rules and more teasers at The Purple Booker. Anyone can play along.
Looking for a new cat mystery? Clean Simon has them in spades! I was quite impressed by her bio on Amazon, I'll copy it down below for you. She is prolific, with lots of series (like someone else you might know.)
I am nearly finished reading Grey Dawn, book six in the Dulcie Schwartz Mysteries. I don't think I have previously read any of the books in this series, but didn't have any problem following the action or understanding the relationships and backstory. Simon weaves it all into the narrative naturally, so you don't feel lost or inundated with facts.
I had to laugh at one of the reviews on the Amazon page, which says: "This book is definitely fiction." Yes, ghosts, werewolves, talking cats… I think we can agree that this is mystery fiction, not true crime.
I am close to the end of Grey Dawn, and while I have a few ideas as to what is going on, I haven't yet figured it all out. I have had a pretty good idea of who was not the culprit since the early pages, and I did pick up on a few of the clues that are now being revealed. I'll have to see how it all ties together in the end!
Edited to add—The ending was somewhat disappointing. A lot of questions left unanswered.
But seated a few feet away beside the opened cardboard box sat the little orange kitten calmly washing the tiger stripes that were fading back into his fur.

Clea Simon, Grey Dawn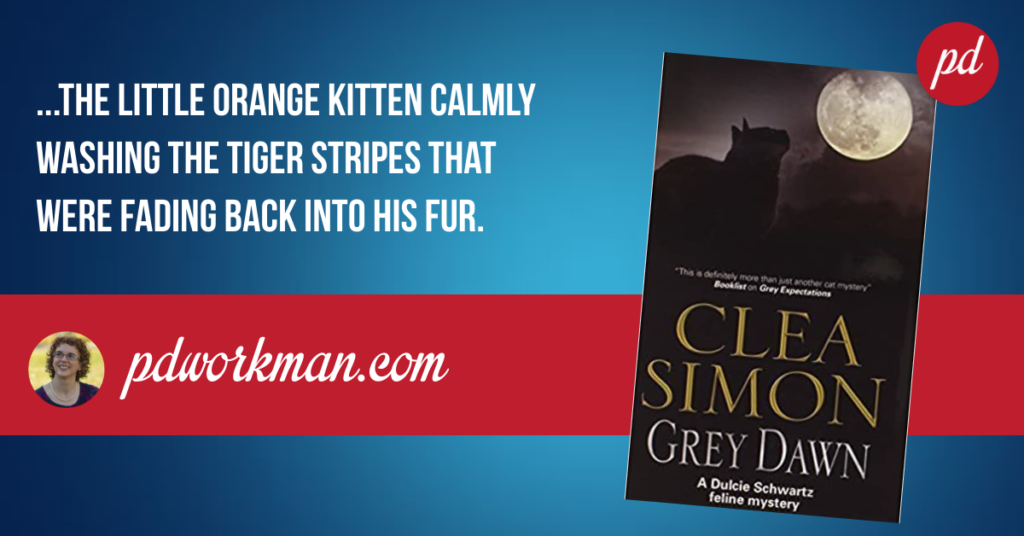 When grad student Dulcie Schwartz thinks she hears a wolf late one night, on her way to pick up some forgotten papers from her departmental office, she tries to dismiss it – but it's too late for her peace of mind. The noises, the dark building and an unnerving sighting of her adviser – looking strangely unhuman in the moonlight – all combine to thoroughly give her the creeps.
But it is not until the next morning that Dulcie learns the disquieting truth: she was right to be spooked. A woman worryingly close to the university was savagely attacked, that very night. A woman who looks like Dulcie.
Aided by the cryptic advice from her kitten Esmé and the ghost of her late, great cat Mr Grey, Dulcie can't stop herself from investigating, just a little . . .
Bio
Hi! Welcome to my Amazon Connect page. I'm thrilled to be celebrating HOLD ME DOWN, a novel of psychological suspense. This "devastatingly powerful mystery"* "shines a light on tough, struggling, and brilliant women"** brings me back to the rock and roll underground of my Massachusetts Book Award "must read" WORLD ENOUGH. NYT bestseller Lisa Unger calls HOLD ME DOWN "Provocative, moving and suspenseful. Don't miss it!"
*NYT bestseller Caroline Leavitt, **Kingdom Books,
If you you prefer fun feline cozy mysteries, you might try the friendly witch cats of my Witch Cats of Cambridge series ("A Cat on the Case") or my Theda Krakow and Pru Marlowe pet noir series). Or maybe you prefer an academic setting (my Dulcie Schwartz series). You'll find animals in all of them – and in my Blackie & Care mysteries, "The Ninth Life" and the new "As Dark As My Fur," which take a darker turn than any of my previous books, too (with a black cat, naturally). Maybe you remember me as a rock music critic – I used to write for everyone from the Boston Phoenix to Rolling Stone.
You might be wondering about my "Dogs Don't Lie." Yup, it's got a dog in it, and many of the Pru Marlowe books feature other animals. But Pru, an animal psychic, couldn't function without her sidekick, an irascible tabby named Wallis. They both appear in "Cats Can't Shoot," "Parrots Prove Deadly," and the latest Pru "Panthers Play for Keeps," and "Kittens Can Kill." (Look for "When Bunnies Go Bad" in March 2016! All from Poisoned Pen Press) Meanwhile, I hope you are enjoying my Theda Krakow series – "Mew is for Murder," "Cattery Row," "Cries and Whiskers," or "Probable Claws" – and my Dulcie Schwartz series (think cats AND ghosts!) with "Shades of Grey," "Grey Matters," "Grey Zone," "Grey Expectations," "True Grey," "Grey Howl," "Stages of Grey," and "Code Grey" (all from Severn House). Or perhaps we share some family issues, and you're looking at "Mad House" or "Fatherless Women." Or maybe you just love cats and are interested in my "The Feline Mystique." At any rate, good to meet you! I'm a writer and journalist, an avid reader, and am looking forward to making this page lively and fun.
Originally blogged at pdworkman.com