Book info
Sample
Audiobook
Media
Author updates
Lists
Synopsis
A suspenseful, feminist Gothic coming-of-age tale with shades of Patricia Highsmith, REBECCA, and ATONEMENT, pitched against the sun-soaked backdrop of a summer holiday on the French Riviera.

Welcome to the Chateau des Sètes, a jewel of the Cote d'Azur, where long summer days bring ease, glamour, and decadence to the holidaymakers who can afford it.

Ruby Ashby adores her parents' house in France, but this August, everything feels different. Unexpected guests have descended upon the chateau––friends of her parents, and their daughters—and they are keen to enjoy the hot, extravagant summer holiday to its fullest potential. Far from England, safe in their wealth and privilege, the adults revel in bad behavior without consequence, while the girls are treated as playthings or abandoned to their own devices. But despite languid days spent poolside and long nights spent drinking, a simmering tension is growing between the families, and the sanctuary that Ruby cherishes soon starts to feel like a gilded cage.

Over two decades later the chateau is for sale, its days of splendor and luxury long gone, leaving behind a terrible history and an ugly legacy. A young widow has returned to France, wanting to purchase the chateau, despite her shocking memories of what transpired that fateful summer. But there is another person who is equally haunted by the chateau, and who also seeks to reclaim it. Who will set the chateau free––and who will become yet another of its victims?

With riveting psychological complexity, The Ruins captures the glittering allure of the Mediterranean––and the dark shadows that wait beneath the surface.

A Macmillan Audio production from St. Martin's Press.
Release date: July 5, 2022
Publisher: St. Martin's Publishing Group
Print pages: 320
* BingeBooks earns revenue from qualifying purchases as an Amazon Associate as well as from other retail partners.
Listen to a sample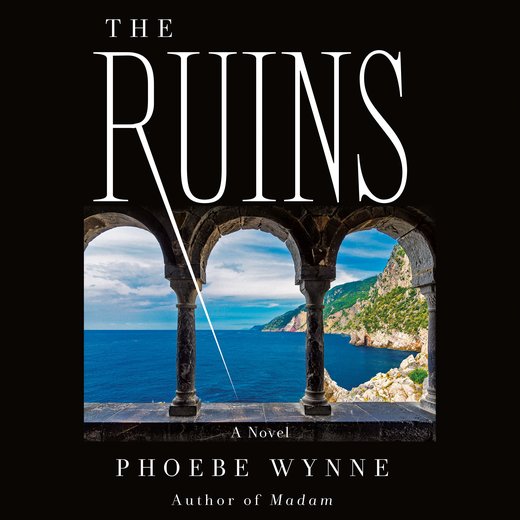 11:59:58
329.59 MB
9781250855923
July 5, 2022
Macmillan Audio
The Ruins
Phoebe Wynne
1

1985

Ruby had both looked forward to the party and dreaded it. She'd been the last to leave the church after the concert, packing up her flute carefully, straggling behind the group of young musicians as they wandered back down and along the rocky path to the house. The way was lit with dim lights and the swinging flashlight of one of the music teachers, and Ruby breathed in that smell so familiar to her, a deep, damp green pine. The unseen sea was gently roiling, rumbling out a soothing encore after the heroic might of the concert.

Ruby felt a twinge of anguish. She'd so enjoyed hosting the orchestra trip this year. The performance was already over, the party would be soon, and she didn't know when she'd see Bertie again. This was his last school trip, the end to his final year at St. Aubyn's, and now he'd be going off to his next school—strict, grown-up, and boys-only. Ruby, two years younger, would be left behind. She couldn't imagine what it would be like next term: to scan the dining room empty of him every lunchtime, to never spot him playing board games in the old library or football on the lawns, to arrive at orchestra rehearsals twice a week without his smile to greet her.

Ruby clutched at her flute case, holding on to the joy of the concert: the thudding warmth of the orchestra in their altar alcove, the beat of the music under the heat of the electric lights. She'd counted every bar with the nod of her head, watching the conductor as he brought her in with a sweep of his arm, nudging the hopeless second flute beside her when she missed her entry. Even with those moments, the concert had gone brilliantly.

But on her way back to the house, her joy evaporated. Ruby felt annoyed that the whole of August lay ahead of her—empty without the daily cheer and discipline of orchestra rehearsals. Of course, she had always loved her summers in France, but she'd enjoyed having her classmates there during the last week. She'd seen her family house anew, proud of the way it looked with all of them in it. But by this time tomorrow the house would be empty except for Ruby and her parents, and their friends, the Blys. Then again, August always seemed to bring the small dread of more guests than Ruby had bargained for.

* * *

THE PARTY AT THE HOUSE was in full swing when Ruby got there. The elated concertgoers spilled out along the long sweep of the terrace: parents, staff, and helpers, all babbling in stiff English. The mothers were draped in pastel silks and linens, glittering with smiles and diamonds or precious gemstones. The fathers were elegantly casual in cotton shirts and chino trousers, tanned faces and wild hair. Congregating away from them was a throng of messy, delighted children grasping at bowls of crisps and glugging out of plastic cups.

Tables were set, heavy with lavish plates of food interrupted by swathes of green foliage or bunches of wildflowers drooping from jugs. Someone's little sister poked her finger into a bowl of chocolate mousse, then sucked on it delightedly. She turned to see Ruby scowling at her, pulling her finger out of her mouth with a laugh, before realizing who Ruby was; her face straightened and she scuttled away to cower behind her mother.

Ruby's own mother, Rhoda, petite and auburn-haired, was standing with her friend Polly, who rested a graceful arm on her pregnant belly, laughing as she recounted a story.

"Well done, darling girl!"

Ruby smiled brilliantly as the parents of one of the cellos swanned over to her. "Good evening, Mrs. Moreton, Mr. Moreton. Did you enjoy the concert?"

"Yes, dear," the woman nodded over-vigorously. "Well done—splendid!"

Ruby smiled at the confirmation. "Thank you. Have you seen my father?"

"Yes, he's been rushing around, setting up for the party."

Ruby looked up at the couple. "Didn't he come to the concert?"

"No, darling," Mrs. Moreton said lightly, "your parents have been terribly busy hosting all of this, of course. Do be good to your mother—she's been a wonderful hostess."

Mr. Moreton was surveying Ruby with a tilt of his head, his hand gripping a tumbler of whiskey against his chest. He bent to address her. "I say, you're rather good at that fluting, aren't you? How old are you, dear girl?"

"I'll be twelve in two weeks." Ruby straightened up. "I'm not normally first flute, but the girl who is couldn't come. Next year I might—"

"Jolly good." He shifted his gaze to give his wife a knowing look. "Toby Ashby's inside the house. He had a rather important phone call, I gather."

"Well, I hope it wasn't anything bad," Mrs. Moreton said with a toss of her head. "Better not ruin everyone's last evening together."

Ruby smiled thinly at the Moretons and wandered over to the swell of children, her eyes skating over the boys' heads to find Bertie. There he was, his sunny face lit with laughter as he jostled with his friends and their cups of Coca-Cola. He'd looked like that when he smiled at Ruby only a few days ago, asking if she wanted to go for a swim together. She'd barked out a "no" without thinking. He'd nodded before moving away, leaving her utterly dismayed.

Ruby bit at her lower lip, sore and overused this week from so much fluting. Even though it was evening, she felt hot, a slick of sweat under her undone hair. She was cross that her father hadn't seen the concert, cross with that phone call for distracting him now, cross with Bertie for not seeking her out that evening when she might never see him again. Cross that in the morning the other children would pack up their tents lined along the back patch of land, pile into the school coach or their parents' cars, and leave.

Imogen Bly waved Ruby over and offered her a cup of Coca-Cola. "I'm so sad it's all over."

Ruby nodded and took the cup, but didn't take a sip. The plastic felt sticky and it looked like someone had already taken a swig out of it.

"At least we've got the next few weeks together," Imogen continued buoyantly. "I can't imagine the house without everyone. But it'll be fun, won't it? I do like the bedroom your mother's given me, far better than that awful tent I've been in all week."

Ruby gave a halfhearted smile. Imogen Bly annoyed her; at home in England, she and her mother, Polly, were always coming by, or they were going there. Polly had grown up alongside Rhoda, like two plants shooting up and flowering together—or so their stories went.

Ruby and Imogen did not share their mothers' hot relishing of each other. Imogen probably wouldn't have minded being friends, but Ruby was firm in her dislike. Imogen was in the year above, and her beauty and warmth were too irritating and confusing for Ruby to navigate, so she preferred to avoid her at school.

Orchestra brought them together, although Imogen played brass—the French horn—and was always gassing at the back and blasting her instrument out at odd moments during rehearsals, just to be funny. But Imogen was well liked and had won the Maths prize three years in a row, and so Ruby generally tolerated her and her abundant black hair and too-large mouth.

"Yes," Ruby said, plastering on a smile. "It'll be fun. There's always something to do here."

She took a sip of the Coca-Cola just as a siren jolted everyone out of their revelry.

* * *

RUBY STARED AT THE WOMAN plastered against the police car, and made the connection quickly. "Monsieur et Madame Fuller," the policeman had said. Ruby's head seemed to fill with the woman's scream, her twisted figure, her cold face—which Ruby now realized she'd seen earlier that evening.

It had been at the end of Holst's Jupiter. The audience had clapped obligingly, but one woman—Mrs. Fuller—had stood up and cheered heroically, her great voice whooping around the church, her face swollen with emotion. The conductor hesitated, his mouth slightly agape. The rest of the orchestra smiled at each other uneasily, now woken from the bubble that had been their music. Ruby had appreciated it until the church began to echo with the woman's repeated claps, her unceasing hoots.

The second flute, Annie, had stiffened beside Ruby and let out a small moan. The cheering woman was her mother.

Mr. Fuller had tugged his wife down violently. She'd let out a short cry as she fell back to her seat with a flump, her shoulders jagged and her head hanging forward.

The conductor had waited a moment before raising his baton, and the concert had carried on.

But now Mrs. Fuller was grappling with her husband as he battled to trap her arms and settle her shaking head, his own bloodied and angry face just as horrifying as her blank one. Ruby's father was speaking quick and agitated French at the first policeman.

Ruby felt sure that something terrible must have happened after the concert.

"My goodness, that woman is terribly upset." Imogen stepped up beside Ruby. "The policeman mentioned 'Monsieur Ashby.' Are they going to arrest your father?"

"No," Ruby shot back, "of course not. That's Monsieur DuPont. He's the police chief; he's been here for dinner many times. I didn't fully understand what he said."

Ruby's chest quivered with unease. She glanced at the second, younger policeman, at his tight, resentful face and folded arms. Ruby had never seen him before. He caught her eye with his severe, surveying stare, and she looked away.

A few other men had hurried forward to support Ruby's father in his conversation with the police chief. Mrs. Fuller seemed to be gathering herself to stand, her tortured features twisted, her legs almost giving way. But as her husband grabbed her arm, she screamed again, louder than before. It was as if she were being burned by a white-hot poker, and Ruby felt another bolt of alarm at the noise. In the corner of her eye she saw a small dark shape dash into the bushes—the local stray black cat that always lurked around the house. Mrs. Fuller's screaming had apparently scared even him.

"Darling! Can't you do something with her?" Ruby heard her mother's voice call frantically. "Quickly, Toby darling? We've got company!"

"Yes, Rhoda," Ruby's father turned his head to answer, "I'm well aware. Let's put her upstairs in one of the rooms."

The guests were moving across the terrace now; the adults seemed to have given up their polite indifference, their eyes fixed on the fascinating debacle.

Mr. Fuller somehow managed to fold his wife into the group of gathered fathers, Ruby recognized Imogen's among them. The mass of men seemed to warp her screaming into long, painful groans.

"Oh! How awful, Ruby!" Imogen was ogling the scene delightedly. Ruby heard a rush of whispers behind her as the other curious children joined them, crowding nearer as Mrs. Fuller was taken into the house, those heavy groans thinning out as she passed over the threshold.

"What happened?"

"Who is that woman?"

"Is she drunk?"

Ruby took a quick breath as she watched her father finish his intense conversation with the police chief. Toby Ashby stood tall and narrow, touching his glasses with attention, his neat mustache as stiff as his brown hair. Perhaps that's what it was; Mrs. Fuller did seem very drunk. Ruby had an aunt who spent every Christmas with them, and who usually cradled a glass of something from noon till night. She sometimes grew hysterical and shouty, just like Mrs. Fuller now, although never this bad, and never involving the police. Ruby's mother said her sister drank because she was unhappy, and because she was a housemistress in a school somewhere, without a proper life. Perhaps Annie Fuller's mother was unhappy, too.

Ruby heard her father switch to English as he challenged Mr. Fuller with a question. Yes, Ruby thought, she could see the resemblance between him and Annie, something in their pink cheeks and narrow squint.

"She crashed the car; she was drunk," Mr. Fuller answered Ruby's father loudly. "I couldn't get to the wheel in time. She was trying to get to the airport." Imogen's mouth slid open with interest, and she turned to relay the information to the others behind her.

"But couldn't you have stopped her? The trouble is, they're saying there was an accident—a hit-and-run—on the same road, and they're implying that your car was involved."

"God, no." Mr. Fuller shook his head forcefully. "We hit a wall. We didn't hurt anyone."

"Are you sure?"

Mr. Fuller hesitated, then answered, "Yes."

"Well, there will be an investigation. I'm afraid neither of you can leave the country."

A glimmer of fury crossed Mr. Fuller's face. "Can't you help us at all?"

"That is what I'm doing." Ruby's father gestured at the police car. "It's a mercy they're allowing you to stay here in the meantime."

The police chief had heard enough, and with a short bow he announced, "À demain, Monsieur Ashby. Nous vous contacterons dans la matinée. Bonne soirée."

Ruby's father gave a grim nod and replied, "Et à vous, Bernard." He turned to catch the younger policeman's eye with a "Bonne soirée, monsieur," but it was ignored, and the man slammed the door on his side of the car.

The gathered crowd of onlookers ruptured and pulled back, giving the police car a wide berth long after it had rolled away into the night, without any swirl of its colorful lights.

"Bloody disaster, Toby," Mr. Fuller exclaimed.

Ruby's father leaned back to consider Mr. Fuller. "Yes, quite." His eyes hovered over the inquisitive partygoers. "We need to discuss this inside, Max."

"Yes, I'll pour a drink first. Can I get you a whiskey, too?"

A few of the parents cast dark looks between them as Ruby's father strode into the house, with Mr. Fuller hurrying behind. Ruby wondered where they'd put Mrs. Fuller, where Annie was, and whether she'd witnessed her banshee of a mother, or her bungling confusion of a father.

"Ruby, Immy." It was Imogen's father, his bulky figure heavy and his face drawn with concern. "Come along, you didn't need to see any of that. Do you want to go upstairs to bed? Or enjoy the rest of the party?"

"What's happened, Dada?"

"Not for you to know, darlings."

"Is it a secret?" Imogen asked excitedly.

"Well, yes, why not."

"A secret?" Ruby repeated, skeptically.

"So which is it?" Imogen's father demanded. "Upstairs or enjoy the rest of the party?"

"Oh." Imogen hesitated. "May we enjoy the rest of the party, please?"

"The party," Ruby added, quietly but decisively, thinking of Bertie. Her eyes fell on the space where the police car had been, now swallowed by the evening's darkness. "Is it really a … secret?"

"Ruby, you little thing," Imogen's father continued, "your flute solo was wonderful. Fancy getting all those pretty notes out of such a sliver of silver."

"A sliver of silver?" Ruby repeated uncertainly, her eyes lifting to search the man's worn face. Mr. Bly—or Lord Beresford, as people were supposed to call him—had always intimidated her. She didn't know whether it was his height, his wide stooping shoulders, or his dark, sunken eyes that seemed to flash at her as he talked.

"Yes, girl. A sliver of silver." He laughed expansively. "You're a damn sight more feminine and beautiful than Immy, with her bloody trumpet."

"Dada, do you really mean that?" Imogen turned and looked beseechingly at her father. "Don't you know it's a French horn?"

He patted the top of Imogen's head reassuringly. Ruby couldn't help smiling at the compliment.

* * *

BUT SHE WASN'T SMILING HALF an hour later when the children's part of the party was called to a halt and she was sent to bed. To her surprise, Ruby's mother accompanied her to her bedroom.

"You're going to have to share your room, Ruby."

Ruby's mouth puckered. "What?"

"Little Annie, that woman's daughter. The Fullers. They're going to stay here until your father can sort out what happened in the accident."

Ruby looked at her mother, wanting to ask her the questions whose answers she now feared. Through the double windows, a bright bloom of chatter rose up from the terrace below. Farther beyond she could hear the lively shouts of the others bedding down for the final night in their tents.

Ruby's mother was waiting for a response, but received none, so she continued. "Their daughter Annie will sleep in here, and you'll be jolly nice to her."

"Can't Imogen share her room?"

Her mother straightened Ruby's coverlet and thumped up the pillows. "No, darling, we're the hosts. This is our house."

"We've just hosted the whole orchestra for over a week!"

"Yes"—Rhoda's face swung to Ruby's, and their irritation sparked together—"and you did very well out of it, young lady. First flute, ahead of your time."

Ruby was almost growling; she sat on her bed to calm herself. "For heaven's sake! Having Imogen here is bad enough."

Rhoda stood up straight. "Ruby, it's been quite a trying evening. There are far more important things to be getting on with. Don't make a fuss."

Ruby spat out, "Annie can have the metal bed, not mine."

Rhoda glanced over at the antique metal bed set near the long windows as a sort of sofa. "Yes, fine. Move your teddies. And find her some sheets, can't you?"

"What?" Ruby's mouth curved with disbelief. "Can't Lisette do that?"

A voice called out from below. "Rhoda!"

Ruby's mother stepped over to the window's balcony and peered out, a strategic smile placed on her face. "Coming!" She turned back to her daughter. "Lisette is busy tidying up, which you know perfectly well. Stop being such a boor, Ruby, and get this done."

She sashayed to the door, ignoring Ruby's incredulous face, and clicked it shut.

Ruby wanted to slam the door instead. Annie in her room! That little urchin constantly by her side, like she had been in orchestra, the second flute to Ruby's first. Thin and pale and insipid, with her wide eyes and cringing mouth. And now her mother, some strange creature, so unlike the other mothers, involved with the police and staying in the house.

Ruby scowled as she lifted her teddies off the metal bed, settling them carefully in her wardrobe, arranging them to face each other in mutual embraces. She was an only child, and had been her whole life—why should she suddenly have to share everything? It was certainly true that the Vaughan Williams Greensleeves duet with Annie had gone very well, both in rehearsals and during the concert—Ruby had done all the heavy lifting, of course. But she did have to admit being impressed by Annie's efforts. Perhaps Annie knew how to rise to a challenge, then. Well, Ruby would give her plenty.

Ruby stared resentfully at the metal bed, wondering where to find any spare pillows or where the sheets were actually kept. She'd never made up a bed in her life. Maybe she'd take some pillows from her parents' bed—her mother's side, just to spite her.
We hope you are enjoying the book so far. To continue reading...
The Ruins
Phoebe Wynne
Copyright © 2022 All Rights Reserved