The Perfect Guests
Available in:
Paperback
Hardcover
eBook
Audiobook
Book info
Sample
Audiobook
Media
Author updates
Synopsis
The USA Today bestselling author of The Au Pair returns with another delicious, twisty novel-about a grand estate with many secrets, an orphan caught in a web of lies, and a young woman playing a sinister game.

1988. Beth Soames is fourteen years old when her aunt takes her to stay at Raven Hall, a rambling manor in the isolated East Anglian fens. The Averells, the family who lives there, are warm and welcoming, and Beth becomes fast friends with their daughter, Nina. At times, Beth even feels like she's truly part of the family...until they ask her to help them with a harmless game-and nothing is ever the same.

2019. Sadie Langton is an actress struggling to make ends meet when she lands a well-paying gig to pretend to be a guest at a weekend party. She is sent a suitcase of clothing, a dossier outlining the role she is to play, and instructions. It's strange, but she needs the money, and when she sees the stunning manor she'll be staying at, she figures she's got nothing to lose. 

In person, Raven Hall is even grander than she'd imagined-even with damage from a fire decades before-but the walls seem to have eyes. As day turns to night, Sadie starts to feel that there's something off about the glamorous guests who arrive, and as the party begins, it becomes chillingly apparent their unseen host is playing games with everyone...including her.
Release date: January 12, 2021
Publisher: Berkley
Print pages: 368
* BingeBooks earns revenue from qualifying purchases as an Amazon Associate as well as from other retail partners.
Listen to a sample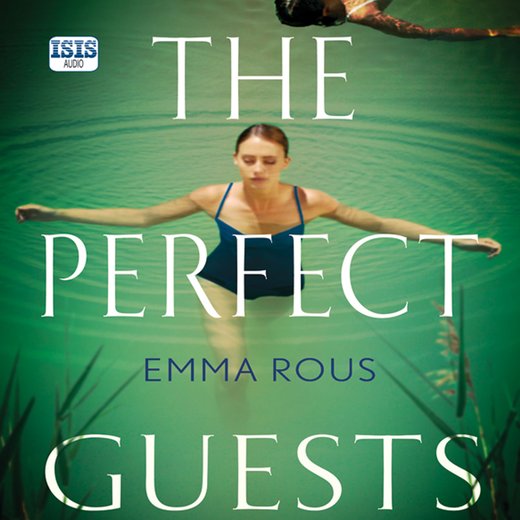 07:53:40
216.84 MB
9781984827180
January 2, 2021
Isis Publishing Ltd
The Perfect Guests
Emma Rous
Beth
July 1988
The house sat on a gentle rise in the otherwise flat landscape, as if it considered itself a castle in this kingdom of marshy scrubland and water channels and rustling green fields. Pale gray walls, broad steps rising from neat gravel to the front door, row upon row of gleaming square windows, and-
"Is that a turret?" I craned my neck through the passenger window. "Is this whole place really just for three people?"
"Four, if you behave yourself." Caroline jerked the steering wheel to swing us onto the driveway, bumping me back into my seat. "Remember your manners, Beth. Stop gawping."
The driveway was longer than the road I used to live on when my parents were still alive, but someone in the house must have been watching for us, because already the front door was swinging open. Three figures emerged, and they waited side by side on the top step, like a proper welcoming committee. Even from this distance I recognized Leonora's golden curls and Markus's thick straw-colored hair.
I'd met Leonora and Markus only once before, a week earlier, when they had introduced themselves to me at the end of my summer concert. Markus had congratulated me on my performance, while Leonora studied me with an intense sympathetic gaze. Then, somehow, Leonora had coaxed more details out of me about my life at the children's home than I'd ever shared with anyone.
In between them now, on the top step, stood a slender teenage girl, and I knew this must be their daughter, Nina. Nina was the important one. She was the reason I'd been invited here. I wasn't close enough yet to read her expression, but I crossed my fingers and tried to do the same with my toes inside my too-tight jelly shoes. I hope she likes me.
The car came to a crunching halt on the sunbaked gravel, and for a long moment, nobody moved. Leonora, Markus, and Nina squinted down at us from the top step. Caroline, for once, offered no spiky words of advice. I squeezed the door handle with clammy fingers, holding my breath and gazing back at Nina. She wasn't smiling. Did she hate this idea of her parents'? Would Caroline end up driving me-her jaw tight, her knuckles a furious white on the steering wheel-straight back to the children's home before today was over?
A disdainful squawk made us all glance up as a goose flapped overhead, and the tension was broken. I scrambled from the car, and Leonora's gaze locked onto mine. Then she started down the steps, her arms outstretched.
"Beth! Caroline. We're so glad to see you. Welcome to Raven Hall."
I leaned into Leonora's hug. Her perfume was powdery rose petals, soft and comforting. When she released me, Markus shook my hand heartily, and then he glanced over his shoulder to where his daughter still hovered on the top step.
"Nina, come down and say hello."
All I knew about Nina was her age. When I'd asked Caroline for more information in the car, she'd snapped at me to let her concentrate on driving. So I'd turned my gaze to the blurry fields and tried to recall the conversation I'd had with Leonora and Markus-I'd been entirely oblivious to its significance at the time. Leonora had mentioned that their daughter had recently turned fourteen, but that was it-that was all I remembered. It meant we'd be in the same school year, since I was only a few months older, and of course, we might have all sorts of other things in common . . . But as I watched Nina skip down the steps and land lightly on the gravel, I felt a lurch of doubt.
Not only was she shorter than me, she was also much skinnier and younger-looking. Her pixielike face wore an expression of detached amusement, and I tugged at my T-shirt self-consciously, not knowing what to say. No one had explained what was expected of me here; I didn't even know how long the arrangement might be for. All Caroline had said was "You can be a companion for their daughter for a while, until I'm ready for you to move in with me."
Nina and I studied each other. The adults watched us in silence, as if we were specimens being introduced in a zoo. The conviction that she was going to reject me swelled in my chest until it was physically painful. Then she gave me a surprisingly shy smile.
"Hi," she said. "I'm Nina. I really hope you're going to like it here."
Relief rushed into my lungs.
"Me too," I said. "I mean, thanks." I gestured awkwardly at the imposing gray house behind her. "I'm sure I will."
Leonora stepped between us then, and she placed one hand on the back of my head-she was barely taller than me-and the other on Nina's dark hair.
"Look at you two," Leonora murmured. "Total opposites. Like chalk and cheese."
I stiffened. Nina seemed happy enough to meet me; surely Leonora hadn't changed her mind? But Leonora sounded wistful rather than disappointed, and Nina sidestepped away from her and gave me an apologetic grimace.
"Can I show Beth up to her room, Mum?"
Leonora blinked as if dragging her thoughts back from somewhere else.
"What? Oh yes, of course." She turned to Caroline. "Will you come in for a cup of tea? Or you're welcome to stay for dinner . . ."
But Caroline was already reaching into her car boot and setting my bags and violin case down on the gravel. "No, no, I've got to get back. Long flight tomorrow, you know." She slammed the boot shut, walked around to the driver's door, and fixed me with her sharp stare. "Be good, Beth."
I ground my teeth. When had I ever not been good? I'd never complained about Caroline putting her work before me, even though we were the only family each of us had left. Each time she'd promised vaguely that I'd be able to move in with her soon, I'd smiled as if I believed her. Even this morning, when she confessed-out of earshot of the children's home staff-that she wasn't quite ready to take me in herself but that she'd found me a private foster placement, I'd merely nodded politely.
Now she raised her eyebrows at me, waiting.
I gave her a tight smile. "I will, Aunt Caroline. Thank you for driving me here."
I stood between Leonora and Nina as Caroline's car accelerated away down the drive, and I knew this was my last chance to change my mind. If I ran now, if I sprinted after her car, waving my arms, Caroline would see me in her mirror, and she'd stop for me; she'd take me away from these people-these strangers. She'd take me back to the children's home, before flying out to Istanbul or Sydney or wherever her work would be taking her tomorrow. I glanced left and right at Leonora and Nina. But why would I want to leave, when these people seemed so welcoming, and this house so entrancing?
"Not even a cup of tea," Leonora muttered, staring after the car, but I knew her disapproval was for Caroline and not for me, so I didn't mind.
Nina swiveled to face me. "Come on. Let's take your things upstairs; then I'll show you round."
"One more thing, Beth," Leonora said, also turning her back on the receding car. "Make yourself at home." She searched my gaze and nodded, as though approving of what she saw there. "I mean it. We want you to feel like you're part of our family here."
It took me a moment to find my voice. "Thank you."
Leonora's gaze slid over my shoulder to the house, and her voice took on that distant tone again. "It can get lonely at Raven Hall, for an only child. It'll be lovely for Nina to have someone to play with . . ."
I scrunched my toes in my jelly shoes and tried not to let my smile slip. We were fourteen-a little old to play, I thought. But I didn't want her to think I was ungrateful.
"Mum," Nina said impatiently, shielding her face from the sun's glare with her hand as she squinted up at Leonora.
Leonora gave her head a little shake and blinked back at us. "Okay, run along now, girls. I've got things to do. Dinner at seven. Stay out of trouble 'til then."
Sadie
January 2019
Sadie shoves the front door repeatedly to dislodge the pile of junk mail and newspapers wedged behind it. The narrow hallway feels even colder than the street outside, and there's a damp patch on the carpet where the doormat used to lie. Her mother always kept the thermostat turned up high in the winter; Sadie used to peel off layers and complain it was like an oven in here, and her mother would grumble it was what her cold bones needed. But the central heating hasn't been on for weeks now, and the air has acquired a musty, abandoned smell that makes Sadie miss her mother more than ever.
She scoops up the post and adds it to the considerable amount already collected in a cardboard box in the corner. With a bit of luck, this will be the last trip she needs to make here-the whole process has taken longer than she expected. Most of her mother's possessions have been cleared out, and only one more vanload of furniture remains for the charity shop to pick up.
The new tenants are due to move in next week-a young couple with a baby, apparently. Sadie hopes the landlord will warm the house up for them before they arrive, and more pressingly, she hopes he'll return her mother's deposit promptly once she's handed the keys back. Sadie has lost two part-time jobs in the last twelve months, and the income from her acting is erratic. She desperately needs that deposit money.
If her mother were still here, she'd be snatching up the local newspapers as soon as they came through the mail slot, circling job adverts for Sadie with her black marker pen and pressing them into Sadie's hands as soon as she stepped through the front door . . .
Sadie sighs and wanders through to the living room, where an old sideboard and two faded armchairs are the only pieces of furniture left. A half-empty bag of her mother's favorite toffees still sits on the mantelpiece, and she scoops it up and stuffs it into her coat pocket, before checking around the room for anything else she might have missed. Her gaze is drawn back to the sideboard.
It's scratched in places, but it's solid wood; she's never properly examined it before, an object so familiar from her childhood. She runs her gloved fingers over it, searching for other damage, and her heart thuds guiltily; her mother was adamant that all her furniture should go to a particular homeless charity, but what might this fetch on eBay? Enough to cover the shortfall in her rent next month? Her phone buzzes under the toffees in her pocket, and she snatches her hand from the sideboard as if she's been scorched.
Her agent's name glows on the screen, and she jabs to accept the call.
"Wendy, what did they say?" Sadie presses the phone to her ear. "Have I got it? Did they like me?"
She knows it's a no from the delicate sigh at the other end.
"Sadie, I'm so sorry. They loved you, but they want someone with a bit more . . ."
Disappointment churns in Sadie's stomach. Will she really have to tell the charity collectors they can't take the sideboard after all? And what about next month? Will she have to give in and sell her one piece of good jewelry-the charm bracelet her mum gave her on her sixteenth birthday?
"Someone with a bit more what?" she says dully.
"A bit more gravity, they said. But listen-"
"Gravity?" Sadie spits out the word. "For a mermaid in a toy commercial?"
"Toys are serious business." Wendy's voice is surprisingly upbeat. "But listen. I've got much better news-a fabulous job offer for you. It's a murder mystery company, just starting up, and they want to act out a trial run of the game so they can take photos for their website-glamorous costumes at a posh dinner party, that sort of thing. It's out in a big old mansion in the Fens-gorgeous-looking place, full of dark history . . ."
Sadie straightens, the mermaid commercial already forgotten. "Sounds interesting. When's the audition?"
"That's the best bit, Sadie. There's no audition. The job's yours if you want it, and the money is excellent."
Sadie's eyes widen, but her attention is caught by movement outside the window. The van from the homeless charity has arrived, and it's blocking the road, its hazard lights flashing while its driver looks for somewhere to park. Directly opposite the house, a dark-colored Audi eases away from the curb, and Sadie peers into it; she's seen it parked around here several times recently. But the driver shields her face with her hand as she passes, and Sadie glimpses only a white sports watch and a matching white hair band around the bun on the back of her head. Immediately, the charity van maneuvers itself into the vacated space.
"Hold on, Wendy," Sadie says. "I'm at Mum's. The people are here to collect the last bits of furniture."
"Oh, sorry," Wendy says. "I can wait."
Sadie greets the senior charity volunteer at the front door with an apologetic wave of her phone. "Sorry, just on a call. Are you okay to-?" She gestures toward the living room.
"You carry on, my dear." The woman gives her a sympathetic pat on the arm, and she and her assistant tug on their thick work gloves as they make a beeline for the sideboard.
Sadie speaks into her phone again. "So, how much, then?" She listens to Wendy's reply and laughs. "Seriously? For one weekend? Of course I'll do it." She hurries up the stairs, embarrassed to be overheard sounding so desperate for money, but relieved she'll now be able to pay next month's rent, and the month after, without a problem. "So, tell me everything. What does it involve?"
"Well, I've got the actual invitation card right here." Wendy sounds a little breathless. "I'll forward it on to you. You'll love it-it's all embossed and everything. It says on the front, 'You are cordially invited to play a Game at Raven Hall' . . ."
Downstairs, the charity workers load the last of Sadie's mother's furniture onto their van, and they close the front door softly behind them.
We hope you are enjoying the book so far. To continue reading...
The Perfect Guests
Emma Rous
Copyright © 2021 All Rights Reserved