Book info
Sample
Audiobook
Media
Author updates
Lists
Synopsis
Kim has a big secret that Keena knows nothing about. Will the secret cost them everything? Watch this riveting story unfold as these Queen City queens take you down a dark path of betrayal, lust, and turmoil on the hot streets of Miami. Will the girls be able to pull this off, or will they die trying? Keena and Kim met in a group home and have been best friends ever since. They both have the mindset of money over men, and they don't play where they lay. They set brothas up and rob them, disappearing without a trace. Keena, the brains of the two, sets up the biggest lick of their lives in Miami. If they can pull this one off, they can retire and live the good life. Peter, who everyone calls Black, is not an easy target. He is different from all the others that they have set up, and Keena is having second thoughts.
Release date: November 29, 2022
Publisher: Urban Books
Print pages: 288
* BingeBooks earns revenue from qualifying purchases as an Amazon Associate as well as from other retail partners.
Listen to a sample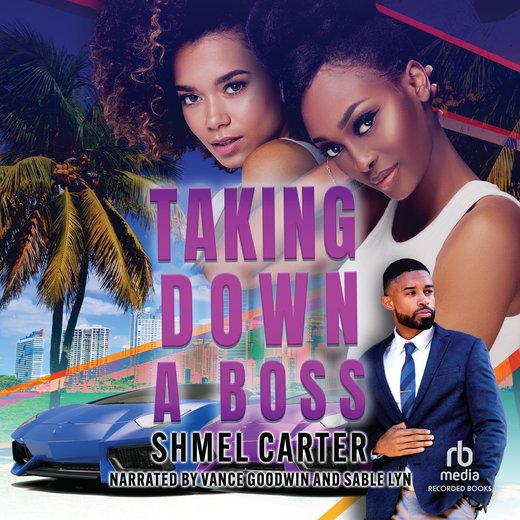 07:07:46
195.83 MB
November 29, 2022
Recorded Books
2022
Taking Down a Boss
Shmel Carter
Pop! Pop! Pow! That was all I heard as I was running for cover. Every time I turned around, Kim got me in some shit. I mean, damn. I saw her bobbing and weaving through the cars. I watched as Bone, the local drug dealer, chased her. I was waiting for the perfect time to take his ass up out of here. I could not let him continue to breathe. I was always taught if you try to kill somebody, make sure your target is dead. I knew if I didn't, he was sure to come after us.

Hi, I'm Keena, and this crazy bitch bobbing and weaving is my girl, Kim. We are known for getting with niggas and setting their asses up to be robbed, and we were good at it. Of course, we were the only two that knew that besides one other person. We could never let that secret get out because it would make our job harder . . . or we could get killed. Niggas would be waiting on us. I don't know how Kim let this nigga end up with the gun, but lately, she has been slipping.

I watched him as he stopped to catch his breath. He looked around. I knew he was looking for Kim but didn't have a clue where she was. That was my time to light up his ass. Pow! I saw his head explode after I shot his ass dead in the middle of his forehead with my 9 mm. I never missed my mark. My daddy kept me on the shooting range when I was younger. I saw all the blood rushing out of his head as he slowly sank to the ground.

Now, the nosy neighbors were starting to come out of their houses. I refuse to go to jail for killing this low-life nigga. Even though we were in the hood, I knew we had to leave the scene like right now because I didn't want to be around when twelve got here. Twelve is the police, just in case you didn't know.

When I hopped in the little hooptie that I kept around for jobs like this, Kim jumped into the passenger seat. She better be glad she came when she did because I would have hated to leave her. Deep down, I knew I would never have left her, though, because Kim is my girl.

"Damn, I thought that nigga was going to kill me. What took you so damn long?"

I looked at that bitch out of the corner of my eye as sweat was dripping down the side of her face, and her mouth was twitching. I just shook my head at her. I mean, she left me speechless for a moment. I had to take a second to breathe before I let loose on her ass. This dumb bitch didn't have a clue. I couldn't believe she fixed her mouth to say that shit to me.

"What the hell you mean what took me so long? That nigga should have never even left the damn house. You were supposed to smoke that fool. Why did I have to kill his ass? I'm getting a bigger cut. How much did you get anyway?" I was asking question after question as she looked at me all funny. Hell, I didn't care. "What?" I asked her. I didn't even give her a chance to answer as I snatched the duffle bag from her lap. I stuck my tongue out at her as I unzipped the bag while I drove down West Boulevard.

"Damn, bitch." I high-fived her. First, I saw at least two bricks of cocaine in the bag. I hadn't even seen the money yet because I was already mentally counting the money from the dope. I knew I could quickly sell that to Joc. He loved buying his dope from me. Hell, I never taxed his ass, so he was getting superior quality dope at a cheap price. I only charged him thirty thousand apiece. I easily could have gotten at least thirty-five or thirty-six thousand. It didn't matter to me, though. I was not a dope dealer. I knew my shit, though, from watching my daddy. I always thought like a nigga, so they could never get over on me. Hell, I was getting the dope for free anyway. Either way, it was a profit when I didn't have to pay for it. Just from the two bricks that was already thirty thousand apiece for each of us. I finally looked at the money. Just from a quick scanning, it looked like about fifty thousand. I was not expecting this much from Bone. I thought he was a nickel-and-dime hustler. I guess I thought wrong.

I pulled into the Vue Apartments in downtown Charlotte, North Carolina. I have a two-bedroom-plus-a-den condo on the fifth floor. I pay $2,800 a month to stay here. Hell, this shit ain't cheap. But my living room view overlooks Bearden Park, home of the Charlotte Knights. Now, you can see why I do what I do. Fuck getting a job. This is my job. I cannot see myself working no damn body's nine to five. I would go crazy listening to somebody trying to tell me what to do all day, every day. I have been supporting myself for a long time, but I ain't never had a job. Hell, a regular job cannot afford my lifestyle anyway.

I thought back to the day when my dad got killed. It seemed like just a typical day. I remember it like it was yesterday.

I was only 13 when my father got killed. That was also the day I caught my first body. One of the niggas got away, but I never forget a face. He shot my daddy in cold blood. I have been looking for him for a long time. I don't care how long it will take to find him because when I do, I will kill him.

I was watching TV with my dad when our silent alarm went off. He reached for the remote and flicked the TV to the cameras he had throughout the house. My dad was a kingpin. He did not trust anybody and taught me never to trust anybody. Then the lights started flickering before they went out completely. The house was completely dark. I did not even realize my daddy had gotten up off the bed, but I saw the red beam from my daddy's gun on the head of one of the robbers. That robber had a hole in the middle of his forehead before I could even blink my eyes.

The next thing I knew, I felt the whole room shake. My eyes were starting to burn. I took the scarf I had been wearing on my head and placed it on my face. I later found out that it was tear gas. My eyes had adjusted to the dark by this time as I looked around the room to see what was happening. I swiftly grabbed the gun off the dead robber. I felt the wetness on my hand as I made my way toward my mark. Without even seeing what it was, I knew it was blood. The rust scent of it was so strong.

Out of the corner of my eye, I saw the other robber trying to sneak up on my daddy. Just as he looked over at me, I shot him in the middle of his forehead, just like my dad had trained me to do. Dad had been grooming me my whole life for this. I never thought it would come this soon, but my daddy never lied to me. When I was old enough to ask him what he did, he told me the truth. He said he was a drug dealer. He already knew I would hear it in the streets, so he wanted to be the one to tell me.

I was my daddy's only child. He spoiled me rotten, and he treated me like a princess. I was just 2 years old when my dad took me from my mom. She was so jealous of me that she would beat me until I turned colors. Then she would keep me from him until my bruises healed. My daddy didn't want her anymore, so she took it out on me. That was sad. A grown-ass woman jealous of a child.

She had me kidnapped when I was 10 years old, trying to extort some money out of him. She knew he would pay to get me back. The whole city knew Jake didn't play about me. Her plan didn't work, though. I already told y'all my daddy was a kingpin. He already knew she had me. The streets belonged to him. He knew everything that went on in the streets of Charlotte. Nothing went on in this city without him knowing about it. I don't understand why she thought her plan would work.

My mom was dumb for even thinking that my father, Jake, would let her continue to breathe after that. I watched my daddy shoot her between her eyes. I didn't even cry when she died. My daddy even took me to the funeral like everything was OK. I felt no remorse for the woman that brought me into this world. That was a sad thought because a child is supposed to have a love for their mom. She held me captive for three days when she kidnapped me and tortured me the whole time. She acted like she never birthed me, like I was a stranger. That bitch wouldn't even feed me. Now, that was some fuck shit right there, the way she treated me, so fuck her. I hope that bitch was rotting in hell.

Kim snapped me out of my daydream.

"Damn, bitch. What are you thinking about?"

"Nothing. Let me see that bag." Kim knew I was lying because she knew me better than I knew myself at times. We had been friends too long for me to try to tell her nothing was bothering me when it really was.

I pulled out all the money from the bag and ran it through my money machine. It ended up being exactly $80,000. I handed Kim her forty thousand and picked up my phone to call Joc. He answered on the first ring, just like I knew he would. He always anticipated my phone calls.

"What do it do, Keena? You got something for me?"

"You already know I do, Joc. Same place, same time."

"All right; bet." We hung up.

My next call was to my white girl, Becky. She washed up all my dirty money for me. I had a bunch of Laundromats and real estate around the city. She even had me invested in a few nightclubs as a silent partner. Money was not an issue for me. Thanks to Becky, I also had a few investments in stocks and bonds. I didn't want to keep living this lifestyle. Eventually, I wanted to settle down and have some kids.

"Hey, Keena. What you been up to?"

"You know me, Becky. Same thang, different day."

"Yes, I know," she said with a light chuckle.

"I'll be by the bank tomorrow."

"OK, I got you." We hung up. I looked over at Kim. She had dozed off, and some drool dribbled down her face. I was starting to worry about her. She was really slacking. I didn't know what her problem was, but I would find the underlying cause before she got me killed. I didn't even like doing robberies in Charlotte. We lay our heads there, and I wasn't planning on moving out of the city, so I knew that was a dumb move. You don't shit where you sleep. Hell, Charlotte was not that damn big. Everybody knew every damn body. Kim was well known because she stayed on the party scene, but I let her talk me into robbing Bone—against my better judgment. Then she almost got herself killed. Not to mention I could have gotten killed as well. This would be our first—and last— robbery in Charlotte. I had been planning all the licks. I was always the brain. For real, I could probably do it by myself, but I wanted her to get paid too. I don't know why I let her plan this one. I left Kim asleep on my sofa as I headed out to meet Joc.

I hopped in my 2015 smoky-gray 745 BMW and sped off through the city. This car right here was my baby. My daddy had one, so that was how I was introduced to it. I whipped my Beamer to Orange Street in Grier Heights. Joc had a dope house over there. I drove my Beamer because I had secret compartments built all through it. My white girl, Becky, had put me on the dude she was messing with that customized cars. This was the best investment I ever made. If I got pulled over, the police dogs could not detect my shit. I had coffee grinds all in my secret compartment. Coffee grinds always threw off a dog's nose.

Joc was standing in the doorway with his shirt off when I pulled into the driveway. I looked at him as he licked his sexy-ass LL Cool J lips. He was drinking a bottle of Fiji water. I had to catch myself as I watched him. I was dreaming about me sucking that water off his lips. Joc was sexy as hell. I was secretly crushing on him. He had a bald head with an AK tatted on his neck. He was not fat, but he was thick. He was about two twenty solid. His pecan-tan complexion and oh, his smile . . . His smile was bright as he showed off those pearly whites. He could do a toothpaste commercial. I always had a lot of confidence in myself, but not when it came to him. Joc made me lose all sense of direction. He never knew it, though.

I parked my car and waited for him to get in it.

"What do I owe you, Keena?"

"Well, I got two of them thangs, so sixty thousand."

"OK. Hold on. I'll be right back."

I watched him as he got out of the car. Damn, that nigga knows he's sexy. Women be flocking to him because he got money. Everybody knows even the ugliest niggas could get the baddest women if they had money. His looks ain't bad, and he got money. He didn't pay the women any attention, though. I didn't see him entertain too many women. I thought he was gay when I first started coming around him. My smart-ass mouth had to ask him. He laughed at me. He told me he has never been a male whore. He's a man and has sex, but he was looking for the right one. Eventually, he wanted out of the streets too.

I snapped out of my trance when he slid back into my passenger seat and handed me my money.

"I gave you seventy instead of sixty, Keena."

"That's what's up, Joc. Why did you do that, though? I only charge you thirty. Hell, I get them for free."

"I know you do, but I wanted to. Keena, can I ask you something?"

"You already know you can." I turned in my seat to give him my undivided attention.

"Are you tired of your lifestyle?"

I thought about what he said for a moment before I spoke. "I am tired, but I ain't ready to stop. I want to be financially set. I don't like depending on nobody. Kim and I met in a group home. We grew up with nothing. I was 2 years old when my mom started beating me. My dad immediately took me from her when he found out. I was 13 when my dad got killed right in front of me. I had a good life before my dad died, but nobody in my family wanted to keep me, so I was shipped off to the group home. Kim watched her mom's boyfriend kill her. Then she was shipped off to a group home around the same time I was. She was my first friend. It has always been us and nobody else. My A1 since Day 1."

"Wow, I didn't know that."

"Nobody really knows. I don't let too many people into my world too quick."

"Well, you let me in."

"I know I did. I feel comfortable talking to you."

"Let me take you out, Keena. I know you're feeling a brother. I be seeing you looking at me." He started laughing. "Don't think I don't be checking you out."

I was trying to hide the way I was feeling. I didn't want to seem too anxious. "Joc, let me take a rain check." I could see the look of disappointment on his face.

"It ain't what you're thinking, Joc. I like you, but I'm headed out of town. I'm not sure how long I'll be gone, so I don't want to start nothing until I get back."

"You going to hit that lick that I put you on?"

"Yes, I am. I had to study that nigga first, though. I think it's time now, but I want to come back alive," I told him with a chuckle.

"A'ight, ma. Be easy. That sounds fair." He got out of the car. It took everything in me to turn him down. I was feeling the fuck out of him. I ain't never had any sex. I know what y'all be thinking. I set up those niggas. They be so damn horny they be thinking they're going to get some ass. Then I be in and out before they even knew what hit them. I looked at Joc one last time before I drove off.

I woke up, and Keena was gone. I didn't know where the hell she had run off to. To be perfectly honest, I didn't even really care. I looked around her apartment. It was nice, just like mine used to be. I never let her come over to my spot anymore because I was too embarrassed. I was starting to let myself go. Keena didn't know it, but I needed this money bad as hell. I was broke. I was putting all my money up my nose. And now, I was starting to hate my own friend, and she hadn't even done anything to me. The drugs were taking over my thought processes. I was becoming jealous of her, and I shouldn't have been. I knew that as long as Keena had it, I had it too.

Keena loved me unconditionally, but I had started selling all my shit just to get high. Now, I was about to lose my condo. I owed my mortgage company $12,000. I was going to use this money to catch up on my mortgage. I also was behind three months on my car payment. Most of my money was already gone. I was so high today that I almost got not only Keena but also myself killed. That would have never happened if I was not high. I was usually on my shit. Then Keena had the nerve to say she was getting a bigger cut. I thank God she played fair because I was going to kill her ass today. I didn't want to, but the way I was hurting for money, my greed would have overshadowed my thought processes.

I thought back to the day I met Bone. Yes, Bone. This lick we just did was personal to me. Keena didn't want to go out that night, so I decided to go to Club Label by myself. That was one of the worst decisions I ever made in my life. I was at the bar getting ready to buy myself a drink when he walked up and introduced himself.

"Hey, sexy. What are you drinking?"

"Pineapple juice and vodka," I told him. He waved the bartender over and told him to put my drink on his tab.

"Wow, big spender," I said jokingly.

"Yes, there is more where that came from. You gotta come over to the winning team."

"The winning team, huh?" I said playfully back to him.

I talked and danced with him all night. I even did something I never do. I let Bone go to the bar and buy me another drink without me going with him. That time, he dropped a Mickey into my glass. My life has been spiraling downhill ever since then. That night, I fucked the shit out of Bone. I was not in m. . .
We hope you are enjoying the book so far. To continue reading...
Taking Down a Boss
Shmel Carter
Copyright © 2023 All Rights Reserved