Book info
Sample
Audiobook
Media
Author updates
Lists
Synopsis
A darkly humorous, surprisingly poignant, and utterly gripping debut novel about a guy who works in Hell (literally) and is on the cusp of a big promotion if only he can get one more member of the wealthy Harrison family to sell their soul.

Peyote Trip has a pretty good gig in the deals department on the fifth floor of Hell. Sure, none of the pens work, the coffee machine has been out of order for a century, and the only drink on offer is Jägermeister, but Pey has a plan—and all he needs is one last member of the Harrison family to sell their soul.
 
When the Harrisons retreat to the family lake house for the summer, with their daughter Mickey's precocious new friend, Ruth, in tow, the opportunity Pey has waited a millennium for might finally be in his grasp. And with the help of his charismatic coworker Calamity, he sets a plan in motion.
 
But things aren't always as they seem, on Earth or in Hell. And as old secrets and new dangers scrape away at the Harrisons' shiny surface, revealing the darkness beneath, everyone must face the consequences of their choices.
Release date: October 25, 2022
Publisher: Berkley
Print pages: 416
* BingeBooks earns revenue from qualifying purchases as an Amazon Associate as well as from other retail partners.
Listen to a sample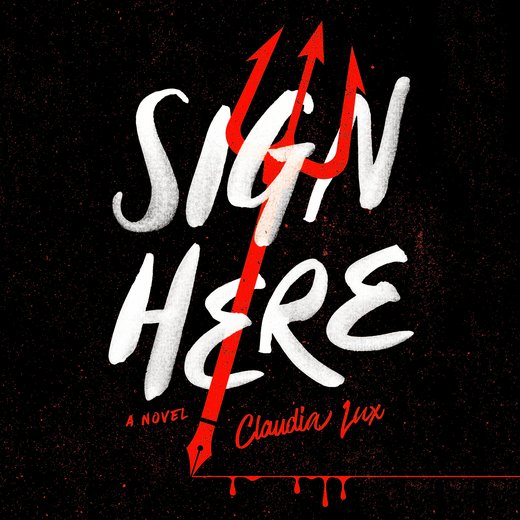 10:28:43
287.83 MB
9780593626313
October 25, 2022
Penguin Random House
Sign Here
Claudia Lux
PEYOTE
"PEY, TEAM MEETING IN five," KQ said, rapping on my desk. I jerked up from my screen. It was already ten o'clock.
"Right, I'll be there. Thanks!" I replied, but she was knocking halfway down the row, her knuckles creating a muffled echo. I grabbed my notebook and my pen case, freed a mangled Cup O' Noodles from the back of my drawer, and went to the kitchen.
"Heya, Pey, how's it hanging?" Trey asked as he stood in front of the microwave, watching his frozen meal dissolve and recongeal.
"Just fine, thanks," I said, peeling back the top to my lunch.
"The hot water is out."
I looked at the coffee machine: OUT OF ORDER. I rolled my eyes. I filled the Cup O' Noodles with the hottest water the sink allowed and got in line behind Trey.
"Who do you have nowadays? Anyone interesting?" he asked, opening the microwave before it beeped. The steam from his lunch hit my face. It smelled like warm broccoli.
"No one too good," I answered. But for the first time in ages, I wasn't worried. I did have something. Something big. I just wasn't going to tell Trey.
He stayed in front of the microwave as he stirred his food, his smile almost as thick.
"Too bad, buddy, too bad. Did you hear I landed Spence Norwood? Wrapped that set up like a present."
"Yeah, Trey, I heard. That's great," I said as I edged past him. I punched the thirty-seconds button and fished a plastic spoon from a drawer.
"Don't worry, buddy. It'll happen for you too. You've only been here, what, a minute?"
"Just about."
The microwave beeped. I pulled the handle to find my cup drooped to one side, soup dribbling out. I pushed the sloppy Styrofoam back up, but it wouldn't stick.
"Come on, dipshits!" KQ yelled, her hand on the conference room door.
"Coming!" I responded, trying to rip off a paper towel square and getting only a quarter piece.
---
"OKAY, EVERYONE, LET'S GET down to business. First things first: we have a couple of new faces here today. We didn't ask for them and we don't need them, but here they are anyway. So this means everyone is going to have to work even harder to prove their worth around here, assuming none of you is itching for the days of cleaning out the meat grinders Downstairs."
The woman next to me slumped down in her chair, as if hoping to melt onto the floor and get out unnoticed. I reached for a bottle of water and offered her one, but she shook her head.
"Second: congratulations are in order!" KQ went on. "Trey, well done with the Norwoods! You've been chasing that white whale for a while, slick! Your fifth Complete Set!" KQ put her hand on his shoulder and gave it a rough shake.
Trey beamed. "Thanks, boss."
Broth spilled out of the sunken lip of my Cup O' Noodles and pooled on the laminate tabletop.
My lunch looked like a mouth in a nursing home.
"Pey? Where are your numbers?"
I startled and pushed my notebook into the puddle.
"Well, it's been a bit of a slow—" I started, my notebook creating a trail of soup like the foot mucus of a gastropod.
"What is it we say in this office, Peyote?"
Trey shot his hand into the air.
"Which saying are we talking about, exactly?"
"Ooh!" Trey shouted. "I know!"
"Mr. Trip?" KQ prodded.
"No excuses," I said, my cheeks hot.
"I knew that," Trey said.
I pulled four pens from my pen case and clicked the back of the fifth.
It wouldn't write.
"Now that we all know that excuses are not an option, what else do we have to say for ourselves? Our numbers are decreasing. With the Internet, people are turning to different solutions for their problems. Trey? Tell the newbs which pitch you went with to land Norwood," KQ said as she kicked her heels up on the table. I could see where her stilettos had sunk into the dirt on her walk over. I could see little scraps of grass. They reminded me of the beard hairs I used to find under my fingernails after scraping off faces with sandpaper.
"Well," Trey said, leaning forward and rubbing his hands together, thinking. He always made a big deal out of thinking. It seemed to require a great amount of concentration. "I've been watching this guy for a while, so when his firm's Tokyo deal fell through, I knew I had him. You know his wife just bought that fifth horse, right? And his daughter was about to get married, in Nantucket."
Everyone snickered.
"So I went with a standard SnowFlake, with some slight adjustments, of course."
KQ pulled off one shoe and kneaded her foot.
"Does everyone know what a SnowFlake is? Because you'd better."
The woman next to me put her hand up and then pulled it right back down.
"Newbie wants a turn!"
"Oh, no, I just thought—"
"What's your name, little mouse?"
"Oh, I—"
"If you don't have a name yet, I can give you one. How about Churchy? Or Squeaks?"
"I—"
"Disease-Carrying Vermin?"
"I'm Cal," she said, before clearing her throat and sitting up straight. "Calamity Ganon. Like in the video game? But everyone calls me Cal."
"Cal? Meh. I think I'll stick with Squeaks," KQ said. "So, go ahead, Squeaks. What's a SnowFlake?"
Cal put her hand on her orientation binder but didn't open it.
"It's when the sales associate uses flattery and validation to—"
"It's ego fellatio," Trey interrupted. "Tell them they are special, that you've been waiting for them. That they have some kind of bigger purpose. Humans love that shit."
"Did you tell him who you are? What he was trading?" Cal asked, her high and apologetic voice all but confirming the permanence of her new nickname.
Trey scoffed. "I handed him the tablet, if that's what you mean."
"Nowadays we do everything digitally," I said. "The mark still signs a contract, but now all they have to do is click 'I agree to the above terms' before they sign. It's up to them if they read the fine print." I spoke mostly to my puddle of lunch, only looking over at her once.
"Which he didn't," Trey said. "Because I got him really fucking drunk. Ego sucking and whiskey, hombres. It works every time."
Everyone clapped, and I felt Cal redden next to me. All that blood in her face made my shoulder warmer.
"Hey, sorry. KQ can be a bit of a hard-ass," I said when the meeting ended, my notebook blank and dripping. "Cal, right?"
I put out my hand, and she looked at it like she thought it might bite her. Anything is possible here.
"You're not going to go with 'Squeaks'?" she asked, eyeing me.
I laughed. "My name is Peyote Trip," I said. "I'm not exactly one to judge. I'll call you whatever you want."
" 'Cal' is great," she said, and she took my hand.
"How are you liking our beloved Deals Department so far?" I asked. I was being sarcastic, but her face lit up.
"Oh, I love it. I'm so happy to be here. I was on Third before."
I caught my surprise in a whistle. "Yikes."
Deals was on the Fifth Floor, second highest. For Hell, it was the dream job. But, just like on Earth, it's easy to forget to feel lucky here.
"Well, you must be doing something right to get sent up here."
She blushed again. Once you've seen the insides of so many bodies, it's hard to think of blushing as anything other than the presence of blood. Her face looked bloody to me. But still, I didn't hate it.
"Why do you have so many pens?" she asked, looking at the bulging zipper on my case.
"They didn't tell you? You need at least fifteen here. Did you not down there?"
"We didn't use pens."
I forgot that pens were an upper-level treat.
"Right," I said. "It's been a while since I was on the bottom floors. Well, the first five pens you try won't work, but, you know, you've gotta try them anyway."
"Wow," Cal said, throwing her pen in the trash. "Thanks for the tip!"
I stood up and paused, unsure if I should walk away or wait for her. As she started gathering her things, I lingered, pushing my chair in farther than it needed to go. I would stay and help out the newb. Courtesy was stark in Hell.
She tried to pick up her binder, but it toppled from her arms and landed on the floor.
"I'll carry it for you," I said, picking it up and tucking it under my arm.
"Oh . . . okay, thanks. Thank you."
"So, got this bad boy memorized yet?" I asked.
"We have to memorize it?"
I laughed. "Not exactly, but you might lose the nickname if you can answer KQ's questions quicker."
"It's a lot, isn't it? All of the rules, the goals, the terminology . . . it's very different from the Third Floor."
"The main thing to remember is the Specs. You can spend your whole time here going after Ones and Twos, but you don't make the big numbers until you start focusing on Fives."
Cal sighed.
"Yeah, okay, Fives take the most work. For sure. But if you want to make a splash around here, I would recommend tracking a couple, just in case."
"Maybe I'll just give up now, change my name to 'Disease-Carrying Vermin,' and be done with it," she said. I racked my brain for encouragement, but then I saw that she was smiling. It was a good smile. Small, but good.
"It's not the worst name I've heard KQ call someone," I said. "It's kind of cute, actually."
There went her blood again, all over.
"Thanks, Peyote." She stopped in front of her cubicle and took her binder from under my arm.
"Call me Pey."
"Thanks, Pey," she said, and smiled once more before ducking behind her divider.
---
THE FIRST THING I did when I sat down at my desk was check on the Harrisons. I had four generations of Harrisons under my belt. All I needed was one more, my Spencer Norwood, and I would have a Complete Set. One more direct-descendant-Harrison deal, and everything I had done—everything done to me—would be worth it.
I turned on my monitor, and the white house with the black shutters appeared in front of me, late-afternoon light lapping at the weathered clapboard like the tide on a boat. It was empty now, but they would be there soon, and I liked the way it looked when it was empty. Like it was waiting for them.
Evan built that house with his dad, after he dropped out of school to join the family business. Evan was my fourth Harrison, but I have to admit I didn't think it would be him. I was tracking his debt-heavy sister right up until the day Evan called, palms down on the dining room table, a second cup of tea across from his. I liked Evan; he knew exactly what he wanted. His son, Silas, and his daughter-in-law, Lily, proved harder. That happens sometimes with generations. One person makes a deal: I'll sell my soul if my family never wants for anything. And then their family gets well and accustomed to never wanting for anything, and they don't need to make any deals. But you know what always happens the generation after that? They make the biggest deals of all. They are so used to wanting for nothing, they take to wanting with an appetite.
I had a good feeling about the older grandchild, Sean. He was into some sick shit on the Internet. Never underestimate teenage hormones high on dungeon porn.
The younger one, Mickey, was different. She wasn't exactly clean; she had her own sticky parts. But she was quieter in her head than Sean, which made her more intriguing. She felt like her grandpa. Of course, I celebrated the night I signed Evan; he was my fourth Harrison. But it didn't feel like I thought it would. Somehow, I walked away feeling like it was me who got played. Mickey made me feel the same way, and I liked it. Sean was my safety school; Mickey was my reach.
But then there was Ruth.
None of us were prepared for Ruth.
We hope you are enjoying the book so far. To continue reading...
Sign Here
Claudia Lux
Copyright © 2023 All Rights Reserved