Book info
Sample
Audiobook
Media
Author updates
Lists
Synopsis
A funny, fierce, and unforgettable read about a young woman working a summer job in a shirt factory in Northern Ireland, while tensions rise both inside and outside the factory walls.

It's the summer of 1994, and all Maeve Murray wants are good final exam results so she can earn her ticket out of the wee Northern Irish town she has grown up in during the Troubles—away from her crowded home, the silence and sadness surrounding her sister's death, and most of all, away from the simmering violence of  her  divided  community.  And  as  a  first  step,  Maeve's  taken  a  summer  job  in  a  local  shirt  factory  working  alongside  Protestants  with  her  best  friends,  kind,  innocent Caroline Jackson and privileged and clever Aoife O'Neill. But getting the right exam results is only part of Maeve's problem—she's got to survive a tit-for-tat paramilitary campaign, iron 100 shirts an hour all day every day, and deal with the attentions of Andy Strawbridge, her slick and untrustworthy English boss. What seems  to  be  a  great  opportunity  to  earn  money  before  starting  university  turns  out to be a crucible in which Maeve is tested in ways she may not be equipped to handle. Seeking justice for herself and her fellow workers may just be Maeve's one-way ticket out of town.

Bitingly  hilarious,  perceptive,  and  steeped  in  the  vernacular  of  its  time  and  place, Factory Girls is perfect for fans of voice-driven stories with bite, humor, and realism, such as the Netflix series Derry Girls and novels by Douglas Stuart, Roddy Doyle, and Anna Burns. 

Release date: November 29, 2022
Publisher: Algonquin Books
Print pages: 240
* BingeBooks earns revenue from qualifying purchases as an Amazon Associate as well as from other retail partners.
Listen to a sample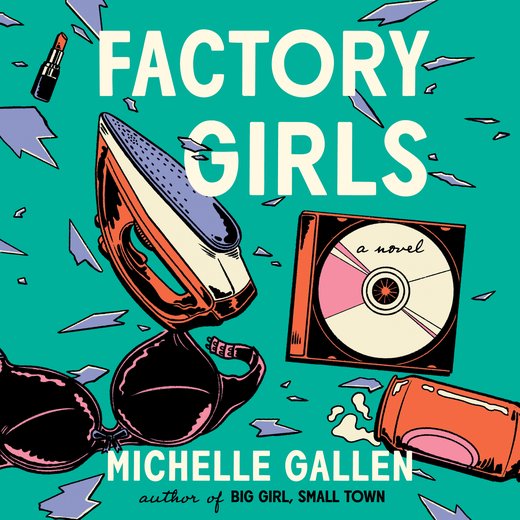 10:27:27
287.23 MB
9781649041302
November 29, 2022
Hachette Audio
Factory Girls
Michelle Gallen
74 days until results

Maeve Murray was just eighteen years old when she first met Andy Strawbridge but she knew he was a fucker the minute she laid eyes on him. In fairness, she'd expected it. He was an Englishman who drove into the town for work. Nobody knew him, but everyone knew of him. She'd heard the stories about him taking his pick of the factory girls, offering them lifts home where he'd park his Jag up some lonely lane so he could get a blowjob from whoever was belted into the front passenger seat. She'd tried to listen to the stories with only one ear, for she knew the people spouting that shite about Andy would've said the same of Father McGowan, who wasn't fit to find his mickey for a pish.

But when Maeve stood face to face with Andy Strawbridge in his office in the factory, she knew every last word she'd heard about him was true — and was probably only half the story. She'd come prepared, slouching in like she already worked there, with her hair scraped into a ponytail and not a lick of make-up on her face. She'd dressed in baggy grey joggers and one of the fleeces her mam bought by the dozen in the Primark sales. She looked like a lump of dropped dough in that get-up.

But Andy still looked at her like he'd fuck her. Like he'd already fucked her.

Maeve stuck her hand out at him. "Hi, Mr. Strawbridge. I'm Maeve Murray."

Andy leaned back in his chair, smirking, his crotch bulging in the fanciest pair of trousers Maeve'd ever laid eyes on. She dragged her gaze back up to his face. He'd clamped a pen between his teeth the way Hannibal off The A-Team clenched a cigar. Now Maeve understood why Maria McCanny, Dervla Daly and the rest of them talked shite about Andy Strawbridge. But she didn't get why nobody'd warned her that he was a ride. Then she realized her hand was still stuck out and Andy had no intention of shaking it. She took a massive reddener, feeling even the cheeks of her arse glow.

"Well, Maeve Murray. What can I do for you?"

The snotty English accent woke Maeve up. Fuck you, she thought — fuck you and the horse you rode in on. She sat down, took out her CV and tossed it on his desk. Then she took out a fag and lit up like she was the frigging boss.

"I'm looking into the factory for a summer job. My CV will tell you everything ye need to know. If you want a reference, ye can chat to the principal out in St. Jude's."

Andy didn"t touch her CV. Instead, he sat licking her with his eyes.

Maeve was well used to bucks his age gawping at her down the town, eyeing her up in the pubs. But most fellas that deep into their thirties were fat and filthy. Andy was in great shape. And he knew it.

"Tell me. What's not in the CV?"

Maeve blew a tunnel of smoke at his desk, playing for time, mulling over what she thought she knew about herself. She'd a suspicion she had terrible taste in men. She hoped she was smarter than she looked and more sophisticated than she sounded. She'd a notion she was good at blowjobs — a performance she'd perfected early in order to distract fellas from the Holy Grail of her Blessed Virginity. She dreamed in secret of writing for a fancy magazine in a swanky office in London by day and living by night with a depressed, dark-eyed musician who'd only feel alive when he was alone with her. She couldn't wait to get out of the shitty wee town she'd grown up in and had learned everything she needed to know about burning bridges from her sister, Deirdre.

She knew it'd be a bad idea to share too much of this information with Andy Strawbridge. "My A-level results aren't in my CV yet. When they come out in August, I'm getting the frig out of this place."

Andy leaned his chair back to tipping point. His shirt was open at the neck. Maeve's eyes jumped from button to button, following them like stepping stones all the way down. He caught her looking. Of course he did.

"You're very sure of yourself, aren't you?"

Maeve realized there and then that Andy Strawbridge wasn't great at reading women.

"Sure that you'll get good results," he said. "That you'll get what you want."

Maeve raised an eyebrow at him — a look she'd spent years practicing in the mirror — and she lied. "I usually do."

Andy said nothing for what felt like a long time, then tossed his pen onto the table. "So tell me. Why should I bother hiring and training you if you're going to walk out of my door as soon as you get your results?"

Maeve parroted what her mam'd said over breakfast. "I'd say your labor doesn't come much cheaper than teenage girls still living with their mammies."

Andy narrowed his eyes, then stretched into a yawn. The sound of the leather chair creaking under his arse did something funny to Maeve's lady garden. She crossed her legs and squeezed her thighs together to try and smother the feeling, which was a mistake.

"You can start Monday. Go down to Mary in the office. She'll fill you in on what to expect."

Maeve mashed her fag out in the ashtray like she was used to smoking only half a cigarette instead of sucking it right down to the butt. Then she stood up and looked Andy dead in the eye. "See you Monday."

"If you're lucky, Ms. Murray, you'll see me."

Nobody had ever called Maeve "Mizz Murray" before. Teachers used "Miss Murray" when they were sneering at her. So did neighbors who knew she was a daughter of Seán Murray, but couldn't remember if she was the poor dead one or that girl who needs manners put on her. Maeve didn't know what "Mizz Murray" meant, but she suspected Andy was being a dick. She grabbed her bag and walked out.

When the spring-hinged office door snapped shut behind her, she gulped for air the way you do after a low punch in the guts. But the fear that Andy was listening sent her clattering down the stairs towards the safety of Caroline and Aoife.

Maeve knocked on the office door and said, "Hiyas."

Mary growled, "C'mon in," without turning her head. She was hunched over a fag behind a desk piled high with folders and paperwork. Fabric samples, shirts and patterns lay in heaps on the chairs and floor. Mary's office, like her cardigan, had the whiff of being occupied by a woman who was long past caring.

Maeve sat down beside a row of mucky green filing cabinets that put her in mind of British soldiers — hulking awkwardly, no matter where they were stationed. Caroline sat opposite, tugging at her curly red hair and frowning at a form. Aoife held a clipboard on her lap and had her legs crossed, with one foot bobbing as if she was performing at a feis. Maeve had made Aoife go in to Andy first, because she was giving her the bokes with the way she was dressed in a beige skirt suit and a lacy cream blouse.

She was wearing a fucking blouse.

Maeve knew by the cut of Aoife that her mother had dressed her. But the awful thing was that the whole outfit suited her, from her blush-pink click-clack heels, all the way up to her naturally blonde chignon.

Aoife.

They'd learned in Irish class that "Aoife" meant "pleasant radiance" while "Maeve" meant "she who intoxicates" (which betrayed just how much Irish Maeve's parents had understood at her christening back in 1976).

Mary eyed Maeve as though she was a suspicious package. "Did he give ye a start?"

"Aye. He said to come down tae ye for the paperwork."

Mary sighed and got to her feet. She was of that last generation where first-born girls were called Mary, and the girls who came after were Bridget, Kathleen, Margaret, Elizabeth or Anne. She'd had the same grey hair, brown NHS glasses, blue cardigan and sharp tongue for as long as Maeve had known her and had worked in fits and starts around the town: she'd done stints in the chemist, the school canteen, the solicitor's and a few shops. But Mary never lasted anywhere. Maeve's mam said it was because she'd missed her true calling when they'd shut the Magdalene laundries.

Mary picked up a form and glared at it as if it was filthy with sin. "This is an equal opportunities form. Ye're required to fill it in but ye can rest assured it's anonymous and confidential. No one'll ever know what you've put down." She grabbed another, longer form. "These are the factory forms. They'll give us the measure of ye." She pinioned the forms to a clipboard that she passed to Maeve. "Ah'm away out fer a cuppa tay. Get them done before ah'm back."

Maeve read the equal opportunities questions regarding sex, ethnicity, religion and sexual orientation and ticked the "Male," "Black," "Jewish" and "Lesbian" boxes. Then she wrote her name, address, age, marital status, number of kids and next of kin on the factory forms, creating the sort of dossier that she knew paramilitaries often battered office workers to get hold of. "That's it!" she said, tossing her clipboard onto Mary's desk. "That's me signed up as a factory girl."

"Me, too," Aoife said, gently placing her clipboard on top of Maeve's. "Though it's just for the summer. We'll be university students by September, won't we?"

Maeve's breath caught in her chest. She wasn't sure that she'd become a proper student; that she'd swap the town for London and escape the dole for a career as a journalist. Only the high grey factory walls felt real.

Mary slapped back into the room in her Scholls, clutching a mug of tea so strong Maeve could smell it over the reek of stale fags. "Are yeez done?"

Caroline — "Female," "White," "Roman Catholic" and "Heterosexual" — placed her clipboard on the table.

"Right," Mary said, collapsing into her seat. "Yeez'll work a forty-hour week over four days."

Maeve remembered her da working five-day weeks when he was in the pig factory. Great pay he'd got for that. But the fifty hours of work on top of ten hours sat packed into a smoky factory bus morning and evening eventually took its toll. She was glad she'd only be working over the road from home, doing a short week in a factory that didn't have enough work stacked up to sustain a full week.

"Clock in's on the dot of eight each morning," Mary continued. "Clock out's at half six. Ye'll get a fifteen-minute break morning and afternoon. Lunch's half an hour. Yer basic wage is seventy quid a week."

All the chat of clocks and hours and breaks and bells did frig all for Maeve. But the mention of money put a firework up her arse. Seventy quid, week in, week out, for the thirteen weeks between now and the day she'd move to London. She pictured the CDs, clothes and books she'd be able to buy. She tried not to count how many days the same money'd buy her in London.

"Overtime's by arrangement only — ye'll get nothing extra for hanging your arse over the toilet after the last bell. I work out yer wages and bonus on Thursday evening. Youse come in Friday morning tae lift yer checks. Any questions?"

Maeve waited for Aoife to pipe up. Aoife always piped up.

"What'll we be doing?"

"Well, ye were born yesterday if ye don't know we make shirts," Mary said. "Andy decides who does what. Anything else?" She glared, daring them to speak. "Well, if youse are done ye can head on and let me finish my tay in peace."

They chorused, "Thanks a million," and left.

As Maeve walked through the factory gates arm in arm with Caroline and Aoife, she got the feeling Andy was watching them from behind the blinds of his office window. And she liked that.

Maeve bagged the window seat in what had once been McHugh's Shoes — a dim, damp runt of a shop that'd been euthanized by a bomb. After the dust settled, the McHughs had boarded up the broken windows, painted BOMB SALE in red letters on the plywood and reduced the stock to next to nothing because the shoes were full of glass. Maeve's mam, being Maeve's mam, had said there wouldn't be a hate wrong with the shoes after she'd got at them with the hoover and a pair of tweezers, so she'd raided everyone's piggy banks and the Christmas savings biscuit tin and bought up as much footwear as she could carry home.

When the McHughs got their compensation, they reneged on the shoe selling and set up the town's first café. On opening day Maeve's mam had asked what type of an eejit would buy a cuppa tay for thirty pence when ye could make thirty cups at home for the same price? What fool'd pay fifty pence for a bun on a plate when ye could buy six in the shop for forty-nine pence? But after a few weeks, McHugh's Brews was bunged with wee women murmuring over an iced bun and tearing the arse out of a pot of tea. Caroline's mam'd eventually coaxed Maeve's mam in the door by telling her the café had all the good of a wake but without the weight of a corpse sitting under your nose.

It also had Philomena Maguire. "What are youse having, cuddies?"

Philomena — who was no spring chicken — was wearing a gingham blouse, cut-off denim shorts, forty denier American Tan tights and a don't-fucken-try-me face. Philomena's "uniform" wasn't what lured the town's middle-aged housewives into the café, but it did give legs to the rumor that the male proprietor of McHugh's Brews had a notion for Daisy Duke.

"Tea for three, two iced buns and a wee fruit scone, please, Phil."

"Right youse are, cuddies. Ah'll be back over in a minute."

As soon as Phil left, Maeve leaned in close to Aoife and Caroline. "Well? What's the verdict on Handy Andy?"

Aoife looked confused. "Andy? He's alright, I suppose."

Caroline gleeked around before speaking. "I know he's a chancer, but he's not bad for his age!"

"He'd lovely hands," Aoife said. "Nice clean nails."

Of course Aoife'd noticed Andy's nails, while Maeve'd been distracted by his crotch. "I get the feeling Andy's never had to get his hands dirty," she said.

She'd timed Aoife's interview: it'd lasted ten minutes. Afterwards, Aoife'd clopped out and stuck her thumb up. Maeve'd smiled back with her hands jammed firmly in her pockets. Aoife was really fucking smart, but she was a complete muppet. "Did Andy not float your boat?"

Aoife shook her head. Maeve sighed. If Aoife fell into a barrel of cocks she'd come out sucking her own thumb. She'd no bother attracting fellas: she was a magnet for gentle, sensitive chaps — the long-haired, skinny-dicked boys who sometimes assembled at Aoife's house wearing Pantera or Metallica T-shirts. Maeve liked practicing her snogging on them, though for fellas who claimed to be into Satan they were awful drips — when she squeezed them the right way between her thighs, they came in their pants.

Maeve doubted Andy'd be so easily pleased. "So, how'd your interview go?"

"Andy looked over my CV and asked a few questions," Aoife said in a voice as bright as a shop bell.

Maeve wanted to spit nails in Aoife's shiny wee face. She hated how stuff worked differently for her and Aoife. Aoife came from money. She was the sort of pupil teachers dreamed of. The sort they said would do well for herself (as if the doing well was all Aoife's own work, and not bolstered by living in a fancy house with loving parents who could afford stuff like piano lessons, eating in fancy restaurants, holidays abroad, and patience). "What sort of questions?"

"Oh, he wanted to know where I'd applied. He said he studied engineering science at Oxford but prefers to practice management. I told him I was hoping to read law in Cambridge but I've Oxford down as my second choice."

Maeve remembered the sound of Aoife's heels click-clacking down the metal staircase. Then Caroline'd got to her feet and plunged into Andy's office. Maeve'd played D:Ream's "Things Can Only Get Better" on Deirdre's old Walkman to distract herself. But Caroline'd barrelled back out of Andy's office, all pink and sweaty, before the song was over. They'd both flinched as the office door sprang shut behind her.

"And how was Handy Andy when you were in with him, Caroline?" Maeve asked.

Caroline shrugged and started to shred her napkin.

"Well, he didn't really go over my CV much. He asked about my attendance at school, ye know — sick days and that. He wanted tae know which estate I'm from and I said that me and you come from Riverview."

Maeve hated that Andy knew where she lived. The houses in their estate had got indoor toilets installed in the council's last big upgrade, but living there was still only a step up from squatting in the caravan site out the back of the chapel.

"Was Andy civil enough when you were in yourself, Maeve?"

She remembered how Caroline had mouthed Good luck at her as she'd stuffed her headphones and Walkman into her bag. She remembered putting her hand on the door to Andy's office. She wanted to tell Aoife and Caroline what had happened after that, to shock them with her cheek and Andy's bullshit. But she couldn't. She didn't want Aoife to know that Andy hadn't bothered to read her CV. She didn't want Caroline telling her that Andy'd fuck her sideways if she didn't keep her eyes peeled. Andy made Maeve feel grubby. She knew he could treat her any way he liked and get away with it. Her factory job — like Philomena Maguire's waitressing work — had an unwritten duty that'd earn her no overtime or bonuses: stay out of arm's reach of your boss.

The next morning, Maeve perched on the windowsill outside the shop, waiting for Aoife and Caroline. She'd begged them to get her Coke and crisps because she was buzzing too much to walk around the shop saying, "Hiya," or "Och, hello," or "So, what's the craic?" to whoever was going about their business.

She was torn between wanting to preserve the town forever, exactly as it was that morning, or taking fifty pounds of Semtex and blowing it all to smithereens.

All of a sudden there were no empty weeks stretching out ahead of Maeve, no long lie-ins spent staring at Deirdre's empty bed, with fuck all to get up for. She wouldn't waste hours dandering around the town broke or mucking about down by the river. The summer that'd yawned before her, dank with boredom, was now sliced up into work days, while her free time fluttered with bank notes. She'd soon be like the older girls she'd watched for years heading for the factory, smoking fags and carrying handbags instead of rucksacks bulging with homework. Just one thing felt the same: the ticking time bomb of her exam results, primed to go off in August.

Maeve trembled, then reached into her bag for a fag. She lit up, blowing smoke at the blue sky stretching out of reach above her head. That's when she noticed the sign above the shop.

2 BEDS TO LET

JP DEVLIN

78234

Maeve chanted, Seveneight-twothreefour, seveneight-twothreefour over and over in her head until Aoife and Caroline emerged. She pointed up at the sign.

"To let?" Aoife said. "So what?"

"It's about time I got a place of my own," Maeve replied, stubbing her fag out.

"Can you afford it?"

"Not on my own. But we could afford it." Maeve linked arms with Caroline.

"Oh, God, ah don't know about that now, Maeve!"

She dragged Caroline over to the phone box and opened the door. A smell of pish and chips stung her nose. She kicked a soggy takeaway out the door, then checked the receiver for gum before putting it to her ear. The line purred and crackled.

"Aoife?"

"Yep?"

"Lend us 20p."

Maeve dropped Aoife's coin into the slot, then punched JP's number into the keypad.

"Seveneight-twothreefour, JP Devlin's office. Louise speaking, how can I help you?"

Bang on half twelve the girls arrived outside the shop to meet JP. At ten to one, they were still waiting. Suddenly the dogs up the road started to howl. The hairs on Maeve's neck prickled and her nipples stiffened. "Brits," she hissed, giving Caroline a dig in the ribs.

Caroline perked up like an enthusiastic puppy. "Where? Where?" she panted.

Maeve muttered, "Quit staring!" then nodded in the direction of the patrol. Her and Caroline crossed their arms under their diddies for a bit of a boost. But Aoife just stood gawking at the soldiers with her mouth hanging open as if she was one of the holy Americans who were flown in on peace trips from time to time. Maeve watched the patrol out of the corner of her eye, doing her best to look indifferent with just a hint of hostility. A few of the soldiers winked like they were doing something dangerously sexy, while one of the younger, cockier bucks aimed his gun at them — a move that reminded Maeve of the way Header Doherty used to wave his dick around in class before Fatty Dolan'd got him into the special school.

Maeve eyed the oldest Brit. He was a hardy fucker who looked like the sort of gristle her Granny Murray liked to chew on after a good Sunday roast. You could tell by the way he handled his gun that he'd tucked several tours of duty under his belt. Brits like him didn't play around at the winking-aiming shite: they were the ones to watch.

The dogs tailed the soldiers down the street at a safe distance, snarling and barking. The patrol stopped just out of earshot, each of them crouching in a different vantage point so they could get a good look around. Caroline released a long, hot breath. "Phwoar! Did you see the black fella?"

Maeve cringed. Caroline was always pure thrilled when she saw a black or brown face under the camouflage face paint, because everyone in the town was blindingly white. But it annoyed Maeve to see colored fellas in the British army. It felt like they were on the wrong side. She wished they'd join forces to fight for freedom, instead of displaying as much sense as their collective ancestors, who'd been too busy tearing lumps out of each other to stop the English from stealing their lands.

"I think it's sad," Aoife said, gazing at the Brit squatting nearest to them.

Maeve got a bad feeling that Aoife was about to let the side down. "What's sad?"

"The way the UK military recruits."

"What are you shiting on about?"

"The UK's the only country in Europe that routinely recruits minors."

Maeve closed her eyes. Aoife was off on one. "And? So what?"

"They recruit boys from the age of sixteen. And anyone who signs up at sixteen or seventeen has to serve until they're twenty-two."

Caroline stared at the Brit on the corner, her lust liquifying. "Jesus. Imagine becoming a soldier before you're allowed to drink or see a dirty movie."

"And imagine being stuck in the army for six years!" Aoife said, as if she was auditioning for an Amnesty International documentary. "The British army's recruitment policy is the same as Zimbabwe's, Iran's and North Korea's!"

Maeve didn't like where Aoife was headed. On the one hand, she was comparing the UK to places run by dictators, which was fair enough; but on the other, she seemed to be saying that the dickheads swaggering around their town with guns needed some kind of protection, which was a bit of a headwreck. "Aoife," Maeve said. "If there's a North Korea, there must be a South Korea. Kind of like East and West Germany, right?"

Aoife nodded.

"So. Any time I hear of a country using the points of the compass in its name, I know there's a border. And borders need soldiers. The younger they are, the more gullible they are. That's why the Brits give kids guns. The IRA does it too. Because it works."

Aoife frowned. "I'm not sure I'd say 'this' is working for anyone in particular."

The Brit on the corner lifted his rifle and peered at them through his gunsight. Maeve gave him the finger. Which was, of course, the exact moment JP pulled up in his BMW.

"Fuck," Maeve said, dropping her hand.

JP got out and leaned on the roof of his car, appraising the girls like they were cattle at the mart. Maeve tried to look demure, a look she hadn't practiced since her First Holy Communion.

"Miss Murray. Miss Jackson. And Miss O'Neill?"

It was no shock that JP had already sniffed out who they belonged to, or that he was surprised to see Aoife.

"Mr. Devlin, how are you?" Maeve said.

"Grand, grand," JP replied, squinting up at the misty sun.

She seized the opportunity to demonstrate her maturity by commenting on the weather. "Well, sure, it's a grand day, anyway."

JP blinked down at Maeve. She felt him take the measure of her, from her scuffed bomb-sale boots to her cracked leather jacket.

"It's not so bad now, altogether," he said, begrudgingly, letting Maeve know that the day hadn't quite met his personal standards for the title of "grand." "So youse want to take a look at this place?"

"We do, aye."

"And who is it that's looking?" JP asked, glancing at Aoife. "Not all three of youse, surely."

"No, Mr. Devlin. Just myself and Caroline. We got a start in the factory and this place'd be very handy for us."

"The factory, eh? Under Andy Strawbridge?"

Maeve nodded, trying not to picture herself under Andy Strawbridge.

JP tossed his head back in judgement but said no more. He locked his car, then walked towards the flat. He paused in front of the snarl of litter in the doorway and fingered a bundle of keys. Then he unlocked the door and loped up the narrow staircase with Maeve close behind him. He stopped abruptly at the top of the stairs to search for the next key. Maeve stopped awkwardly near to his buttocks, so she turned her head and held her breath to avoid the whiff of JP's arse crack.

After he eventually entered the flat, she leaned against the door frame, taking a couple of deep breaths.

"Bedroom one," JP said, pointing. "Kitchen. Bathroom. Bedroom two. And your living room."

The flat smelt of fresh paint but was carpeted with what looked like grey pubic hair glued onto a bed of thick black mold. The first bedroom sat in the shadow of the house opposite and was crammed with a stained-pine double bed, wardrobe and chest of drawers. Maeve left Caroline there, checking under the bed, while she took a quick look at the kitchen. There was no window, but it had the basics: a m. . .
We hope you are enjoying the book so far. To continue reading...
Factory Girls
Michelle Gallen
Copyright © 2023 All Rights Reserved