Empress Crowned in Red
Available in:
eBook
Paperback
Audiobook
Hardcover
Book info
Sample
Audiobook
Media
Author updates
Lists
Synopsis
Perfect for fans of Sabaa Tahir and Roseanne A. Brown, this highly anticipated sequel to Witches Steeped in Gold finds rival witches Jaz and Iraya in an alliance that hangs by a thread, with a brand-new enemy on the horizon.
The Doyenne is dead, and the throne is empty.
Iraya, her revenge taken and magic unfettered, turns her sights on a bigger goal: freeing Aiyca for the Obeah. But first she must shed the guise of the rogue warrior and become the Lost Empress her people need. 
Jazmyne's mother has been overthrown, but her people aren't ready to call her doyenne. She's no stranger to a fight, though, and she's prepared to go to extreme lengths—and court ruthless danger—to secure her title.
But a new threat is awakening—an enemy with vicious intent and an army of nightmares from beyond the veil. An enemy who has waited a decade to strike, who would claim both Iraya's birth right and Jazmyne's bloody crown.
Trust is scarce, and betrayal a breath away. And Iraya and Jazmine must once again turn to each other—after all, better the witch you know than the nightmare you don't. 
The war has just begun.
Release date: June 7, 2022
Publisher: HarperTeen
Print pages: 400
* BingeBooks earns revenue from qualifying purchases as an Amazon Associate as well as from other retail partners.
Listen to a sample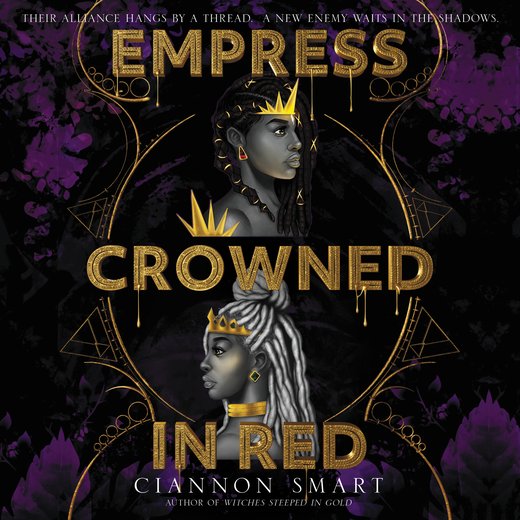 25:17:57
694.89 MB
9780063220980
June 7, 2022
HarperCollins
Empress Crowned in Red
Ciannon Smart
JAZMYNE
Knowing how heavy the crown would feel still doesn't prepare me for its weight.
"On tonight's coronation eve, we bestow this cradle of riches upon your head," the Alumbrar Seer before me intones, setting the gold circlet atop my curls, "to represent Aiyca's greatest treasure you will serve and protect: its people." Her movements are unsteady, bafan; withdrawing clawed hands, the witch steps aside as she says her next words. "Never forget that they, and they alone, are between you and the Supreme Being."
Beyond the Seer, on the dais steps below the throne, stand her fellow witches, the cabinet of fourteen who have served the crown for a decade. The wall of windows in the throne room behind them showcases cold teal light from a steepening dawn. As it bleeds through the vestiges of the rising sun, it stains the Alumbrar faces in the crowd gathered to witness my ascension, casting their wariness, their fear, in a lattice of shadows. Not even twenty-four hours earlier, their last doyenne fell—was felled by an axe that may swing at my neck too, yet.
Swallowing, I focus on the Seer, who steps back into my line of sight.
"All decisions henceforth must respect your people them, you understand?"
An internal war is fought. Fear versus fervor. The former cannot have an inch.
"I understand."
If the warning of the Seer's words isn't enough of a reminder about how my past decisions have impacted my order's present, or the tried prescience of her métier reflected in her milky eyes as the spirits of the long dead commune through her, the scarlet kaftan she wears is more than sufficient. Last night, before the events of the Sole, that color mirrored fire; my plans were set to purify an inflicted isle. Now it slinks down the dais steps like blood—in addition to mine, my order's is in danger of being spilled if I make the mistake of faltering for even a second.
"We place this scepter in your hands," the Seer goes on to cantillate, her salt-and-pepper twists quivering with her intensity, "to remind you that your reach alone is limited; seek out additional hands in your plight to keep Aiyca, its people them, hale and protected." She places the baton of gold into my waiting palm. "Never forget to pursue those hands should you need them."
A shadow catches my eye beneath the east mezzanine. Anya, dressed for Stealth in obsidian silk, is ever stalwart, like the pillars to her left and right. Her silver ponytail bobs in a proud flag of victory; light catches the unspent tears in her eyes as the intention we set for me to take the throne, so long ago now, comes true.
"Upon this night," the Seer continues, the rhythmic cadence of her voice a lullaby to soothe the roiling unease in my belly, "we pronounce you, Jazmyne Amancia Cariot, former emissary to the crown and second-born pickney of the late Doyenne Judair Cariot, Regent of Aiyca and all its territories."
A bolt of shock electrifies my insides—disbelief.
Regent?
Stunned, I look up into the white eyes of the witch leading the coronation. In the polished mahogany of her face, they are consuming. Doyenne. My frown castigates where my words cannot. Not before an audience of Alumbrar, including what remains of the Witches Council, who stand vigil close to Anya. I told you to crown me doyenne, not a glorified babysitter.
"Until such a time as when you inherit your magic," the witch continues, "meeting the eligibility to become doyenne of this great and noble land." She pauses as though in explanation, in a face-slapping reminder that I am still not enough. "Do you accept?"
Even as my cheeks burn at the slight, how public it is, my world narrows down to those three words in the Seer's question. With Iraya out there somewhere, allied with Kirdan, the rebels, pride would be a fool's error.
"Yes." A gelid determination replaces the hot flare of my embarrassment. I draw myself up taller in the throne. "I accept."
"And do you promise to protect this island, its territories, and its people to the best of your ability, even if it means giving your life to do so?"
That determination morphs from ice to steel around my bones, and something more intrinsic—my will.
"I do."
The witch retreats down the dais steps to join her sistren; they stand in a line, arms aloft before them. "And so it is promised," the cabinet says in unison, "so things do. Long live Aiyca's regent, Jazmyne Amancia Cariot, Favored by the Supreme Being, Healing Hands of Aiyca, Watchful Eye of Carne Sea, first of her name, and sole living heir of Doyenne Cariot."
Though the Sibyls and I crafted them together, with Anya's aid, hearing them called by my order transcends me from myself, from emissary to the crown.
"Long live Aiyca's regent" is returned by a crowd that isn't as sure as I need them to be, yet; my titles follow.
Standing, I allow myself one shallow breath, one moment to mentally savor the bittersweet paean of a title I never wanted, knowing it's the final hurdle before the one I've fought for and sacrificed in the name of. As my order will soon learn. A declaration of gold, my kaftan glows in the growing dark. More of the conduit metal graces my feet, neck, fingers, and finally crowns my head in an obscene finale of power and wealth. Word will
spread, and my enemies won't remember that I cannot summon, that as regent I have yet to inherit my ancestors' magic, this morning.
"Wahan, Alumbrar," I call. "From light we are born."
"And to light we cleave."
"Yesterday eve was one of loss," I begin, aware of the mount I need to overcome. "But we are no strangers to dark skies. It is the time our naysayers see how incandescent our shine truly is." Dawn blooms outside, a flare of a triumphing sun. My chin rises in acknowledgment of the Supreme Being's blessing, Their support as I attempt to shift the winds in this throne room from hesitant to confident. "While this morning we usher in a new era for Aiyca, it does not negate who we have been in the past: leaders, healers, protectors." Some in the crowd nod. Others only stare with hard expressions, doubt. "We walk into a future shadowed by our past. To that end, it is incumbent on us to be a shining light, to expose our enemies who would rather rely on that darkness, hide in it. Can I place my faith in you, Alumbrar? Can I, in doing all that I can, trust you to do the same? Not only for your families, for our rule, but for Aiyca?" The angle, the threat, is a gamble, one Anya didn't wish for me to make when I scrambled to formulate something inspiring for this moment. There will be no reward, I told Anya, without showing them they are at risk too. There is no time to earn my order's admiration, and hereafter, the island's. I must incite their fear instead. I'll show them that while I am their sole option, standing alone does not lessen my suitability for this position. "Will you stand with me, for our home?"
I'm met with silence. One so deep that, for a moment, I wonder if I might drown in it.
Was Anya right? My titles, my clothing, everything crafted to cast a greater shadow than I can at this time, after being swallowed by the late doyenne's, aren't enough to intimidate them into taking the knee. They won't follow me. They don't—
"In your words, Regent" is called from the crowd. "We do not fear dark skies!"
One. Thank the gods.
"It's true that we own the night, Alumbrar." There are more cries of affirmation, but they're hollow. I need more. "However much our enemies may think themselves comfortable there. Which is why we will defeat them! We will defeat them as we have done for the past decade. As we will do for decades more!" The cries of the crowd finally reach a pitch that makes me feel shot as high as the stars I can no longer see, thanks to the dawn. Is this how the late doyenne felt? Despite the pounds of gold around her neck, her wrists?
The thought of her, Mama, encases my ankles, drags me back down to earth in a breath-stealing jerk. She had the jéges. Magic. None of which saved her, in the end. Six phases stand between me and my inheritance. Compared to eternity, it is but a blink. This I tell myself as the crowd continues to holler and bellow. A time Aiyca will survive, with the aid of Roje, standing guard in the palace grounds with the rest of the pirates.
But we cannot grow complacent.
I cannot.
My
left hand is held aloft; the crowd cows before it, row by row. "Victory, Alumbrar, may not look to you as it always has done, but while I sit on this throne, in Aiyca's Golden Seat, I assure you death's shroud will not find its resting place here again. Tonight, we mourn the late doyenne, as we will for the next nine. Thereafter, we live, Alumbrar." I look to Anya, still crying silent tears. "We do more than survive. We triumph. We thrive."
My sistren sinks into a curtsy first, and though the movement brings her forward, the action travels back. Warmth spreads from my chest and through my limbs as, row by row, Alumbrar in the throne room sink into a sign of estimation, with the exception of the Sibyls, who are too old to lower more than their chins, which they do. The three remaining Witches Council presiders also remain standing, their faces tight. We four will need to talk, later. For now, I open my arms to my kneeling order. The line has been cast, the bait taken.
"Rise, Alumbrar. Rise and honor me by honoring the late doyenne."
To their riotous applause, I pick my way down the steps with care, kaftan in hand. Anya meets me at the dais base.
"Regent," she says with a bow.
For all my earlier bravado, the title rips through my belly like a hot knife.
Catching my reaction, of course, Anya edges closer, lowers her voice. "I'm sorry, Jaz. I didn't know."
"Not now," I murmur. Alumbrar edge close, waiting to address their new leader. "Sister Grenich, how lovely to see you." Anya falls to my side as I approach the Alumbrar Healer I remember well from my time training at Sanar, Aiyca's Alumbrar medical alcázar, the frontrunner in our order's healing. In fact, many Healers approach to bid me good fortune, to take my hand and bow their heads. They are a welcome salve to the late doyenne's court, one filled with vipers whose tongues birth poisonous comments about my succession and lack of magic.
"Will you wed?" an uncle asks. I've never warmed to him, the surviving husband of one of the late doyenne's first cousins. Or the slight daughter standing in his shadow; both watch me with narrowed eyes. "I'm sure you think I'm too old," Ivan goes on to say. "Even though we aren't bound by blood." He rubs bejeweled fingers across a rotund belly. "But my daughter is close to your age, you know."
Demar is my blood, though, and strange enough that not even Anya has invited her to bed. I used to see her in the gardens, unsmiling and all but mute, burning ants with glass.
"If it is attraction that concerns you," Ivan says when I am silent for fear of shouting no in his face, "or the bearing of pickney, there are matters we can discuss."
"Um. I will take what you've said into consideration, Uncle."
"About both of us?" He makes to step closer, but then Anya is there.
It is but a casual shoulder she angles Ivan's way, but with a wary look in her direction, he keeps his distance.
"It was good of you to come" is my verbal dismissal.
And as if that harrowing conversation set the tone, the next are just as unpleasant when Alumbrar begin to inquire about the next Yielding. Mention of the sacrifice, their willingness to send their firstborns to slaughter, severs through my already-thin patience. I turn to find Filmore; always close, he's become the right hand to my left, in Anya. With a nod that has him brushing his twists out of his face, he imparts a murmured order, magical, by the faint illumination of the conduit beneath his tunic. The remaining six Stealths in my private vanguard disperse; trained wraiths, they intercept the stingers the doyenne populated her court with before their tips can sink into all the places I am soft.
Taking up a glass from a passing tray between well-wishers, I turn to the wall of windows to seek out another sign from the Supreme Being. Peace rests two hands on my shoulders as the teal light brightens outside, like the opening of eyelids, its color strengthening into something luminous. Something . . .
Something jade.
Witchfire.
My throat constricts around the drink at the familiarity, as if its murderous flames have drawn away all moisture from my mouth. For there, a faint growth across the horizon, nascent flames flicker their way to a dangerous maturation.
"Did the drink go down the wrong way?" Anya queries as guests turn to ascertain what's wrong. "Or does your throat burn? Tell me quick. We have an audience."
"Not poisoned," I force out, spluttering. "Window." The green light begins to seep across the sky, like poison oozing from a gash; it will touch those around me first, however distracted they may be by my choking. Though the light will be without the heat of the Witchfire it no doubt belongs to, it will burn away any hard-won belief in my capabilities as a leader. "Anya," I say, my voice barely louder than a whisper for my Stealth-trained sistren. Aiyca's insurgents, I cannot say. They're mounting an attack outside. "I need the curtains closed. Now."
Turning to the glass, her face blanches as her magical will makes the fabric swing closed with a muffled thump.
"Send one of the Stealths after the council," I say, my voice low. "They're to extract the witches clandestinely, and fast."
My sistren imparts the order in a low murmur, conduit alight, so she doesn't need to leave my side. The Xanthippe keep those gathered at bay as we cross the throne room. I share polite nods, comments that I'll return soon; all the while sweat runs down my neck, and my hands, which hold my kaftan, shake.
"I need four of the Stealths to remain inside," I tell Filmore once we're in the quiet emptiness of the cavernous marble vestibule, with only the statuaries and gilt-framed art to overhear. "They're not to let the guests near any windows. All curtains must be kept closed."
"Why?" Ionie Lewis snaps upon approach, her infamous Squaller temper blustering already. A gray cloud that accompanies her everywhere and takes up residence above my
head too, since I can only blink at her, at Mariama and Ormine as they join us in their finery. Bangles and chunky necklaces clink like the shackles we might soon find ourselves bearing. I am without the words until I know—and that knowledge is sought from a vantage point north of the throne room. I head there without further delay.
So rarely was this observatory used by the late doyenne, it's garlanded with cobwebs thick enough that the accompanying Xanthippe must use magic to clear them away. She didn't need this outlook, not when with the one eye she possessed she saw everything. Well, almost everything.
Once the golden hands extending from all seven Stealths' conduits have rescinded back into their coins, wind gusts through the ragged tendrils of dust, and my stomach lurches. Spherical, with teeth of stone connecting roof to floor, Cwenburg's Eye provides a panoramic measure of Aiyca—and where magically impotent sight fails, there are several telescopes infused with guzzu to see the distance.
I don't require the latter to discern the bowls of jade flame on undulating rooftops across the parish. The bright flame is alive and growing more audacious by the minute. My hand goes to my neck, where the locket—the Amplifier I haven't the magic to use—lies.
The Jade Guild are here. Obeah. Insurgents. Drawn arrows aimed at this Golden Seat, at me, which can only mean one thing. She is here too.
We hope you are enjoying the book so far. To continue reading...
Empress Crowned in Red
Ciannon Smart
Copyright © 2022 All Rights Reserved