Bloodline
Available in:
eBook
Paperback
Audiobook
Hardcover
Book info
Sample
Audiobook
Media
Author updates
Lists
Synopsis
It seems like a straightforward domestic murder until a bloodstained sliver of X-ray is found clutched in the dead woman's fist - and it quickly becomes clear that this case is anything but ordinary. Thorne discovers that the victim's mother had herself been murdered fifteen years before by infamous serial killer Raymond Garvey. The hunt to catch Garvey was one of the biggest in the history of the Met, and ended with seven women dead.
When more bodies and more fragments of X-ray are discovered, Thorne has a macabre jigsaw to piece together until the horrifying picture finally emerges. A killer is targeting the children of Raymond Garvey's victims. Thorne must move quickly to protect those still on the murderer's list, but nothing and nobody are what they seem. Not when Thorne is dealing with one of the most twisted killers he has ever hunted...
Release date: July 14, 2011
Publisher: Little, Brown and Company
Print pages: 368
* BingeBooks earns revenue from qualifying purchases as an Amazon Associate as well as from other retail partners.
Listen to a sample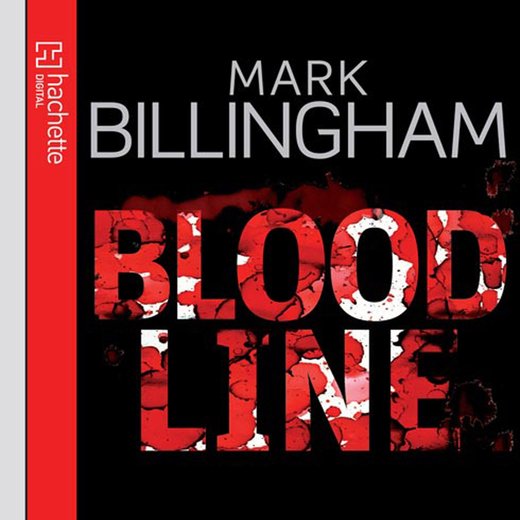 06:24:16
175.93 MB
9781611136241
August 6, 2009
Little, Brown
Bloodline
Mark Billingham
"Psychologically twisted and strikingly original… A relentlessly swift pace and high emotional pitch… Sophisticated."

—Marilyn Stasio, New York Times Book Review

"Chilling, moody, humane, and very, very smart.… Billingham is one of the most consistently entertaining, insightful crime writers working today."

—Gillian Flynn

"Irresistible.… The series character, Thorne, is a London homicide detective, so the bones of the story are those of a police procedural. But Billingham salts those bare bones with a wealth of little character details, and wisecracks, and observations full of authenticity about marriage, parenting, work, and other universal human subjects.… The man knows how to keep you turning pages."

—Salem Macknee, Charlotte Observer

"Billingham has freshened the serial-killer brew.… Bloodline has a tantalizing effect.… Exhilarating."

—Barry Forshaw, The Independent (UK)

"Billingham skillfully ratchets up the tension.… The book's final portion is a tautly crafted explosion of violence and sudden twists.… Billingham draws a complex and intriguing character in Thorne and surrounds him with an interesting supporting cast. Bloodline promises to bring him, and Thorne, a bigger audience on this side of the pond."

—Colette Bancroft, St. Petersburg Times

"Rich, heady, and gripping. A boss performance by Billingham, through and through."

—George Pelecanos

"Superb from its gripping opening to its climax."

—The Guardian (UK)

"A deftly plotted and thoroughly engaging work of suspense that is revealed in a deliberate, and ever-intensifying, pace. Billingham peppers his narrative with good humor and wry observations about time and place which serve to create more than a simple 'whodunit'.… When readers turn the last page, the one mystery left unsolved will be why Mark Billingham is not yet a household name in the States."

—John Valeri, Hartford Books Examiner

"Tales of blood and badness don't come much better than this."

—Evening Standard (UK)

"If you haven't already discovered the brilliant Thorne series by Mark Billingham, this is the book with which to start.… Bloodline sizzles from the first page."

—Margaret Cannon, Globe and Mail (Canada)

"Thrilling.… Billingham continues to captivate with equal parts suspense, deduction, and heart."

—Publishers Weekly

"Bloodline is one of those books that you will want to read at least twice: once for enjoyment and absorption, and once to see precisely how Billingham brings it all so frighteningly and wonderfully together.… A tale that grows more intense page by page, with one of the most striking endings you will read this year. Guaranteed… Billingham has never been as bittersweet, tragic, and powerful as he is here."

—Joe Hartlaub, BookReporter.com

"Compelling."

—Kirkus Reviews

"A thrill a minute. Billingham is firing on all cylinders."

—Daily Mirror (UK)

"Another fine addition to Billingham's formidably assured body of work."

—Carla McCay, Daily Mail (UK)

"Very entertaining and very suspenseful, heart-pounding right to the last page, excellent crime fiction."

—Montreal Gazette

DEBBIE AND JASON

"Come on, pigeon! Let's go blow at the trains." Debbie Mitchell tugs at her son's arm, but he pulls hard in the opposite direction, towards the chocolate Labrador the old woman is struggling to control. "Puff-puff," Debbie says, blowing out her cheeks. "Come on, it's your favorite…"

Jason pulls away harder, strong when he wants to be. The noise he makes is somewhere between a grunt and a whine. Anyone else might think he was in pain, but Debbie understands him well enough.

"Dog," he says. "Dog, dog!"

The old woman with the Labrador smiles at the boy—she has often seen the two of them in the park—then makes the same sad face as always when she looks at his mother.

"Poor thing," she says. "He knows I've got some treats for Buzz in my pocket. He wants to give him a few, don't you?" The dog hears this, pulls harder towards the boy.

"Sorry," Debbie says. "We need to go." She yanks at Jason's arm, and this time his cry is one of pain. "Now…"

She walks fast, glancing over her shoulder every few steps, urging Jason along. "Puff-puff," she says again, trying to keep the terror from her voice, knowing how easily he picks up on such things. The boy starts to smile, the dog quickly forgotten. He runs alongside her making chuffing noises of his own.

The dog is barking somewhere behind Debbie as she hurries away. The old woman—what was her name, Sally? Sarah?—meant well, but on any other day Debbie would have said something. She would have smiled, concealing her irritation, and explained that Jason was nobody's poor anything. That there was no happier child alive, no child more cherished.

Her precious boy. Nine next birthday, with hair on his legs already and an extra-large Arsenal shirt. Who will almost certainly never be able to feed or dress himself.

"Train," Jason says. Tries to say.

She hurries across the lower field, past the bench where they usually sit for a while, where they have an ice-cream sometimes in hot weather, then Jason runs ahead as they move onto the football pitch. They've been coming here for a couple of years and, as she hurries towards the familiar tree-line that borders the railway tracks, it strikes her that she doesn't even know what the place is called; if it even has a name. It's not Hampstead Heath or Richmond Park—there had been a flasher active for weeks the previous summer and sometimes the local kids lit fires at night—but it was theirs.

Hers and Jason's.

She checks behind again and keeps moving. Walking, fighting the urge to run, fearing that if she does, someone will see and try to stop her. Seeing no sign of the man she's watching out for, she picks up her pace to catch Jason. He's stopped in front of the goalposts to take an imaginary penalty, same as always. He does it whether there's a game on or not, and the boys who play here are used to seeing him charging onto their pitch and flapping around by the goal, waving his arms about like Ronaldo. Sometimes they cheer and none of them laughs or pulls faces anymore. Debbie could kiss each one of the little sods for that. Brings them cold drinks now and again, or a few cut-up oranges.

She takes Jason's hand and nods towards the bridge, a hundred yards ahead and to the left.

They move quickly towards it.

Normally they'd have come the other way, through the entrance opposite her own place, which would have taken them across the bridge on the way in. There would not have been any climbing on plastic chairs and scrambling over her friend's garden fence.

But this was not a normal day.

When she looks around again, she can see the man on the far side of the football pitch. He waves and she fights the urge to shit herself on the spot. He couldn't reach them in time, she thinks, even if he ran. Could he? The fact that he is just walking, though, the confidence in his easy stride, terrifies her more than she ever thought possible. Convinces her that she is doing the only thing she can. She had known even before she'd heard him talking on the phone. She'd seen it in his eyes and in the dreadful red stain beneath his jacket.

The man waves at her again and starts to jog.

On the bridge, Jason stops at his usual spot and waits for her, knowing that she will help him see the train when it comes. He looks confused when she moves to his side. He puffs out his cheeks and waves his arms.

There was a metal safety-barrier once upon a time, but bit by bit it had been pulled down, as soon as those with nothing better to do had covered every inch of brickwork with graffiti.

Who had shagged who. Who was a poof. Who had been there.

She puts a hand on Jason's shoulder, then starts to drag herself up, ignoring the pain as her knees scrape against the bricks, and carefully inches her belly across the top. She takes a few fast breaths, then slowly lifts one leg at a time, up and over until she is sitting. She doesn't dare look down; not yet.

She looks around to make sure that nobody is watching and it is then that she hears the voice of the real policeman. He is somewhere nearby on the far side of the bridge, coming from the other direction. His voice is cracked and raw as he shouts her name, and she can tell that he is running. He keeps on shouting, searching, but Debbie turns away.

Too late, she thinks. Much too late.

She reaches down to pull Jason up, her heart lurching at his smile of excitement. She's always lifted him before, just high enough so that he can see over the edge, watch the train as it thunders beneath them.

This is a whole new adventure.

She cries out with the effort of hauling him up and fights back the tears as he settles down, dangles his legs and snuggles up close to her. He feels the vibration before she does, lets her know in a series of gulps and shouts.

Debbie feels her guts turn to water and looks up to see the train rounding the bend in the distance. The southbound Tube from High Barnet. She knows it will slow a little just before the bridge as it approaches Totteridge and Whetstone station. Still fast enough, though.

Debbie scrabbles for her son's hand and squeezes. She leans down and whispers soft, secret words, knowing—despite any number of expert opinions—that he understands her. He points and yells as the train gets closer, louder. That smile that kills her.

Debbie closes her eyes.

"Puff-puff," Jason says, blowing at the train.

"…IS NOT viable."

The woman let her words hang for a few seconds, having passed across the thick roll of kitchen towel, switched off the machine, then turned back to pass on the news while Louise was still wiping the gel off her belly.

There were a few statistics then: percentages and weeks and numbers out of ten. Some stuff about how common this was, and how it was far better happening now than further down the line.

Thorne hadn't really taken much of it in.

Not. Viable.

He'd watched Louise nod, blinking slower than normal and buttoning her jeans while the woman talked for a minute or two about practicalities. "We can go through the details a bit later on," she'd said. "After you've had some time to yourselves."

Was she actually a doctor? Thorne wasn't sure. Maybe some kind of "scanner technician" or something. Not that it really mattered. It obviously wasn't the first time she'd said those words; there hadn't been a pause or even a hint of awkwardness, and he would not have expected one. It was probably best for all concerned to be businesslike about these things, he'd thought. He should know, after all. Best just to say what needed saying and move on, especially with back-to-back appointments and plenty more happy couples waiting outside.

That phrase though…

Afterwards, they sat in the corner near the water-dispenser, facing away from the main part of an open-plan waiting area. Four plastic chairs bolted together. A nice, lemon-colored wall and children's drawings tacked onto a cork board. A wicker table with a few magazines and a box of tissues.

Thorne squeezed Louise's hand. It felt small and cold inside his own. He squeezed again, and she looked up; smiled and sniffed.

"You OK?" she asked.

Thorne nodded, thinking that, as euphemisms went, it was a pretty good one. Bland yet final. Probably softened the blow for most people, which was, after all, the point.

Not viable.

Dead. Dead inside you.

He wondered if he should try it for size himself, trot it out the next time he had to meet someone at a mortuary or knock on some poor sod's door in the middle of the night.

Thing is, your husband ran into some drunken idiot with a knife in his pocket. I'm afraid he's… no longer viable.

Fine, so it made the victim sound like an android, but that detachment was important, right? You needed the distance. It was that or a few more empty wine bottles in your recycling bin every week.

Softening the blow for you just as much as for them.

I'm sorry to have to tell you that your son has been shot. Shot to non-viability. He's as non-viable as a doornail.

"Tom?"

Thorne glanced up at the small nudge from Louise, watched as the woman who had performed the scan came across the waiting area towards them. She was Indian, with a wide streak of red through her hair. Somewhere in her early thirties, Thorne guessed. Her smile was perfect: sorrowful, but with a spring in its step.

"OK, I think I've managed to find you a bed."

"Thank you," Louise said.

"When did you last eat?"

"I've not had anything since breakfast."

"That's good. We'll try to get the D and C done straight away." The woman handed Louise a sheet of paper, told her how to get to the ward she needed. Then she looked at Thorne. "You might want to go home and pick up a few things for her. Nightdress, whatever…"

Thorne nodded while the woman talked about Louise needing to put her feet up for a couple of days. Kept on nodding when she said that they should both take things easy, that there were phone numbers on the sheet for people they could talk to, if that was what they wanted.

He watched her walk back towards her room, turning to call the next couple inside when she was at the door. There was a TV mounted high on the wall in the opposite corner. A middle-aged couple was being shown round a villa in France or Italy, the wife saying something about how colorful the tiles were.

"D and C?"

Louise was studying the instructions on her piece of paper. "Dilatation and curettage."

Thorne waited, none the wiser. It sounded horrible.

"Scraping," Louise said, eventually.

A thin woman in green overalls pushed a trolley stacked with cleaning equipment along the corridor towards them. She stopped alongside the wicker table, took a rag and plastic spray-gun from her trolley and squirted one of the empty chairs. She looked across at Thorne and Louise as she wiped.

"What are you crying for?"

Thorne studied the woman for a few seconds, then turned to Louise, who was staring at the floor, folding the paper over and over. He was very hot suddenly, could feel the short hairs prickling at the back of his neck and the film of sweat between his hand and Louise's. He nodded to the sign on the door of the Antenatal Scanning Suite, then snapped his head back to the cleaner.

"Take a fucking guess," he said.

It took Thorne nearly fifteen minutes to drive the mile or so from the Whittington Hospital to Kentish Town, but at least the journey gave him time to calm down a little. To stop thinking about the heave in Louise's chest when that cleaner had spoken to them. About wanting to stuff that rag in the woman's stupid mouth.

She'd looked at him like he was being rude, for Christ's sake!

Back at the flat, he threw some food into a bowl for Elvis and stuffed the things Louise had asked for into a plastic bag: a clean T-shirt; bra and panties; a hairbrush and a few bits of make-up. He stopped at the door on his way out, needing to lean on the wall for a few seconds before walking back into the living room. He dropped onto the sofa hard and sat there, staring into space, for a while, with the plastic bag cradled on his lap.

It felt cold in the flat. Three weeks into September and high time the heating was put back on. Time for the petty squabbles to start again, with Thorne nudging up the thermostat and Louise nudging it back down again when she thought he wasn't looking. Secretive readjustments of the timer. The constant fiddling with radiators.

The silly sit-com stuff that Thorne loved, despite the bickering.

They had been arguing—rather more seriously—since Louise had first learned she was pregnant, about what their long-term living arrangements would be. Though they spent most of their time at Thorne's place, Louise still had her own flat in Pimlico. She was reluctant to sell it, or at least reluctant to accept the assumption that she would. Though they were both keen on sharing a place somewhere, they could not agree which property to put on the market, so they had started talking about selling both flats, then buying somewhere new together, as well as maybe a one-bedroom flat they could rent out.

Thorne stared at the fireplace and wondered if all that would be put on hold now. If lots of the things they'd discussed—some more seriously than others—would be shifted quietly onto the back burner, or become subjects that were simply never mentioned again.

Moving a bit further out of the city.

Getting married.

Quitting the Job.

Thorne stood up and collected the phone from the table near the door, carried it back to the sofa.

They had been talking hypothetically when most of those things had been mentioned; certainly the stuff about weddings and leaving the Force. Just stupid talk, that was all, along with the jokes about not wanting ginger kids and the barmy baby names.

"What about Damien?"

"I don't think so."

"Wasn't his name 'Thorne' in the film?"

"Without an 'E.' Anyway, who says he's going to be a 'Thorne.' Why can't he be a 'Porter'? Come to think of it, who says he's going to be a 'he'?"

Thorne jabbed at the buttons on the phone. He'd only signed out for two hours, so now he needed to let them know that he wouldn't be back until sometime the following day. He'd have been happiest leaving a message, but he was connected straight through to Detective Sergeant Samir Karim in the Incident Room.

"You must be psychic."

"Sorry?"

"The DCI's in the middle of leaving a message on your phone."

Thorne reached into his jacket for his mobile. He'd turned it off in the hospital and forgotten to switch it back on again. By the time the screen had come back to life and the tones were sounding to indicate that he had a message, Detective Chief Inspector Russell Brigstocke was on the landline.

"Good timing, mate. Or bad."

"What?"

"We've just caught a job." Brigstocke took a slurp of tea or coffee. "Nasty one, by the sound of it."

Thorne swore quietly, but not quietly enough.

"Look, I was about to give it to Kitson anyway."

"You were right before," Thorne said. "Bad timing."

"It's yours if you fancy it."

Thorne thought about Louise, what the woman had said about needing to take things easy. Yvonne Kitson was perfectly capable of dealing with a new case, and he had plenty on his plate at work as it was. But he was already on his feet, hunting for a pen and paper.

Elvis was mooching around his ankles while Thorne scribbled a few notes. Brigstocke was right, it was a nasty one, but Thorne wasn't overly surprised. It was usually the nasty ones they put his way.

"Husband?" Thorne asked. "Boyfriend?"

"Husband found the body. Made the call, then ran out into the street screaming the place down."

"Made the call first?"

"Right. Then lost it, by all accounts," Brigstocke said. "Banging on doors, telling everyone she was dead, screaming about blood and bottles. Definitely not what the good people of Finchley are used to."

"Finchley's easy," Thorne said.

"Right, nice local one for you."

Five or six miles north of Kentish Town. He'd be more or less driving past the Whittington Hospital. "I'll need to make a quick stop on the way," Thorne said. "But I should be there in half an hour or so."

"No rush. She isn't going anywhere."

It took Thorne a few seconds to realize that Brigstocke was talking about a dead woman and not about Louise Porter.

"Give me the address."

IT WAS a quiet street, a few turnings east of the High Road. Edwardian houses with neat front gardens and off-road parking. Many, like number 48, had been divided into flats, though this house was now itself divided from its neighbors: a tarpaulin shielding the side-alley, uniformed officers stationed at each corner of the front lawn and crime-scene tape fluttering above the flower beds.

Thorne arrived just before eight, and it had already been dark for almost an hour. It was light enough in the kitchen of the downstairs flat, where the beams from twin arc-lamps illuminated every mote of dust and puff of fingerprint powder, bounced off the blue plastic suits of the CSIs and washed across the linoleum on the floor. A retro-style, black-and-white check, its simple pattern ruined by a few spots of blood. And by the body they had leaked from.

"I think I'm about ready to turn her," Phil Hendricks said.

In the corner, a crime-scene investigator was scraping at the edge of a low cupboard. She barely glanced up. "That'll be a first…"

Hendricks grinned and gave the woman the finger, then looked around and asked Thorne if he wanted to come closer. To squeeze in where he could get a better view.

Thorne doubted that the view would get any better, but he walked across and placed himself between the still-and video-camera operators, opposite the pair of CSIs who were preparing to give Hendricks the help he needed. To add the necessary degree of strength to his gentleness.

"OK, easy does it."

The woman was face down, arms by her sides. Her shirt had been lifted, or had ridden up, showing purplish patches on the skin just above her waist where the livor mortis had started and revealing that her bra had not been removed.

"Something, I suppose," a female CSI said as she walked past.

Thorne raised his eyes from the body and looked towards the single window. There were plates and mugs on the draining board next to the sink. A light was flashing on the front of the washing machine to let somebody know that the cycle had finished.

There was still a trace of normality.

Assuming they didn't get a result in the first few days, Thorne would try to come back at some point. He found it useful to spend time where the victim had lived; even more so if it was also where they had died. But he would wait until he didn't have to weave between crouching CSIs and negotiate the depressing paraphernalia of a crime scene.

And until the smell had gone.

He remembered some movie where the cop would stand in the houses where people had been murdered and commune with their killer. Was this where you killed them, you son of a bitch? Is that where you watched them from?

All that shit…

For Thorne, it just came down to wanting to know something about the victim. Something other than what their last meal had been and what their liver weighed at the time of death. Something simple and stupid would usually do it. A picture on a bedroom wall. The biscuits they kept in the kitchen cupboard or the book that they would never finish reading.

As for what went on in the mind of the killer, Thorne was happy knowing just enough to catch him, and no more.

Now, he watched as what remained of Emily Walker was moved, saw the hand flop back across the leg as it was lifted and turned in one slow, smooth movement. Saw those strands of hair that were not caked in blood fall away from her face as she was laid down on her back.

"Cheers, lads."

Hendricks worked with a good team. He insisted on it. Thorne remembered one CSI in particular—back when they were content to be called scene of crime officers—handling the partially decomposed body of an old man no better than if it were a sack of spuds. He'd watched Hendricks pushing the SOCO up against a wall and pressing a heavily tattooed forearm across the man's throat. He couldn't recall seeing the two of them at the same crime scene since.

The cameramen stepped forward and went to work. When they'd finished, Hendricks mumbled a few preparatory notes into his digital recorder.

"How much longer, Phil?" Thorne asked.

Hendricks lifted one of the dead woman's arms; began bending back the fingers of a fist that was closed tight. "Hour and a half." The thick Manchester accent stretched out the pathologist's final word, flattened the vowel. "Two at a push."

Thorne checked his watch. "Right."

"You on a promise or something?"

Thorne did his best to summon the right expression, something conspiratorial and devilish, but he wasn't sure he'd managed it. He turned to see where Detective Sergeant Dave Holland had got to.

"She's got something in her hand," Hendricks said.

Thorne turned back quickly and bent down to get a closer look, watched as Hendricks went to work with his tweezers and lifted something from the victim's fist. It appeared to be a small square of plastic or celluloid, dark and wafer thin. Hendricks dropped it into an evidence bag and held it up to the light.

"Piece of film?" Thorne asked.

"Could be."

They stared at whatever was in the bag for a few more seconds, but both knew they would only be guessing until the Forensic Science Service laboratory had finished with it. Hendricks handed the bag over for the evidence manager to log and label, then carefully fastened polythene wraps around both the victim's hands before moving further up the body.

Thorne closed his eyes for a few seconds, let out a long breath. "Can you believe I had a choice?" he said.

Hendricks glanced up at him. He was kneeling behind the victim's head and lifting it so that it was resting against his legs.

"Brigstocke gave me the option."

"More fool you."

"I could have let Kitson take it."

"This one's got your name on it," Hendricks said.

"Why?"

"Look at her, Tom."

Emily Walker was… had been early thirties or thereabouts, dark hair streaked with a little gray and a small star tattooed above one ankle. She was no more than five feet tall, her height emphasizing the few extra pounds which, judging by the contents of the fridge and the magnet on the door that said "ARE YOU SURE YOU'RE HUNGRY?," she was trying to lose. She wore a thin necklace of brown beads and there was a charm bracelet around one wrist: dice, a padlock, a pair of fish. Her shirt was denim. Her skirt was thin cotton, the same pillar-box red as the varnish on her toenails.

Thorne looked across at the sandal that had been circled on the lino close to the fridge. At the decorative bottle a few feet away, with what looked like balsamic vinegar on the inside and blood and hair caught in a few of the glass ridges on the outside, and beyond, to the light still winking on the front of the washing machine. His hand drifted up to his face, fingers moving along the straight, white scar on his chin. He stared until the red light began to blur, then turned and wandered away, leaving Hendricks cradling Emily Walker's head and talking quietly into his Dictaphone.

"There is nothing holding the plastic bag in position over the victim's head. Assume that the killer kept it in place around the victim's neck with his hands. Bruises on neck suggest he held it there with a great deal of force until the victim had stopped breathing…"

Holland was standing out on the patio at the rear of the house, watching half a dozen uniforms combing the flower beds. There were arc-lamps out here too, but this was only an initial sweep and more officers would be back at first light to conduct a fingertip search.

"So, no forced entry then," Thorne said.

"Which means she knew him."

"Possibly." Thorne could smell cigarettes on Holland, wanted one himself for a second or two. "Or she answered the door and he produced a weapon, forced her back inside."

Holland nodded. "Let's see if we get lucky with the house to house. Looks like the kind of street where there's plenty of curtain-twitching."

"What about the husband?"

"I only had five minutes before they took him to a hotel up the road," Holland said. "In pieces, much as you'd expect."

"Trying too hard, you reckon?"

"How d'you mean?"

"Sounds like he wanted everyone in the street to see just how upset he was. After he'd called us."

"You heard the 999 tape?"

"No." Thorne shrugged. "Just…"

"Just wishful thinking?" Holland said. "Right?"

"Yeah, maybe." It was getting a little chillier. Thorne shoved his hands inside the plastic suit and down into the pockets of his leather jacket. "Be nice if it was… a simple one."

"I can't see it," Holland said.

Nor could Thorne, if he was being honest. He knew only too well how domestic violence could escalate; had seen the ways a jealous boyfriend or a domineering husband could lose it. He blinked, saw the flop of the arm as the body was turned. Spots of pillar-box red against black-and-white squares. Not a simple one…

"Maybe he was just that upset," Holland said. "How many of these have we done?"

Thorne puffed out his cheeks. There was no need to answer.

"Right. And I still can't imagine what it must be like. Not even close."

Holland was fifteen years younger than Thorne. He had been working alongside him for more than seven years and though the fresh-faced newbie was long gone, Thorne still relished the glimpses of someone who hadn't been totally reshaped by the Job. Holland had looked up to him once,. . .
We hope you are enjoying the book so far. To continue reading...
Bloodline
Mark Billingham
Copyright © 2022 All Rights Reserved