Book info
Sample
Audiobook
Media
Author updates
Lists
Synopsis
The sleepy village of Little Cote was meant to be a quieter pace of life for ex-Met PC Jemima Cotton. But she soon discovers, here a petty rivalry can erupt into full-blown murder . . . When a young couple buy their first home in Little Cote, they're so excited to make it their own. The house has been up for sale for months, and it's idyllic on the outside but needs a complete overhaul on the inside. However, while the garden is overrun with meets, the house is falling down, there's a horrid concrete patio that, while ugly, looks absolutely brand new. The couple hate it, and seeing as they're doing the house from top to bottom, they decide to rip the concrete up too. But when two bodies are discovered under the patio, Jemima Cotton is the first on the scene. But the first question is, who are the victims? And who in this cosy little town wanted them dead? Perfect for fans of Faith Martin, Helen Cox, Betty Rowlands, and the Midsomer Murders series by Caroline Graham.
Release date: August 19, 2021
Publisher: Hodder & Stoughton
Print pages: 256
* BingeBooks earns revenue from qualifying purchases as an Amazon Associate as well as from other retail partners.
Listen to a sample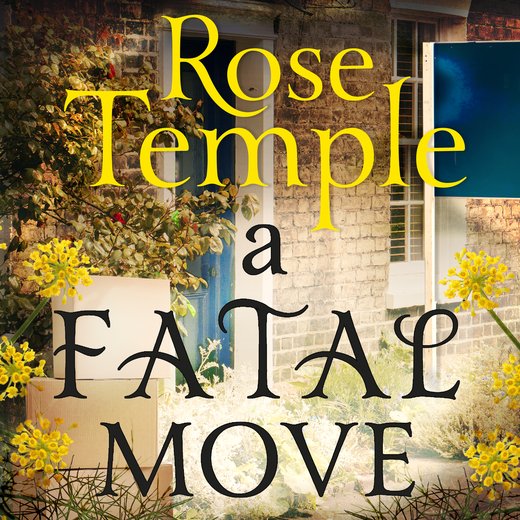 06:54:16
189.65 MB
9781529360219
August 19, 2021
Hachette UK
A Fatal Move
Rose Temple
'Thanks for coming, sweetheart,' said Nat as she shook out her best tablecloth.

Jemima collected a stack of place mats from the sideboard. 'No problem, Auntie; you know I never pass up the opportunity for a free dinner – and anyway, I'm excited to meet your new next-door neighbours.'

Nat smoothed the tablecloth over the dining table. 'I just thought it would be nice for them to socialise with someone their own age. Most people in Hornbeam Way are retired, and I don't want them thinking everybody in the village is decrepit.'

Jemima moved around the table, laying out cutlery. 'I'm so glad the house has new owners. It feels like it's been for sale for ever and I hated seeing it standing empty like that, so neglected; so unloved.'

'I know what you mean. This is such a lovely street, and at the risk of sounding like a terrible snob, number twenty-three really did lower the tone. The front garden was an eyesore, and as for all the comings and goings …'

'Yeah, unoccupied properties can be a magnet for antisocial behaviour, even in places as sleepy as Little Cote.' Jemima tucked her long hair back behind her ears. 'When did the new people arrive?'

'Ten days ago. You should have seen the size of their removal van; it took up half the street. I thought a whole family must be moving in. I couldn't believe it when I found out there were only two of them.'

'What are their names again?'

'Phil and Zara Massey. He works for an engineering firm; she's a freelance graphic designer.'

'What are they like?'

'He's a bit reserved, but she's very friendly – and awfully eager to get involved with the local community, which is always a good sign. She's a keen runner, by the way. I see her pounding the streets when I'm on my way to work, so that's one thing you two have in common.'

'Great,' Jemima said brightly. 'I wouldn't mind a running partner.' She watched as Nat began rolling linen napkins and pushing them into rings. 'It's a shame Paul can't join us. I know how much he enjoys welcoming newcomers to the area.'

'Yes, but at least it'll save me having to sidestep all those awkward questions that invariably come up when you meet new people. You know the sort of thing: How long have you two been an item? Gosh, nine years … really? So why don't you live together?' She placed a cluster of fat church candles in the centre of the table. 'Not that I'm ashamed of our relationship, but I do worry that people will rush to pass judgement before they know all the facts.'

'It is rather unconventional; I can see why some people would struggle to get their heads round it,' Jemima conceded. 'After all, there are three of you in the relationship.'

The man at the centre of this love triangle was Inspector Paul Metcalfe, Nat's lover and Jemima's boss at Laversham Police Station. Nat and Paul had known each other since junior school, but only became romantically involved in their middle years. Paul had been married for a long time, but when his wife, Helen, was diagnosed with a muscle-wasting illness that left her in a wheelchair, she actively encouraged him to seek a lover.

Initially Paul had brushed off the suggestion, but when he and Nat reconnected at a school reunion, both felt a powerful attraction. In an act of supreme love and generosity, Helen had given the match her blessing. It was an arrangement that seemed to suit all parties, and even the Metcalfes' three grown-up children seemed to tolerate the unusual status quo.

'How is Helen?' asked Jemima.

'She's not doing too well actually,' said Nat. 'Paul's under a lot of stress right now.'

'I'm sorry to hear it. Does that mean he'll need to spend more time at home?'

'I expect so. I'm just playing it by ear at the moment and trying to be as supportive as I can.' She took a step back to survey the table arrangement. 'Right, I think we're done here. I'd better go and see how the salmon en croute's coming along.'

The words were barely out of her mouth when the doorbell rang out. 'That'll be the Masseys. Go and let them in, will you, sweetheart? I'll be with you in two ticks.'

 

Once the introductions were over, the little group settled in Nat's cosy conservatory for pre-dinner drinks. Dusk was falling and the last shimmer of the sun's corona was slipping behind the trees, filling the garden with a warm ambient light.

'So how are you enjoying life in Hornbeam Way so far?' asked Jemima as she passed round a bowl of stuffed olives.

'We absolutely love it,' said Zara. Her features were small and perfect, and when she smiled, her whole face lit up. 'It's so quiet and peaceful compared to where we were living before; I adore waking up every morning to the sound of birdsong. The neighbours are super friendly too. We've received enough gifts of home-made jam to set up a stall at the village fete.'

'Sorry if it's over-the-top,' said Nat with a grimace. 'Folk round here are very friendly – too friendly sometimes. I know Jemima found the neighbourhood welcome committee a bit overwhelming when she moved here from London last year.'

Jemima chuckled. 'Yeah, talk about being killed with kindness. Don't worry, though – once the novelty wears off, they'll leave you in peace.'

'Oh, we don't mind,' said Zara. 'It's nice to live in a place where people actually care about each other.'

'Where were you living before?' asked Jemima.

'Guildford, but we've wanted to move to the country for ages.'

'Some of us more than others,' said Phil with a wink.

Zara slapped him playfully on the thigh. 'Ignore my husband. We discussed the matter at great length and we both agreed that when we start a family, we want our kids to grow up in a safe rural environment.' She looked at Jemima. 'Do you have children?'

'No – and I have to say it would be pretty difficult to juggle parenthood with the demands of my job.'

'Jemima's a police officer,' said Nat proudly.

Zara's blue eyes widened. 'Really? I bet that's interesting.'

'It has its moments, although I must admit it was a bit of a culture shock when I transferred to Sussex from the Met.'

'I can imagine,' said Phil. 'But the crime rate in these parts must be pretty low – am I right?'

Jemima was just about to answer when she caught Nat's pointed glare. She knew what it meant: her aunt wanted her to keep quiet about the recent spate of murders that had left three Little Cote residents dead. She was probably right. There was no point putting the wind up the Masseys when they'd barely finished unpacking.

'Enough to keep me on my toes,' she said vaguely. Then, realising that a swift change of subject was in order, she enquired about the couple's plans for the house.

'It needs a lot doing to it, more than we thought originally,' said Phil. 'We're going to fit a new kitchen and bathroom and redecorate from top to bottom. Plus there's a major damp problem downstairs that needs sorting. We haven't got the budget to tackle it all at once, but all being well we'll break the back of it by Christmas.'

Zara nodded approvingly. 'We're hoping to save money by doing a lot of the work ourselves. Luckily neither of us minds getting our hands dirty.' She took a delicate sip of her white wine spritzer. 'I've done some sketches and I know it's going to look beautiful when it's finished. It's just a shame the house wasn't better looked after in the first place.'

'Jim Kennedy, the previous owner, wasn't really into home improvement,' said Nat. 'He wasn't short of money, mind you; I guess he just preferred to spend it on other things.'

Jemima nodded. 'I don't suppose it helped that the local youth were using the place as a hangout while it was empty.'

Hearing her aunt exhale disapprovingly, she knew she'd said something she shouldn't.

Phil almost choked on an olive. 'They what?'

Nat laid a reassuring hand on his arm. 'It sounds worse than it is, Phil. Just a few bored sixth-formers smoking and drinking on a Friday night, that's all. There really isn't much for young people to do round here and because the house was empty for such a long time, it was an easy target.'

Zara side-eyed her husband. 'That explains the beer bottles.'

'How the hell did they get in?' he demanded.

'Through the French windows; they're often a point of vulnerability,' said Jemima. 'The neighbours called the police out a couple of times, but by the time they showed up, the kids had scarpered.'

'What about the estate agent?' said Zara. 'Wasn't he supposed to be looking after the house?'

'Marcus did his best, but his hands were tied,' said Nat. 'Jim wouldn't give him the authority to replace the French windows with something sturdier – or install an alarm system.'

'Do you know Marcus, then?'

She nodded. 'He's a friend of mine. He also happens to be one of my clients. I'm a hairdresser; I own the village salon.'

Zara ran a hand over her shoulder-length chestnut hair. 'Ooh, that's handy. I need to get my roots done. You'll have to give me the phone number before we go.'

Phil was still brooding on the break-ins. 'I can't believe it … a load of kids trashing our house – and all for the want of a few hundred quid.'

'It wasn't our house then, though, was it, darling?' said Zara.

'They'd better not try breaking and entering when I'm at home,' he said, flexing his fingers. 'Or they'll have me to answer to.'

'I doubt you'll have any more problems now that the property's occupied,' said Jemima. 'And if you do, I'd advise you to call the police rather than taking the law into your own hands.'

'What about the garden?' said Nat, who was keen to steer the conversation into calmer waters. 'Have you got any plans for it?'

Zara sighed. 'It's so overgrown, I almost don't know where to start. The lawn will need re-turfing, but we want to keep as much of the existing planting as we can. I think I've spotted some nice lavender bushes and foxgloves in amongst the weeds.'

'We'll need to do something to disguise that concrete patio,' said Phil. 'It's absolutely ghastly and completely out of keeping with a period property.'

'A few nice plant pots strategically placed around the edges should be enough to draw the eye away,' said Nat. 'I've got a lovely jardinière that's looking for a new home if you fancy it. It'll need a good scrub, mind you.'

Zara beamed. 'Yes please, we need to save money wherever we can.'

'Do you know what I find weird?' said Phil. 'The lawn and flower beds clearly haven't been touched for months. But the patio … it looks brand spanking new.' He turned to Nat. 'Do you happen to know when it was laid?'

She smiled apologetically. 'To be honest, I wasn't even aware there was a patio next door.' She turned her head towards the kitchen as a buzzer sounded. 'Looks like dinner's ready. We're eating in the kitchen, I hope that's OK.'

'Absolutely,' gushed Zara. 'I'm just grateful for a proper meal. Our oven doesn't work, so we've been living off soup and beans for the past week.'

Nat frowned in sympathy. 'You poor things, you should have said something sooner.'

It was funny, Marcus Newbolt thought – and when he said 'funny', what he really meant was fucked up, depraved, heart-stoppingly awful – but he'd had a strange feeling that something like this would happen. He'd seen it coming and done nothing about it, and now two people were dead. With hindsight, it was hard to see what he could have done. He was only a small cog in a big and exceedingly well-oiled machine. A machine that would chew you up and spit you out if you didn't play by the rules.

His best move – his only move – would be to sit tight and keep his mouth shut, but he knew it wasn't going to be easy. Suspense was all well and good in the movies – two and a half hours and then you could exhale. But in real life, it was destructive and cumulatively exhausting, especially for someone like him who suffered from high blood pressure and crippling indigestion.

Still, looking on the bright side, there was a chance the police would never discover his part in all this. A slim chance, admittedly, but a chance all the same. If he were to be exposed, it went without saying that his professional reputation would be mud. Mind you, that was going to be the least of his worries.

As a boy growing up in Horsham, the product of a solid middle-class background, Marcus had never had any aspirations to be an estate agent. It was only ever supposed to be a stopgap – a way of earning some cash to fund his hedonistic lifestyle while he worked out what career he really wanted. But as it turned out, he was rather good at the job, thanks to his gift of the gab and a rare ability to euphemise relentlessly. For many years he worked for an agency in Chichester, eventually rising to the position of associate director, before setting up on his own.

He'd deliberately chosen a rural location because of the cheaper business rates and the small matter of a non-compete clause in his contract with the Chichester firm. The irony was that Marcus didn't like the countryside. Fucking hated it, with its mud and its narrow lanes and its lax approach to the definition of the term 'gastro pub'. He hated the people, too – and even worse than the small-minded, endlessly nosy natives were the city exiles. He could spot them a mile off, with their inadequate footwear and their moisture-wicking gilets, clutching their reusable coffee cups.

He couldn't deny that it was a lucrative market, however. And even when sales were faltering, the property management arm of the business kept things ticking over nicely. Very nicely, in fact.

A lot of his clients these days were young couples desperate to escape the rat race of city living – people like Phil and Zara Massey, who'd bought the house in Hornbeam Way. As a general rule of thumb, Marcus didn't have much time for millennials. They were too busy queuing for smashed avocado on sourdough and curating galleries of their fascinating lives on social media, smug in the knowledge that the world spun for them alone. Naturally he took care never to let his feelings show, and he treated all his clients the same, whoever they were.

It was no exaggeration to say that Marcus wished he'd never set foot inside number 23 Hornbeam Way. Thinking about the house now and what had happened there, a feeling of dread slid coldly down his spine. He was in an exceedingly dangerous position, and worst of all, he had no one but himself to blame.

He thought he'd performed pretty well during his interactions with the police thus far. First off he'd been questioned by a uniformed sergeant from Laversham Police Station. She'd shown up at the agency unannounced. Fortunately, her questions were fairly straightforward. He got the sense she wasn't trying to catch him out and was coming at things with an open mind. The follow-up act – a pair of detectives from Worthing CID, who'd departed a few minutes ago – had exhibited far more cynicism. But then again, wasn't that their job?

At least this time he'd been given advance warning, which meant he'd had a chance to prepare, to get the story straight in his mind. 'Do I need a lawyer for this?' he'd asked DS Fidler when she phoned to set up a convenient time to visit him at his home in the 'ever-popular' (a cliché he regularly employed in his property listings) village of Crumpleford.

'No, it's an informal chat; we'd just like to clarify one or two things,' she told him. But Marcus wasn't stupid; he knew that whatever the police said, he must on his guard at all times. This 'informal' business could well be a deliberate deception, designed to catch the kind of thoughtless admissions that were hard to come by in the interview room when some stick-in-the-mud solicitor was in attendance ready to squash any line of questioning deemed inappropriate.

As the frosty DS Fidler and her thuggish sidekick DC Picken launched questions at him, he kept his answers intentionally bland. His objective was to neutralise his interrogators, to convince them he was nothing more than a small-town entrepreneur doing his best to earn an honest living. It was when they showed him the photo that things got more difficult.

'Do you recognise either of these people?' said DC Picken, handing over his phone so Marcus could view the image close up. It was a selfie, the sort of thing you might post on Instagram – a man and woman standing on a beach. The sky above their heads was overcast and the sea in the background was choppy, suggesting it was probably taken somewhere in the UK. The wind was whipping Hannah Nettleship's dark-blonde hair across her face as she held her phone in the air. She looked happier than Marcus had ever seen her. Wyatt also appeared relaxed. His handsome face was split in a wide smile, his eyes shini. . .
We hope you are enjoying the book so far. To continue reading...
A Fatal Move
Rose Temple
Copyright © 2021 All Rights Reserved